House Republicans passed their health care bill at a whirlwind pace, pushing it through as soon as they had enough votes lined up without holding hearings on its impact or waiting for a report on how much it will cost.
Now it's the turn of the Senate, where things tend to move at a more genteel pace. Having largely sidestepped this week's contentious House debate, members say they'll need plenty of time to look things over and some have already expressed concerns about the plan's substance.
"We're not under any deadline, so we're going to take our time," Sen. John Cornyn, R-Texas, the majority whip, told reporters.
Senate Majority Leader Mitch McConnell, R-Kentucky, has assembled a working group to try to find a consensus.
Sen. John Thune, R-South Dakota, a member of the leadership team, noted to reporters that "the margin for error is a lot less over here" given that Republicans have a 52-seat majority and can only lose two votes. That also means a bill could take more time to work out, since any individual member could potentially derail a compromise.
An indication of the trepidation in the Senate was clear when President Donald Trump said at a Rose Garden gathering with House GOP members after their bill passed that the Senate was "eager" to get to work on the legislation — some House members actually laughed out loud.
"They are!" Trump said in response to the chuckles.
Related: Here's What Critics Dislike About the House Health Care Bill
Several senators have stressed not to expect the kind of rapid flurry of action that characterized the House's final vote.
Sen. Lindsey Graham, R-South Carolina, criticized his House counterparts for rushing forward without waiting for a Congressional Budget Office analysis or giving members a chance to add amendments or even time to examine the bill's text, which was only finalized on Wednesday evening.
"I'm not so sure this is good civics here," he said.
Unlike the House, the Senate's rules won't allow senators to push through a vote without waiting for a CBO score. They can't formally take up the House bill until the CBO finishes its analysis, which could take one to two weeks, and have it reviewed by the Senate parliamentarian.
That process carries some pitfalls of its own. It's possible some of the most important items that the House Freedom Caucus negotiated, including allowing states to opt out of essential health benefits and protections for pre-existing conditions, will run afoul of rules requiring reconciliation bills to stick to items that concern the budget and not regulations.
"Anything that makes it impossible for us to do under reconciliation we'll have to either try to do it a different way or do it at a later time," said Sen. Roy Blunt, R-Missouri,.
Some members, including Blunt and Sen. Chuck Grassley, R-Iowa, indicated that the Senate might write its own bill from scratch rather than making a few tweaks to the House bill and sending it back.
"I congratulate the House on passage of its bill," Sen. Lamar Alexander, R-Tennessee, chairman of the Committee on Health, Education, Labor and Pensions, said in a statement. "The Senate will now finish work on our bill, but will take the time to get it right."
Others said the House could serve as a reference point, but the measure would likely require significant changes.
"It's the skeleton, but it's definitely still not the final product," Sen. James Lankford, R-Oklahoma, told reporters.
He predicted it would take at least six weeks to advance a bill, given the longer process for submitting and scoring amendments compared to the House.
As was the case in the House, there are moderates, conservatives, and members with personal concerns to placate. Some were highly critical of the House's first failed attempt to pass a bill, though they mostly held their tongues during the most recent negotiations. Now those issues will return to the spotlight, and the slower pace means there will be more time for think tank studies, activist campaigns and constituent calls to influence their votes.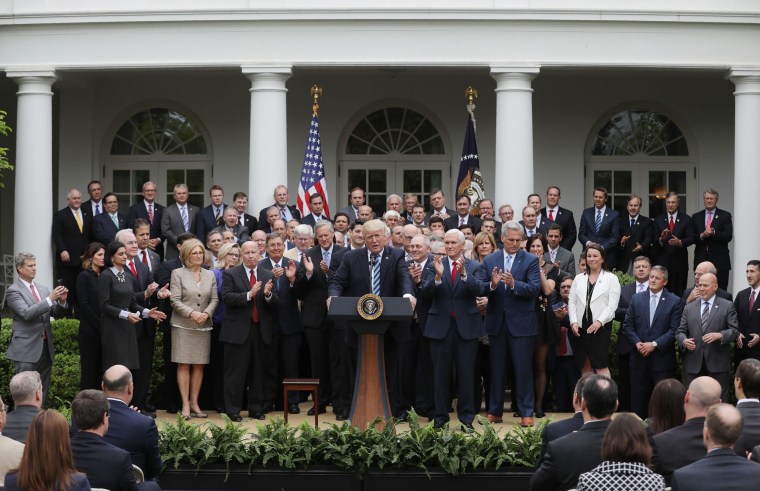 Sen. Shelley Moore-Capito, R-West Virginia, told reporters she was "absolutely" concerned with the House bill's cuts to Medicaid, which could disproportionately affect her state. Sen. Rob Portman, R-Ohio, whose state also expanded Medicaid under Obamacare, announced Thursday he could not support the bill over the issue, which he feared could undercut state efforts to treat opioid addiction.
Several more moderate senators, including Graham, Moore-Capito, and Johnny Isaakson, R-Georgia, are co-sponsoring a bill authored by Sen. Bill Cassidy, R-Louisiana, and Sen. Susan Collins, R-Maine, that would take a dramatically different approach from that of the House bill and could potentially expand coverage beyond Obamacare. It would allow states to either keep the current law's framework or opt into a new program that automatically enrolled people in a catastrophic insurance plan paid for with tax credits.
Cassidy and Collins have argued Trump could come around to their approach since it better fulfills his promise to provide "insurance for everybody."
"I just think that if you're going to accomplish President Trump's goals, then you got to lower premiums and the way you lower premiums is to make your risk pool bigger," Cassidy said.
A number of senators expressed concerns in March about an earlier CBO finding that showed that the average 64-year-old with an income of $26,500 would see his or her annual premiums shoot up $12,900 under the House bill. Sen. Bob Corker, R-Tennessee, said there would be renewed work on an effort led by Thune to provide more aid to low-income customers.
"I know there are changes we're going to want to make, and I know one of those is the Thune amendment, but it's still being developed," Corker said.
On the right, Sen. Rand Paul, R-Kentucky, reiterated Thursday that he had deep philosophical concerns with the House's approach even as he lauded the House Freedom Caucus for improving the bill. It's possible he won't vote for any legislation that would subsidize health insurance, which the House bill would do via tax credits and funding for states to stabilize their insurance markets.
"One of our objections to Obamacare is that we didn't really think it was the role of the federal government to buy insurance for people," Paul said.
For their part, House members sounded content to let the Senate alter their bill, with some describing it as only a starting point. Even Rep. Mark Meadows, R-North Carolina, chairman of the Freedom Caucus, who negotiated the compromise that won over recalcitrant conservatives, said he was flexible.
"We're already working on potential amendments with both moderate and conservative senators," Meadows told NBC News on Wednesday. "We understand that it will change."
Editor's note: This story has been updated to reflect that John Thune is a Republican senator representing South Dakota.