WASHINGTON — In his first major move, House Speaker Mike Johnson, R-La., is using the bipartisan goal of providing aid to Israel to pick a fight with President Joe Biden over his signature achievement.
A new bill House Republicans released Monday includes $14.3 billion in emergency funding for Israel while rescinding the same amount of IRS funding from the Inflation Reduction Act, a major climate, health care and tax law Biden signed last year.
The new GOP bill is slated for consideration by the Rules Committee when the House returns Wednesday, with a vote in the full chamber expected as early as this week.
If the bill passes the GOP-controlled House, the IRS provisions are all but guaranteed to be rejected by the Democratic-led Senate and White House, setting up a clash over how to approve Israel aid. It represents an early test for Johnson on navigating the demands of Republican hard-liners with the realities of divided government.
Johnson defended his move to slash IRS funding in "the first draft of this bill" to grant new Israel aid, even if it alienates Democrats.
"I understand their priority is to bulk up the IRS, but I think if you put this to the American people and they weigh the two needs, I think they're going to say standing with Israel and protecting the innocent over there is in our national interest and is a more immediate need than IRS agents," Johnson told Fox News.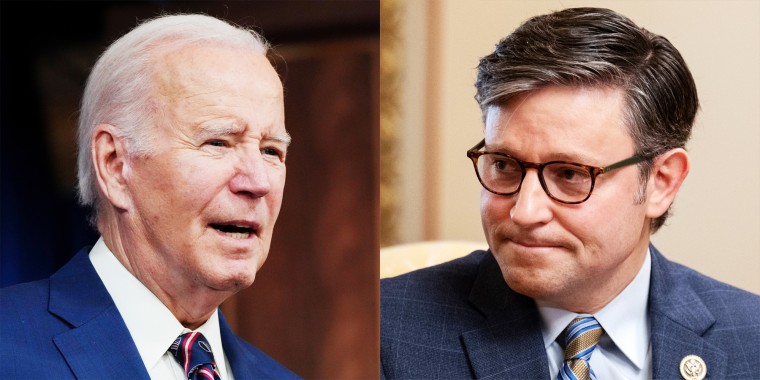 The White House pushed back, accusing Republicans of trying to "help the wealthy and big corporations cheat on their taxes" with a proposal that would grow the deficit.
"Politicizing our national security interests is a nonstarter," White House press secretary Karine Jean-Pierre said in a statement. "Demanding offsets for meeting core national security needs of the United States—like supporting Israel and defending Ukraine from atrocities and Russian imperialism—would be a break with the normal, bipartisan process and could have devastating implications for our safety and alliances in the years ahead."
Rep. Debbie Wasserman Schultz, D-Fla., said she's "deeply disturbed" by Johnson's move. "Speaker Johnson's political games are offensive to all pro-Israel Americans, and I hope he reverses course immediately," she said in a statement.
Biden and Democrats approved the Inflation Reduction Act on a party-line vote in 2022, with the goal of beefing up investments in clean energy and health care, paid for with higher taxes on corporations. The IRS funds total about $80 billion, which the administration has said it will use to enhance customer service and go after wealthy tax evaders. The nonpartisan Congressional Budget Office has projected that the funds will "increase revenues by approximately $200 billion" over a decade.
Senate Finance Committee Chair Ron Wyden, D-Ore., said Johnson's plan is "horrifying" and "a non-starter" in the Senate. "I'm going to fight it, and I'm going to use every tool I have as chairman of the Finance Committee to do it," he said Monday.
Wyden and other Democrats said the rescissions would raise the deficit.
"This isn't an offset, it's exploiting a war to pass a tax cut for the rich," Aaron Fritschner, deputy chief of staff for Rep. Don Beyer, D-Va., said on X of Johnson's proposal.
Johnson is also dealing with Republicans who demand that domestic spending be cut if the U.S. sends aid to Israel.
Rep. Chip Roy, R-Texas, said Monday in a radio appearance that the aid "should be paid for, and it should be paid for with real money, not budgetary gimmicks."
"So I'm going to stand up on that wall and if you see in the end having to vote against Israel funding, just make sure you heard it here first," he told "Hill Country Patriot" of Kerrville, Texas. "I support Israel but I am not going to continue to go down this road where we bankrupt our country and undermine our very ability to defend ourselves, much less our allies, by continuing to write blank checks."