WASHINGTON — At his State of the Union address Tuesday, President Joe Biden will tout his achievements and issue a fresh call for bipartisan legislating in the divided Congress.
Sitting behind him will be new Speaker Kevin McCarthy of California, the Republican who leads a fractious and conservative House majority with the power to greenlight or thwart Biden's best-laid plans.
A White House official said Biden will tout "transformational" new laws he signed over the last two years and call for continuing that progress by "working together in the year ahead."
"Underlying it all, the president will once again amplify his belief that Democrats and Republicans can work together, as they did in the last two years and as he is committed to doing with this new Congress to get big things done on behalf of the American people," said the White House official, who wasn't authorized to speak publicly about the contents of Biden's speech.
The speech highlights a challenge for Biden: Deciphering what can realistically pass in a Republican-controlled House and Democratic-led Senate — and creating a fertile environment for it.
The legislative agenda for the next two years breaks down into three categories: Viable areas for common ground, ambitious pursuits where the parties are probably too far apart to reach consensus, and must-pass items that will be necessary to avoid government shutdowns or economic crises.
Opportunities for agreement
When asked what issues they can find common ground on, the most common word lawmakers respond with is: China.
The issue has elevated salience after the U.S. shot down a suspected Chinese spy balloon over the American coastline. House Republicans have set up a select committee on U.S.-China relations. The chair, Rep. Mike Gallagher, R-Wis., and top Democrat, Rep. Raja Krishnamoorthi, D-Ill., have both called for a consensus approach to countering China's rise. But it remains to be seen whether the issue will produce bipartisan legislation or become a political football.
A senior House Republican aide said there may be limited opportunities for cooperation on energy as well, noting that the House passed legislation to curb use of the strategic petroleum reserve earlier this year. A Senate GOP aide said there may be another attempt at overhauling permitting requirements for energy and infrastructure projects.
A Senate Democratic aide added Bitcoin and cryptocurrency to the list: "Lots of egg on a lot of people's faces and the ideological lines on crypto aren't so firm."
Rep. Brian Fitzpatrick, R-Pa., the co-chair of the bipartisan Problem Solvers Caucus, cited three areas where he sees openings for legislative action: "Mental health and addiction. Dealing with China. Semiconductors and artificial intelligence."
Rep. Josh Gottheimer, D-N.J., his Democratic co-chair, said the possibilities include opioid addiction, mental health and domestic manufacturing and building on the China competitiveness law that passed last year with a sort of "Chips 2.0." He said there are "a raft of common-sense issues" that present opportunities.
But others are more pessimistic. Asked what the prospects are for common ground, one House GOP aide replied: "Not much." The aide cited taking on China and addressing the fentanyl crisis.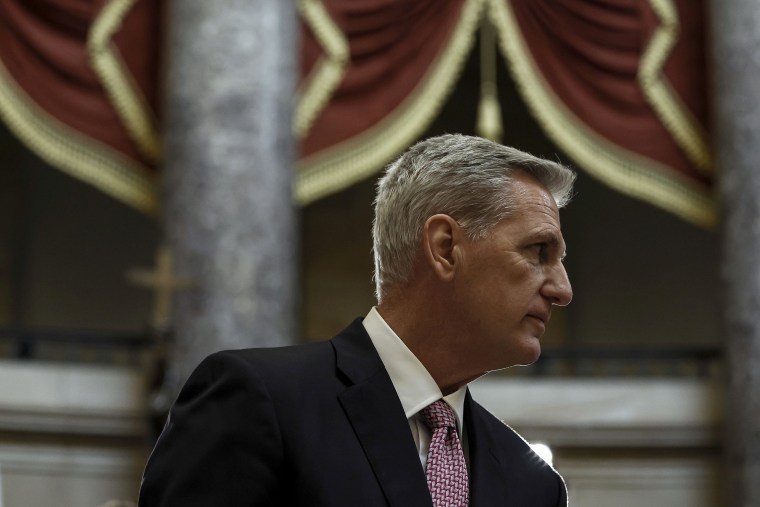 Issues that face long odds
The list of issues unlikely to yield cooperation is long, given the strong conservative bent of the new GOP majority that was on full display over the 15 ballots it took for McCarthy to become speaker.
It begins with what's left of Biden's ambitious agenda in his first two years — primarily the economic and safety net items in his Build Back Better package that were left on the cutting room floor due to opposition from Sen. Joe Manchin, D-W.Va. That includes issues like child care, paid leave, cash payments to families and programs to phase out fossil fuels.
Biden and nearly all Democrats want to raise taxes on corporations and upper earners to bring in more revenue, but many of those proposals were scuttled last year by Sen. Kyrsten Sinema, D-Ariz.
While Democrats picked up a 51st Senate seat in the 2022 midterm election, those ideas are all dead on arrival in the new Republican-controlled House over the next two years.
Biden's renewed call for tougher gun violence prevention laws is also going over poorly with Republicans.
There's some chatter about an immigration overhaul, but the two parties have vastly different priorities on how to go about it. The issue has bedeviled Biden's three immediate predecessors, even in less partisan environments, so many aides in both parties are pessimistic about reaching an agreement even on a limited bill.
And from the GOP's standpoint, House-passed legislation to repeal Biden-backed measures such as extra IRS funding won't survive the Democratic-led Senate or Biden's veto pen. Conservative goals on the border, education and a host of cultural issues will also be a tough sell without compromises.
Must-pass bills
The biggest must-pass bill on the agenda involves the debt ceiling, which Congress must extend by what the Treasury Department says is a June 5 deadline to act or risk economic calamity. So far, Biden and McCarthy are at a stalemate — the president insists it's non-negotiable and McCarthy again had no specific spending cuts to offer in a speech about the debt limit on Monday.
"Defaulting on our debt is not an option," McCarthy said. "But neither is a future of higher taxes, higher interest rates, and an economy that doesn't work for working Americans."
There's also government funding, which expires on Sept. 30.
Fitzpatrick identified several other "must-move pieces of legislation" that Congress will have to find a resolution on: Reauthorizing the Federal Aviation Administration, as well as the Foreign Intelligence Surveillance Act and Section 702, which allows the U.S. to spy on suspected terrorists overseas.
The Senate Democratic aide said agriculture policy involving growers and producers is another opening given the need to pass a farm bill, one that could tie into China competition and egg prices.
Some see the must-pass bills as a vehicle for advancing priorities, given the limited legislation that will move from Capitol Hill to the White House for enactment. "I'm not super hopeful this will be a very productive Congress in terms of legislation," the Democratic aide said, adding that the next two years will be more significant in terms of protecting and implementing Biden's laws.