Surveillance video captured during the "Beetlejuice" musical in Denver on Sunday appears to show Rep. Lauren Boebert, R-Colo., vaping inside the theater, which contradicts her aide's claim that the smoke was emitted from fog machines.
The video, obtained by NBC affiliate KUSA of Denver, shows Boebert sitting in the theater next to a man she was with as people around her were still getting seated. It then shows her raise one of her hands to her face, and then a puff of smoke comes out of her mouth toward the person in front of her.
On Friday night, a day after the video was made public, Boebert apologized for her actions and acknowledged she was vaping inside the venue.
"I genuinely did not recall vaping that evening when I discussed the night's events with my campaign team while confirming my enthusiasm for the musical," she said in a statement. "Regardless of my belief, it's clear now that was not accurate; it was not my or my campaign's intention to mislead, but we do understand the nature of how this looks."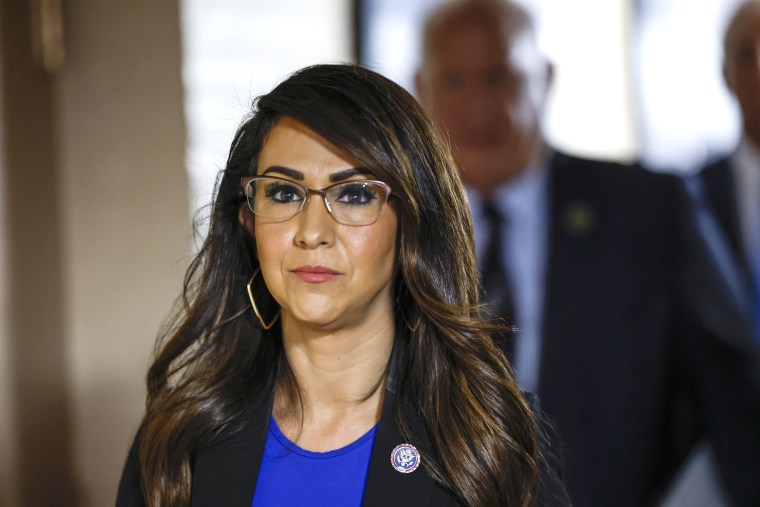 In the video, the lights seem to be lowered in the theater, and the woman sitting behind Boebert leaned in to speak to her. An opinion piece in The Denver Post said the woman was pregnant and asked that Boebert stop vaping, which the congresswoman refused to do.
The video then showed Boebert taking flash photos during the show and raising her arms as if to dance.
Boebert was ultimately escorted out of the performance Sunday night for disruptive behavior. An incident report obtained by NBC News said two patrons were asked to leave the Buell Theatre in Denver that night.
The two were warned during intermission about behavior that allegedly involved "vaping, singing [and] causing a disturbance" and prompted three complaints from other theatergoers, officials with Denver Arts & Venues wrote in the report.
Boebert's campaign manager, Drew Sexton, denied that Boebert was vaping in a statement to The Washington Post earlier this week. The Post reported Sexton said that the smoke came from heavy fog machines and electronic cigarettes that were used during the show. He said there might have been "a misunderstanding from someone sitting near her."
Sexton and Boebert's congressional office did not immediately respond to NBC News' requests for comment Friday.
In posts on X, formerly Twitter, Boebert acknowledged being at the show and "thoroughly" enjoying it — up to a certain point.
"It's true, I did thoroughly enjoy the AMAZING Beetlejuice at the Buell Theatre and I plead guilty to laughing and singing too loud! 🤭" she wrote.
She added: "Everyone should go see it if you get the chance this week and please let me know how it ends! 😅"
In her statement Friday night, Boebert apologized for her behavior and cited her recent divorce, saying it "has made for a challenging personal time for me and my entire family."
"I've tried to handle it with strength and grace as best I can, but I simply fell short of my values on Sunday. That's unacceptable and I'm sorry," she said.