WASHINGTON — The Republican-passed tax cuts have mostly taken a back seat in the political debate with primary season heating up and campaign action revolving around intra-party competitions to field candidates for the fall.
And even in the races where it has been an issue — like Pennsylvania's special House election won by Democrat Conor Lamb — the tax cuts passed by Congress late last year have failed to motivate voters in what should be friendly Republican territory.
With public polling showing lackluster results about the legislation's popularity, GOP candidates and the outside groups spending big money on election advertising have muted their emphasis on it in recent weeks.
But Republicans hope that growing suggestions by Democrats to roll back the tax cuts for at least some beneficiaries will help breathe new life into the issue.
House Minority Leader Nancy Pelosi has said twice in the past week that the $1.5 trillion tax cut package should "absolutely" be redone.
"I do think that we should revisit the tax legislation in the way that we always have, in a bipartisan, transparent way," Pelosi said at a Politico Playbook event.
"I wish Nancy Pelosi the biggest platform ever to talk about her desire to increase tax revenue," said Sen. Cory Gardner, R-Colo., chair of the National Republican Senatorial Committee, which is responsible for electing Republicans to the Senate. "I hope she shouts it from the mountain top."
Republicans insist that any talk of unwinding the tax bill — which they say is a tax hike — is a boon to GOP candidates across the country, especially the eight running against Democratic Senate incumbents in states that Trump won.
"I think it sets up a good choice this fall for Democrats who want to raise taxes and Republicans who want to cut them," Alex Conant, a Republican political consultant, said.
Democrats have to walk a fine line but many in the House think that the tax bill should be rolled back, at least in part.
"For the top, yeah," Rep. Tim Ryan, D-Ohio, told NBC News in a recent interview in his Capitol Hill office. "Absolutely."
Ryan represents Youngstown and Akron, working class areas that split their vote between President Donald Trump and Hillary Clinton in 2016.
He thinks it's a winning message in 2018.
"It's the highest concentration of wealth since the great recession, so we need ask the wealthiest people to pay more to help us rebuild this country and plug these communities back into the global economy. They've just been left behind," Ryan said.
"I don't think we need to be afraid of saying that," he added.
In an April NBC News poll, only 27 percent of respondents thought the tax bill was a good idea and more than half of respondents — 53 percent — said it was "more of a negative" because of its increase of the debt.
Where repeal is likely to be popular is in higher-tax states, including New York, New Jersey and California, where the federal tax law reduced state and local tax deductions and in some cases increased people's individual tax rates. These three states have a large number of competitive races and are critical to Democrats' chances of taking back the House.
But the message on taxes is more complicated for those members running in GOP-leaning districts or states. Rep. Cheri Bustos, D-Ill., who is running for re-election in a district that Trump won, is an example; she has not called for repealing any of the bill but does argue that it benefits the wealthiest Americans.
"The wealthy are doing very, very, very well in this country right now," Bustos told NBC News.
Bustos notes that a major problem with the tax bill is that the corporate tax cuts are permanent and others are set to expire in less than a decade. "I think we ought to do what makes sense and what passed does not make sense."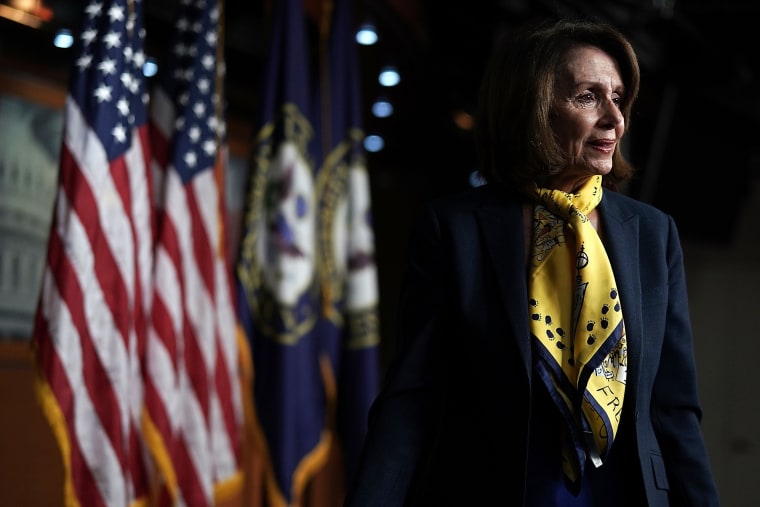 Senate Democrats trying to win races in red states have adopted a similar message, arguing that the tax cuts are a giveaway to the wealthy and do little for the middle class.
A super PAC backing Senate Democratic candidates, Senate Majority PAC, has run ads in Indiana, a state Trump won by 19 points, in support of incumbent Sen. Joe Donnelly, attacking the tax bill as going to "millionaires and big corporations" and touting that Donnelly voted against it.
But Donnelly won't say yet if he'd vote to roll it back.
"These members know their states better than anybody, and so we are suggesting they do what they already do, which is listen to their constituents and decide the best way forward," Sen. Chris Van Hollen, D-Md., who is in charge of electing Democrats to the Senate as chair of the Democratic Senatorial Campaign Committee.