Rep. Joe Barton, one of the longest-serving members of Congress, said Wednesday night that he may have been the victim of a crime after a nude photo and a salacious sext surfaced on social media.
Barton, a Republican who represents a district south of Dallas, said in a statement that a woman with whom he had a consensual relationship in the past had threatened "to publicly share my private photographs and intimate correspondence in retaliation" for his having ended the relationship.
Barton said U.S. Capitol Police were investigating. Capitol Police didn't answer a call or immediately respond to a message seeking comment.
Barton issued the statement after The Washington Post reported late Wednesday that it had reviewed a phone call that was secretly recorded in 2015 between Barton and a woman who said she had received sexually explicit materials from him.
According to The Post, Barton said on the taped call that he had exchanged "inappropriate photographs and videos" with the woman — whom The Post didn't identify by name — "that I wouldn't like to be seen made public." He said he was concerned that she was in a "position to use them in a way that would negatively affect my career," The Post reported.
The Post quoted Barton as saying he was prepared to "take all this crap to the Capitol Hill Police and have them launch an investigation." It quoted the woman as saying she interpreted Barton's words as a threat.
But Barton contended Wednesday night that it was he who had been threatened, saying a transcript of the recording provided by The Post "may be evidence" of a crime against him.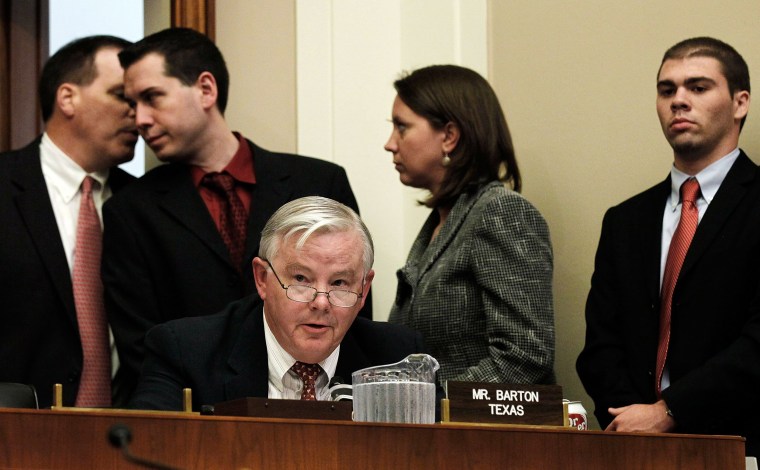 "As the transcript reflects, I offered to take the matter to the Capitol Hill Police to open an investigation," Barton said. "Today, the Capitol Police reached out to me and offered to launch an investigation and I have accepted."
So-called revenge porn laws in the District of Columbia and Texas make it a crime to distribute images of a person's private parts over the internet without that person's consent and if the person would be harmed by such distribution. Under federal law, Capitol Police officers have the authority to enforce D.C. laws.
Earlier Wednesday, Barton, 68, said that while he was separated from his second wife, but before their divorce in 2015, "I had sexual relationships with other mature adult women. Each was consensual. Those relationships have ended."
He added: "I am sorry I did not use better judgment during those days. I am sorry that I let my constituents down."
Barton announced his intention to run for re-election last month. A spokeswoman, Sarah Dodd, told NBC News on Wednesday: "He is not resigning."