Sen. Tammy Baldwin, D-Wis., said that the Texas judge who ruled to suspend the Food and Drug Administration's longtime approval of key abortion pill mifepristone "is not guided by science" and part of a Republican "effort to ban abortion nationwide" in an exclusive interview that aired on NBC News' "Meet the Press" Sunday.
"What we have in Texas is a judge who is not guided by science, but is part of an extreme Republican concerted effort to ban abortion nationwide," said Baldwin, who last month led dozens of members to introduce federal legislation that would guarantee access to abortion in response to the Supreme Court's overturning of Roe v. Wade.
"And we do not need judges, politicians or government telling women about what sort of health care they can have. It is an issue that is not only playing out in the court in Texas but in the state of Florida, with the governor signing a near six-week ban, Idaho forbidding travel out of state for minors, Wisconsin where we've gone back to literally 1849," she said. "That is the date our criminal abortion ban was passed and that's 174 years ago."
Baldwin said there shouldn't be a "second-guessing of the scientific-based process" of the FDA and that she will "keep on fighting" to pass legislation that will codify Roe, which guaranteed a constitutional right to abortion.
"We're going to keep on fighting to pass my Women's Health Protection Act, which would restore Roe v. Wade as the law of the land in federal statutes but also tell states that they cannot limit and restrict that right, as states like Wisconsin, and Texas, and now Florida, and Idaho and many, many others have," Baldwin said.
Last month, 47 members of the Senate Democratic caucus, led by Baldwin and Sen. Richard Blumenthal, D-Conn., introduced the Women's Health Protection Act of 2023, which would protect access to abortion nationally and "restore the right to comprehensive reproductive health care for millions of Americans."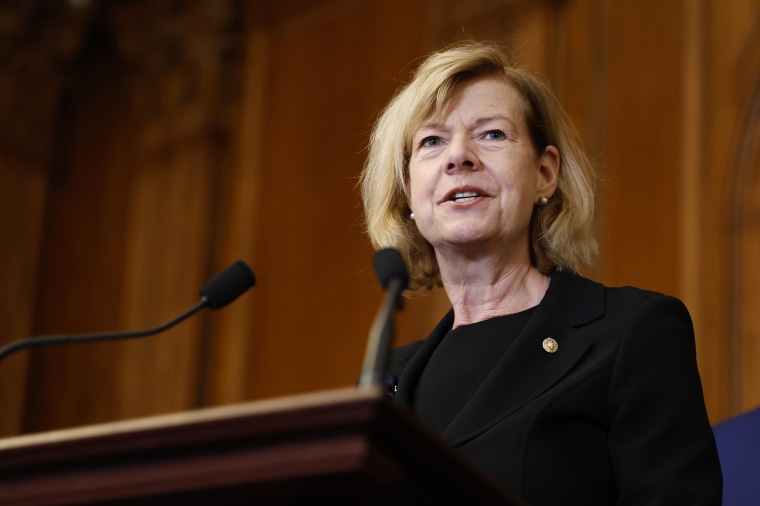 Democratic senators echoed Baldwin's criticism of the ruling on other Sunday news programs, calling it "unbelievable" and an "outrage."
"What is it going to be next? Is that judge not going to like birth control pills? Are we going to have a judge that doesn't like Lipitor?," Sen. Amy Klobuchar, D-Minn., said on ABC News' "This Week," referring to a prescription drug used to treat high cholesterol.
"There's a reason that Congress gave FDA the power to make these decisions about safety," she added.
Sen. Kirsten Gillibrand, D-N.Y., condemned the ruling as an "outrage" and an attack on the right to privacy in an interview on CNN's "State of the Union."
"So to take away the right to have medicine is an extension of taking away this right to privacy, to say we can't have medicine sent by doctors by mail to people across the country is further invading into this right to privacy, where the court and government has a right to what's in your mail, and who you're talking to and what communications you're having," Gillibrand said. "It's an outrage."
Some Republicans on Sunday programs expressed skepticism of the ruling but did not outright denounce it. Sen. Bill Cassidy, R-La., pushed back against concerns that it would upend the FDA's authority and have wider consequences on other drugs as "totally alarmist" in an interview on "Meet the Press."
Kacsmaryk made the ruling that handed a sweeping victory to abortion opponents earlier this month and gave the government a week to appeal his decision. If the ruling does eventually take effect, it would curtail access to the standard regimen for medication abortion nationwide.
On Friday, the U.S. Supreme Court temporarily blocked Kacsmaryk's decision that prevents patients from obtaining mifepristone by mail. The decision means that, at least for now, women can still obtain mifepristone by mail as the legal battle continues.
Both the Justice Department and Danco Laboratories, which makes the brand version of mifepristone, Mifeprex, had asked the court to immediately step in.
In a brief order, Justice Samuel Alito said the hold would remain in effect until midnight on Wednesday. The temporary stay gives the justices time to consider what next steps to take.
Baldwin, who's serving her second term, announced her bid for re-election in 2024 last week.