WASHINGTON — The nation's top counterintelligence official told the Senate Intelligence Committee on Tuesday that penetration of the U.S. market by the Chinese telecom firm ZTE could pose a national security risk to the United States.
His comments come two days after President Donald Trump tweeted that he was working with the president of China to help ZTE, which has been sanctioned by the Treasury and Commerce departments for doing business with Iran and North Korea.
Bill Evanina, who is facing a confirmation vote to head the newly created National Counterintelligence and Security Center, said he was not up to speed on the sanctions against ZTE, and he declined to say whether lifting them would be a good idea.
But under questioning by Sen. Ron Wyden, D-Ore., Evanina said U.S. intelligence agencies are on record as assessing that Chinese telecommunication firms are used as a vehicle by the Chinese government to conduct espionage.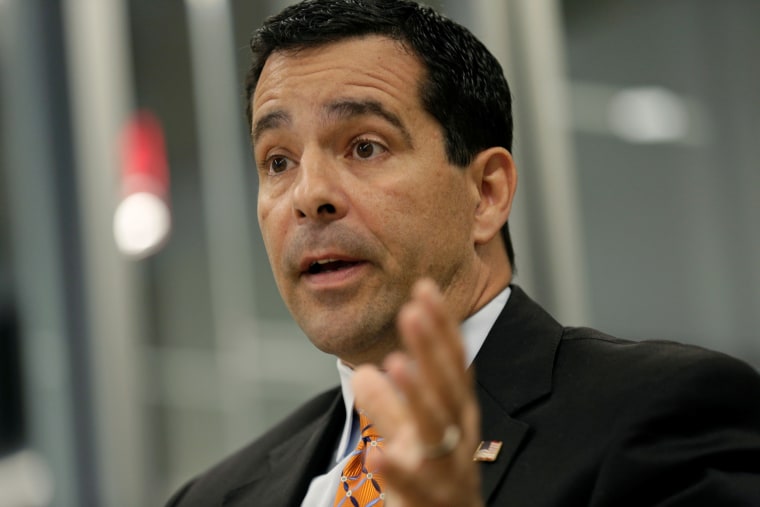 And, answering a question from Sen. Marco Rubio, R-Fla., he said he would never use a ZTE phone.
"President Xi of China, and I, are working together to give massive Chinese phone company, ZTE, a way to get back into business, fast," Trump tweeted Sunday. "Too many jobs in China lost."
As NBC News reported Monday, ZTE ran afoul of the U.S. Treasury and Commerce departments when it sold hardware incorporating American technology to Iran and North Korea in violation of U.S. sanctions against those countries. In March, ZTE agreed to pay $1.2 billion, but when Commerce Department officials discovered a month later that ZTE had rewarded rather than punished the company officials responsible for the violations, it implemented a "denial order" prohibiting U.S. companies from selling their goods to ZTE for seven years.
The denial order effectively crippled the company, which said last week it was shutting down most of its operations.
Lawmakers from both parties have pushed back on Trump's suggestion of relief for the company.
"Our intelligence agencies have warned that ZTE technology and phones pose a major cyber security threat," tweeted Rep. Adam Schiff of California, ranking Democrat on the House Intelligence Committee. "You should care more about our national security than Chinese jobs."
"Problem with ZTE isn't jobs & trade, it's national security & espionage," Rubio tweeted on Monday. "We are crazy to allow them to operate in U.S. without tighter restrictions."
Senate Minority Leader Chuck Schumer, D-N.Y., said in a statement: "One of the few areas where the president and I agreed, and I was vocally supportive, was his approach towards China. But even here he is backing off, and his policy is now designed to achieve one goal: make China great again."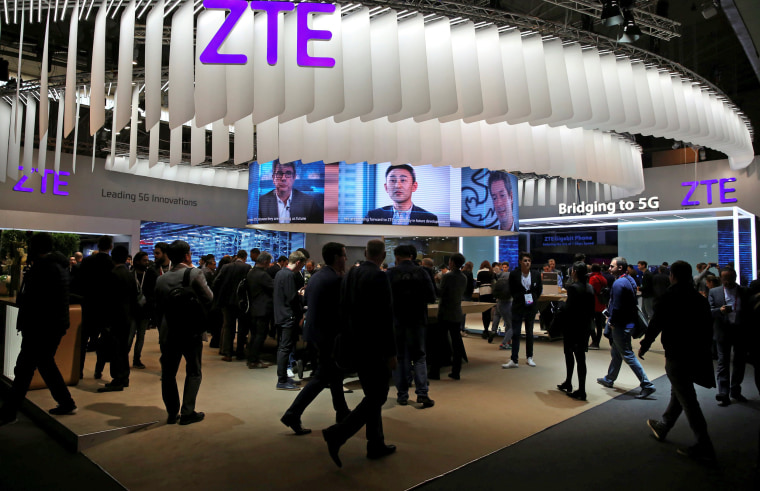 In a statement on its website about the seven-year ban, ZTE said it was "unacceptable" that the U.S. government "insists on unfairly imposing the most severe penalty on ZTE even before the completion of investigation of facts."
The ZTE controversy comes as critics are pointing to the Trump Organization's involvement in an Indonesian theme park backed by the Chinese government, arguing that Trump faces a conflict of interest in negotiating with China.
Earlier this month, as NBC News reported, the Pentagon ordered stores at U.S. military bases to stop selling ZTE and another Chinese brand of cellphones and modems, saying the devices may pose a security risk.
Huawei and ZTE products are being removed from the three store chains operated by the Defense Department at installations worldwide, Pentagon spokesperson Maj. Dave Eastburn said.
"Huawei and ZTE devices may pose an unacceptable risk to the department's personnel, information and mission," said Eastburn. "Given the security concerns associated with these devices, as expressed by senior U.S. intelligence officials, it was not prudent for the department's exchange services to continue selling these products to our personnel."
A report by the House Intelligence Committee in 2012 found that both Huawei and ZTE posed risks to American national security.
"The committee is concerned with the influence of the Chinese state in ZTE's operations. Such access or influence would provide a ready means for the Chinese government to exploit the telecommunications infrastructure containing ZTE equipment for its own purposes. … The history and structure of ZTE, as admitted by the company in its submissions to the committee, reveal a company that has current and historical ties to the Chinese government and key military research institutes," the report said.
"ZTE maintains a Chinese Party Committee within the company, and has not fully clarified how that committee functions, who chooses its members, and what relationship it has with the larger Chinese Communist Party."
Legislation is pending in Congress that would ban the sale of the products in the U.S.