Suggesting that turnabout is fair play, the Senate's new top Democrat said Tuesday night "it's hard for me to imagine" Democratic senators supporting a Supreme Court nomination submitted by President-elect Donald Trump.
In a measured but blunt interview on MSNBC's "The Rachel Maddow Show," Senate Minority Leader Chuck Schumer of New York took on Trump over a number of issues, calling him a "fake" populist who was "dumb" to continue squabbling with the U.S. intelligence community.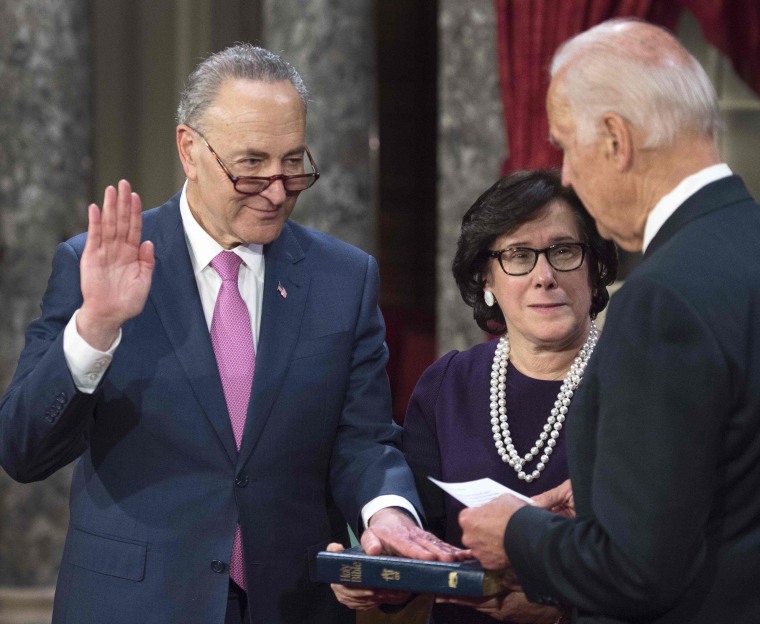 But it was the vacancy on the Supreme Court created by the death of Justice Antonin Scalia in February that led to Schumer's strongest challenge to the president-elect.
Senate Republicans blocked President Barack Obama's March 16 nomination of U.S. Appeals Judge Merrick Garland for more than nine months — more than twice as long as any other nomination to the court has gone without a vote. Garland's nomination expired Tuesday as the new 115th Congress was sworn in.
"The consequences are going to be down the road," Schumer said. "If they don't appoint somebody good, we're going to oppose them tooth and nail."
Asked by Maddow whether he would seek to simply keep the seat open rather than confirm a nominee outside the mainstream, Schumer replied: "Absolutely."
"We are not going to make it easy for them to pick a Supreme Court justice," he said.
Suggesting that could be any nominee, he said: "It's hard for me to imagine a nominee that Donald Trump would choose that would get Republican support that we [Democrats] could support."
Schumer also ridiculed Trump for a tweet the president-elect sent earlier in the day suggesting that intelligence officials had postponed a briefing to buy time to fabricate evidence that Russia was involved in hacking the presidential election — an extensively supported conclusion that he has refused to accept.
"He's being really dumb to do this," Schumer said Tuesday night.
Worse, he said, Trump's rhetoric could come back to bite him.
"You take on the intelligence community, they have six ways from Sunday to get back at you," he said.
Schumer was more confrontational in the interview than he had been earlier Tuesday delivering his welcoming remarks as the new Congress opened.
While Senate Democrats will "resist" if Trump embraces the "same hard-right doctrine positions that many in the Republican Party have held for years," he promised:
"If the president-elect proposes legislation on issues like infrastructure and trade and closing the carried-interest loophole, for instance, we'll work in good faith to perfect and potentially enact it."
But for that to happen, Trump will have to engage with Democratic leaders directly, Schumer said — not through drive-by Twitter shots.
"Making America great again requires more than 140 characters per issue," Schumer told his colleagues.