As they try to deflect attention from his federal indictment, former President Donald Trump and his Republican allies on Capitol Hill say President Joe Biden and his family members are the ones who should be prosecuted or jailed.
Speaking hours after he was arraigned Tuesday for allegedly mishandling classified documents and obstructing justice, Trump suggested to supporters that the Justice Department had indicted him as a distraction from the "real crime" — the "Biden bribery scheme."
That alleged "scheme," the subject of Republican investigations in Congress, relies on uncorroborated claims from a foreign national and a trusted FBI informant, an alleged suspicious financial transaction, an alleged surreptitious recording and numerous unanswered questions that swirl as partisan lawmakers claim they have damning evidence of criminal activity.
Trump and Republicans railed against those things during special counsel Robert Mueller's investigation into Russian interference in the 2016 election, but are now using similar sources to turn the conversation from Trump's legal woes to Biden.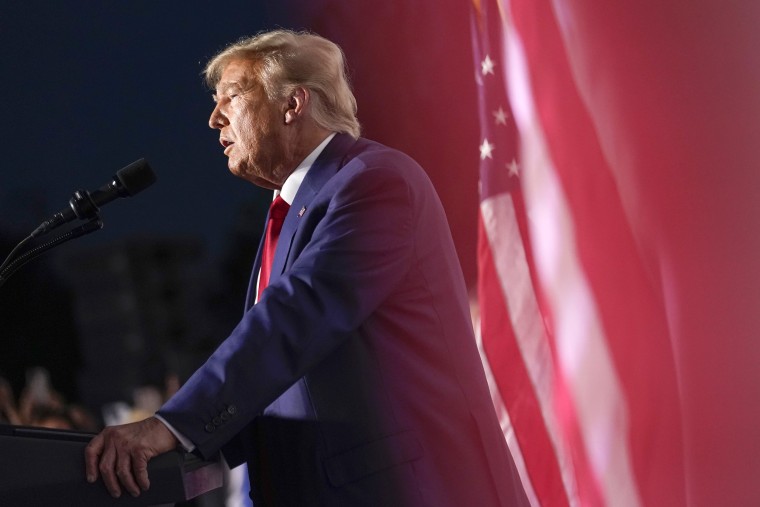 Democrats counter that the GOP's tale of the "Biden crime family" is the real deflection, made up of long-debunked claims from dubious sources that even the Trump Justice Department did not find believable, according to a senior law enforcement official. The White House lambasted the Republican allegations, stemming from what the Justice Department has called an unverified tip, as "political stunts" designed to "attack" the president, while Biden has called the allegations "a bunch of malarkey."
Here's a look at the allegations Republicans are making against Biden and his family, and what's known — and not known — about them.
What are the allegations?
While Republicans have been using their control of the House of Representatives to investigate the financial dealings of the president's son Hunter Biden and other members of the Biden family, their attention in recent weeks has turned to murky allegations against the president himself based on a years-old tip to the FBI from an informant.
House Oversight Committee Chair James Comer, R-Ky., who said he was told about the informant's information by a whistleblower, subpoenaed the FBI last month to obtain the June 2020 FBI document with the tip, called an FD-1023. Comer and Sen. Chuck Grassley, R-Iowa, said the document describes an alleged criminal scheme involving Biden when he was vice president "relating to the exchange of money for policy decisions." Comer alleged the scheme involved a $5 million payment to Biden and another family member from a foreign national in exchange for a policy outcome.
Republicans have since identified the other family member whom the tipster alleged in the document got a $5 million payment as Hunter Biden.
The document has not been made public, so reporters have had to rely on lawmakers' descriptions of its contents.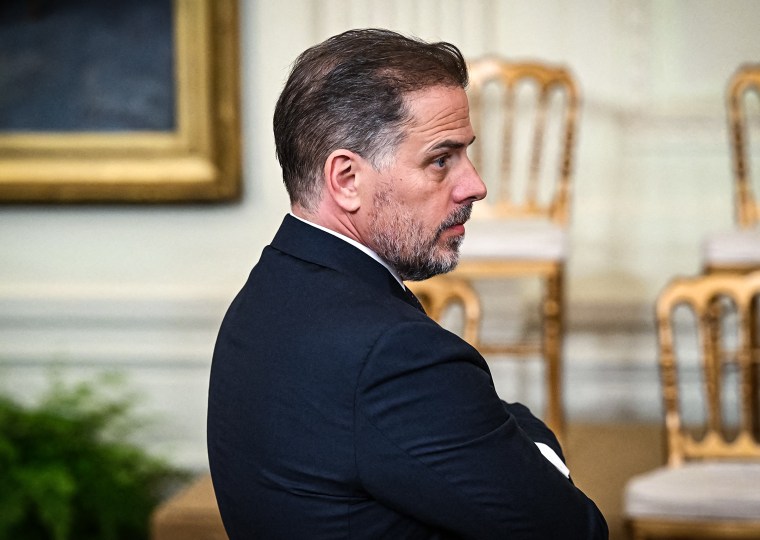 Rep. Byron Donalds, R-Fla., told reporters last week the tipster was a longtime paid FBI informant who had both firsthand and second-hand knowledge of the events, as well as direct contact with the person behind the alleged payout.
Other Republicans said the person who allegedly paid out the cash through multiple accounts and shell corporations was an executive at Burisma, the Ukrainian energy company that employed Hunter Biden while his father was vice president.
While members of the committee were given access to a redacted version of the document last week, Grassley took to the Senate floor on Monday, the day before Trump's arraignment, to disclose what he said was in the unredacted version shown to him and Comer — allegations from the FBI source that a Burisma executive claimed he had audiotapes of him speaking to Hunter and Joe Biden about the scheme.
"According to the 1023, the foreign national possesses 15 audio recordings of phone calls between him and Hunter Biden. According to the 1023, the foreign national possesses two audio recordings of phone calls between him and then-Vice President Joe Biden. These recordings were allegedly kept as a sort of insurance policy for the foreign national in case he got into a tight spot," Grassley said. "The 1023 also indicates that then-Vice President Joe Biden may have been involved in Burisma employing Hunter Biden," he added.
In a letter Friday to FBI Director Chris Wray asking for more information, the ranking Democrat on the Oversight Committee, Rep. Jamie Raskin of Maryland, said the 2020 document notes the claims in it are several years old. He said it "memorializes" a Confidential Human Source's "June 2020 interview, during which the CHS relayed statements made to him by individuals in Ukraine years prior."
Raskin said that in the form "the CHS noted that it is not unusual for Ukrainian business executives to brag and show off and that he could not offer any opinion as to the veracity of the allegations he was relaying."
Is there proof the allegations are true?
"This is the biggest political corruption scandal, not only in my lifetime, but I would say the past 100 years," Rep. Elise Stefanik, R-N.Y., chair of the House Republican Conference, told "Fox & Friends" Friday, vowing "to make sure we follow the facts."
After viewing the 1023 in a secure room at the U.S. Capitol last week, Rep. Anna Paulina Luna, R-Fla., said it shows Biden is "100% guilty" of bribery and Rep. Marjorie Taylor Greene, R-Ga., told The Daily Caller that Biden "should be prosecuted." But there's no indication that any of the allegations in the document have been independently verified.
Asked about the alleged recordings earlier this week, Comer told Newsmax, "We don't know if they're legit or not, but we know the foreign national claims he has them."
Sen. Ron Johnson, R-Wis., who has a history of promoting right-wing conspiracy theories, also sounded a note of caution about the claims during an appearance on "The Vicki McKenna Show" earlier this week. "That's what this person says. But again, take that with a grain of salt. This could be coming from a very corrupt oligarch. Who could be making this stuff up," Johnson said.
The Oversight Committee has subpoenaed bank records from various Biden family members but has found no evidence of any payouts to the president, which Biden noted when asked about the allegations at the White House last week. "Where's the money? I'm joking. What a bunch of malarkey," he told reporters.
Grassley has said he also doesn't know whether any of the allegations in the 1023 are true. "We aren't interested in whether or not the accusations against Vice President Biden are accurate or not. We're responsible for making sure the FBI does its job and that's what we want to know," he told Fox News earlier this month.
The senator told reporters at the Capitol on Wednesday that his "only" concern is getting the unverified 1023 released to the general public.
"The next step is that you ought to be able to read that document just like I did," Grassley said, "That's always been the only step we've ever wanted to accomplish," he added.
Asked for comment on the allegations, the White House referred NBC News to a memo issued last week by special assistant to the president and White House Oversight spokesperson Ian Sams.
"In just a few short months, Comer and his MAGA Republican colleagues in Congress have torpedoed their credibility by repeatedly failing to deliver on much-hyped allegations. Their fact-free wild goose chase continues to be a waste of taxpayer resources," the memo said.
Are bribery allegations being investigated by the feds?
Comer has complained that "the FBI never investigated" the claims in the 1023, but that it's now "being used in an active investigation" as a result of his committee's efforts.
Others give different accounts.
A senior law enforcement official told NBC News earlier this month that the FBI and a U.S. attorney appointed by then-President Trump reviewed the allegation when it was made in 2020, along with other information about Hunter Biden's dealings in Ukraine.
The bribery allegations were not substantiated, the official said.
Ranking Oversight member Raskin said last week the FBI team that briefed him and Comer on the document told them that "the Department of Justice team of prosecutors and FBI agents under U.S. Attorney Scott Brady" — a Trump appointee tasked by then-U.S. Attorney General William Barr with vetting information about Biden and Ukraine, including from Trump's personal lawyer Rudy Giuliani — "determined that there were no grounds to escalate their probe from an initial assessment of the allegations surfaced by Rudy Giuliani to a preliminary or full-blown investigation and that it was therefore closed down."
Raskin has also said the probe was closed with sign-off from "high-level DOJ officials."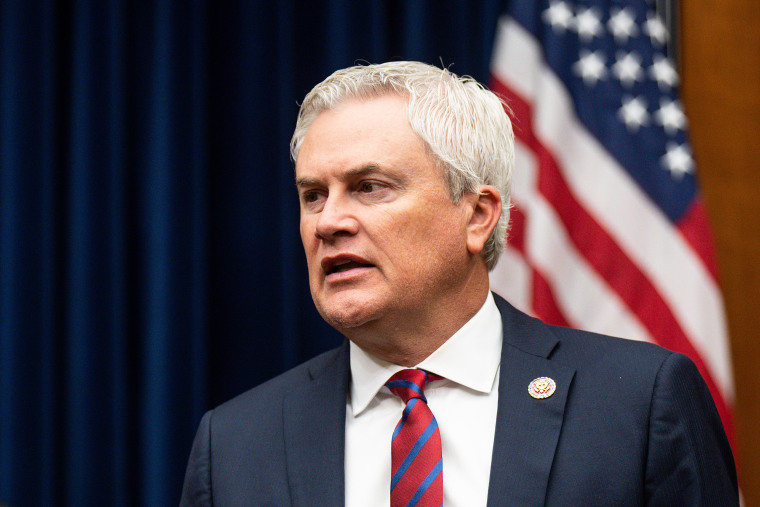 Giuliani was Trump's personal lawyer at the time and sought to dig up dirt on the Bidens, including investigating Hunter Biden's role at Burisma, which helped lead to Trump's first impeachment. In an interview Thursday with Fox News, Barr said Giuliani was not involved with the 1023 and denied that the investigation was shut down on his watch. "It was a pending investigation when I was there" and had been sent "to three U.S. attorney's offices."
Barr told the Federalist earlier this month that one of the U.S. Attorney's offices Barr referred the investigation to was in Delaware, where U.S. Attorney Davis Weiss has been investigating Hunter Biden for tax evasion; the president has said his son "did nothing wrong." Weiss is a Trump administration holdover who was kept on by U.S. Attorney General Merrick Garland specifically to oversee the Biden investigation. Of the charges under consideration in Delaware, as previously reported by NBC News, none are related to the alleged "bribery scheme."
Barr said he didn't know what was happening with the bribery probe, but that it may still be going on after two and a half years "is stunning to me. I would like to see results."
Giuliani, meanwhile, told Newsmax he indeed had given federal investigators the information about the alleged bribe "three years ago, and they followed up on none of the evidence I gave them."
Comer insisted in a statement Friday that Giuliani was not the source of the information, and that "Director Wray himself told Sen. Grassley and me directly that the FD-1023 form was related to an ongoing investigation."
A spokesperson for the FBI declined comment on the matter Friday.
Sen. Ted Cruz, R-Texas, tried pressing FBI Deputy Director Paul Abbate on whether there was an active investigation during a Senate Judiciary Committee hearing earlier this week. "This is an area I'm not going to get into with you, Senator," Abbate replied.
Asked if the FBI had the recordings Grassley mentioned, he said, "I'm not going to get further into this."
Why won't the FBI release the document or confirm or deny an investigation?
At the hearing, Cruz also accused the FBI of "stonewalling" the public. "No one is stonewalling, Senator," Abbate responded.
The FBI initially resisted sharing the 1023 with Comer and his committee, relenting only after Comer moved to begin contempt of Congress proceedings against FBI Director Chris Wray for failing to honor the subpoena.
In a letter to Comer last month, Christopher Dunham, the acting assistant director of the FBI, said there were limits on what the bureau could share from a 1023 because of concerns it could reveal information about their "confidential human source program" and potentially jeopardize those sources or make them less likely to come forward.
Dunham also noted it is a context-free document. An "FD-1023 form documents information as told to a line FBI agent. Recording the information does not validate the information, establish its credibility, or weigh it against other information known or developed by the FBI," he wrote.
Raskin told reporters last week he's not aware of any ongoing investigation into the 1023 allegation but said that if that is the case, it's "all the more reason that specific documents should not be released from the investigation."
The "Department of Justice has an ironclad long-standing policy. You don't release documents from an ongoing investigation," Raskin said. "It just feels like grasping at straws as part of a wild goose chase."
Trump, meanwhile, used the FBI's silence to suggest the allegations must be true in his remarks at Bedminster on Tuesday. He said it's "no coincidence that these charges against me came down the very same day evidence revealed Joe Biden took a $5 million bribe from Ukraine. The FBI and the Justice Department don't even want to talk about it."