President Donald Trump came under fire Saturday for tweets suggesting living conditions in Baltimore are "far worse" than they are along the southern border, where migrants have lined up to seek asylum.
The president lashed out against House Oversight Committee Chairman Rep. Elijah Cummings, D-Md., by calling his Baltimore district "dangerous" and "disgusting."
The president's characterization of one of the nation's oldest and most storied big cities drew rebukes from both sides of the political aisle.
"Baltimore City is truly the very heart of our state, and more attacks between politicians aren't going to get us anywhere," said a spokesman for Maryland Gov. Larry Hogan, a Republican.
Republican Lt. Gov. Boyd Rutherford tweeted, "Mr. President, @realDonaldTrump, I have substantial policy differences with Congressman @RepCummings. However, I hope your criticism is not directed at the many good and hard working people who live in the district."
The hashtag #WeAreBaltimore was trending on Twitter as top Democrats expressed their support for Cummings.
"We all reject racist attacks against him and support his steadfast leadership," House Speaker Nancy Pelosi tweeted.
U.S. Sen. Kamala Harris, who's running for the Democratic nomination for president, tweeted, "I am proud our campaign headquarters is in Rep. Elijah Cummings' district. Baltimore has become home to my team and it's disgraceful the president has chosen to start his morning disparaging this great American city."
Even some outside the political battlefield weighed in.
CNN anchor Victor Blackwell, a Baltimore native, had an impassioned reaction on air, saying through tears, "There are challenges, no doubt, but people are proud of their community. They are Americans, too."
"This is a city of good Americans who deserve more than a grifting, hollow and self-absorbed failure of a man as their president," tweeted Baltimorean David Simon, creator of HBO's "The Wire" and "The Deuce."
Trump's attack came days after the House Oversight Committee voted to subpoena personal emails and texts of top White House aides, including Trump's daughter Ivanka and her husband Jared Kushner.
Trump did not refer to the committee's decision and instead attacked the civil rights icon.
"Why is so much money sent to the Elijah Cummings district when it is considered the worst run and most dangerous anywhere in the United States," Trump wrote. "Where is all this money going? How much is stolen? Investigate this corrupt mess immediately!"
"The Border is clean, efficient and well run, just very crowded," Trump said, adding that Cummings' district is "a disgusting, rat and rodent infested mess."
Trump doubled down Saturday evening, tweeting a video that appeared to show an abandoned, trash-strewn house in Baltimore. It was accompanied by the words, ".@RepCummings, why don't you focus on your district!?"
Then, at 11:35 p.m., the president tweeted, "So sad that Elijah Cummings has been able to do so little for the people of Baltimore."
Cummings responded to the president's earlier jabs via Twitter.
Baltimore officials reacted angrily to the president's depiction of their city.
"We have rats all over the country," said Baltimore Mayor Bernard C. "Jack" Young. "We have two-legged rats."
City Council President Brandon Scott, who was joined by all four women on the council, implored the president to better fund federal programs under the Department of Housing and Urban Development that he says would improve life in Baltimore.
"Stop tweeting," he said, "let's start working."
On Thursday, Cummings said the committee has obtained "direct evidence" that Ivanka Trump, Kushner and other top aides were using personal accounts for official business in violation of federal law and White House policy.
"What we do not yet know is why these White House officials were attempting to conceal these communications," Cummings said, adding that the White House has refused to produce a single piece of paper this year in response to the investigation.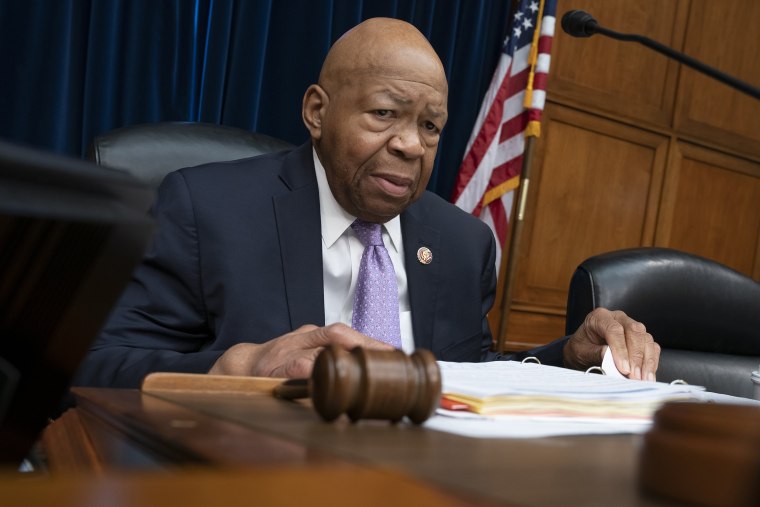 Also on Saturday, Trump's campaign team renewed his attacks on two Democratic congresswomen of color, calling them "America-hating."
The campaign issued a release targeting Rep. Ilhan Omar of Minnesota and Rep. Rashida Tlaib of Michigan for comments they made on Twitter in 2012 and 2015, before they were elected, about deporting Americans.
It said their tweets are "far worse" than anything the president has said about American citizens.
The campaign pointed to three tweets — one by Omar and two by Tlaib — where they refer to deportation.
In 2012, Omar responded to four people who appeared to be arguing for Somali immigrants to give up their culture upon coming to the U.S.
"We are citizens and can't be deported, why don't we deport you to where ever you came from," she wrote.
Tlaib's first tweet references anti-Muslim protests outside a mosque in Phoenix, Ariz., in 2015.
"Wallah someone deport these unAmerican ISISlike armed bikers," she wrote.
In another tweet, Tlaib shared a link to a news article about Trump calling for a ban on all Muslims entering the U.S., saying the president should be deported.
Now, the Trump campaign argues that the women should be held accountable for their "fascist statements."
"President Trump has never threatened to deport an American citizen on Twitter — but Ilhan Omar and Rashida Tlaib have," the release said.
Neither Tlaib nor Omar were immediately available for comment.
Trump has been at odds with Omar, Tlaib, Ayanna Pressley, D-Mass., and Alexandria Ocasio-Cortez, D-N.Y., who refer to themselves at "The Squad."
He sparked outrage earlier this month when he tweeted that, instead of criticizing his government, the congresswomen should "go back and help fix the totally broken and crime infested places from which they came."
He later accused them of being incapable of loving the United States.
The "go back" tweet prompted the Democrat-controlled House of Representatives to pass a resolution on July 16 condemning Trump for his "racist comments."
Following Trump's "go back" message, Tlaib responded by telling her constituents in a video posted on Twitter that "bullying" would only make her work harder for them.
"This is our country and no amount of hate filled bullying from the White House is going to change that," she said. "I will never back down."