WASHINGTON — In a defiant letter Monday, Supreme Court nominee Brett Kavanaugh said he would "not be intimidated into withdrawing from this process."
"The coordinated effort to destroy my good name will not drive me out," Kavanaugh, a federal appeals judge in Washington, said in the letter to the Senate Judiciary Committee. "The vile threats of violence against my family will not drive me out. The last-minute character assassination will not succeed."
Kavanaugh referred to the allegations of sexual misconduct as "smears, pure and simple," writing: "Such grotesque and obvious character assassination — if allowed to succeed — will dissuade competent and good people of all political persuasions from service."
In an interview on Fox News on Monday evening, Kavanaugh and his wife, Ashley, were asked whether they ever looked at each other and said sticking with the nomination wasn't worth it in the end.
"I'm not going to let false accusations drive us out of this process, and we're looking for a fair process where I can be heard and defend my integrity, my lifelong record — my lifelong record of promoting dignity and equality for women, starting with the women who knew me what I was 14 years old," he said. "I'm not going anywhere."
President Donald Trump and some congressional Republicans reaffirmed their support for Kavanaugh on Monday, less than a day after another woman came forward with a new set of sexual misconduct allegations.
"He is a fine man with an unblemished past. These are highly unsubstantiated statements from people represented by lawyers," Trump told reporters in New York, where he'll be attending the U.N. General Assembly. "Judge Kavanaugh is an outstanding person. And I am with him all the way."
"There is a chance this could be one of the single most unfair, unjust things to happen to a candidate for anything," Trump added. "It is totally political."
At an event later in the day in which he and South Korea's president signed an updated trade agreement, Trump answered a shouted question about Kavanaugh, saying: "This is a fine man, and we certainly hope he's going to be confirmed, and quickly. ... His family has suffered. What's going on is not something that should happen."
Later, Trump's tone grew sharper. "The Democrats are working hard to destroy a wonderful man, and a man who has the potential to be one of our greatest Supreme Court Justices ever, with an array of False Accusations the likes of which have never been seen before!" the president tweeted Monday night.
Earlier in the day, other leading Republicans made the same claim. Senate Majority Leader Mitch McConnell, R-Ky., said on the Senate floor Monday afternoon that the allegations were a "smear campaign, pure and simple," that had been "aided and abetted by members of the United States Senate." He said Kavanaugh would receive an up-or-down vote on the Senate floor "in the near future."
"But even by the far left's standards, this shameful smear campaign has hit a new low," McConnell said. "Senate Democrats and their allies are trying to destroy a man's personal and professional life on the basis of decades-old allegations that are unsubstantiated and uncorroborated."
Republicans on the Judiciary Committee said they would like to hold the committee vote on Kavanaugh's nomination as soon as possible, even by Friday, if no compelling new information comes out after Thursday's hearing featuring testimony from Kavanaugh and Christine Blasey Ford, the first woman accusing Kavanaugh, who she said sexually assaulted her when they were in high school.
"It could be by the end of the week," Senate Majority Whip John Cornyn, R-Texas, a member of the Judiciary Committee, said of a committee vote. "Senator McConnell has made it clear we're going to process the nomination through the committee and come to the floor and vote."
"There's no reason to delay it anymore," Cornyn added. "It's obvious the longer things are delayed, the more smear tactics are employed. So we're not stringing it out any longer."
Trump's comments followed a report by The New Yorker in which Deborah Ramirez alleged that when she and Kavanaugh both attended Yale University in the early 1980s, he pulled down his pants and exposed himself to her.
"I remember a penis being in front of my face," said Ramirez, who said she had been drinking. "I knew that's not what I wanted, even in that state of mind."
Three sources familiar with the accusation told NBC News about Ramirez's accusation in the last week. Ramirez, 53, is the same age as Kavanaugh, and they both graduated in 1987.
Kavanaugh denied the allegation Sunday, saying in a statement released by the White House that the "event from 35 years ago did not happen."
On Monday, a spokesperson for the Senate Judiciary Committee said Republican staffers for the panel had reached out to Ramirez. Still, some Republicans on the panel suggested that she should not be given the opportunity to testify.
"In this case, she's already said that she's not even sure she's got the right guy, so I'm not sure whether that warrants a public hearing or not," Cornyn said.
Sen. Lindsey Graham, R-S.C., expressed a similar sentiment. "If there's nothing beyond the article? No," Graham said of the possibility of Ramirez's testifying. "The article was very unpersuasive."
Sen. Orrin Hatch, R-Utah, another committee member, told reporters on Capitol Hill Monday evening: "You're going to have these phony accusations come. That's always the case when you have a contested situation. We should give due listen to everybody who has a concern here. But we're down to rug-cutting time."
In a long statement earlier in the afternoon, Hatch attacked Democrats for continuing "their smear campaign" against Kavanaugh "with a thinly sourced article accusing Judge Kavanaugh of conduct that no eyewitness can even corroborate."
On Monday, The Montgomery County Sentinel reported that local investigators were looking at additional allegations against Kavanaugh after an anonymous witness came forward. The paper said it was unclear whether the claims were related to those tweeted by the lawyer Michael Avenatti on Sunday night.
Montgomery County police disputed elements of the report in an afternoon statement. "At this time, the Montgomery County Police Department has not received a request by any alleged victim nor a victim's attorney to initiate a police report or a criminal investigation regarding Supreme Court nominee Brett Kavanaugh," it said.
The new allegations come days before a scheduled Judiciary Committee hearing for Thursday in which Ford will testify publicly and Kavanaugh will testify in response.
An attorney for Ford wrote in a letter Monday night to Chuck Grassley, R-Iowa, chairman the Judiciary Committee, asking for the identity of the counsel Republicans plan to have question Ford and Kavanaugh.
"Please identify this person and ask your staff to send us her resume immediately. We respectfully request to meet with her tomorrow. We are available for a call with the Majority and Minority staff to discuss the remaining questions anytime," wrote the lawyer, Michael R. Bromwich.
Ford described her decision-making process in coming forward in a personal letter to Grassley over the weekend, which the senator's office released on Monday. "While I am frightened, please know, my fear will not hold me back from testifying and you will be provided with answers to all of your questions," she wrote. "I ask for fair and respectful treatment."
In a response to Ford released Monday, Grassley said he was "committed to fair and respectful treatment of you."
"It's important to me that you personally know how sincere and thorough this effort has been, including my commitment to make sure committee members and other senators are able to hear directly from you," he said.
Most congressional Republicans remained silent Monday, with a few publicly defending Kavanaugh as Democrats called for either a delay in the hearing Thursday or a formal FBI investigation into the most recent allegations.
Dianne Feinstein of California, the ranking Democrat on the committee, called for a delay in Thursday's hearing. and repeated her call for the White House to direct the FBI to investigate both allegations.
Other Democrats echoed Feinstein's request for a formal probe.
"If Brett Kavanaugh refuses to withdraw, then at the very least we cannot move forward until there is a complete and thorough investigation of what appears to be a disturbing pattern of behavior by this nominee," Sen. Robert Menendez, D-N.J., tweeted.
Sen. Maria Cantwell, D-Wash., tweeted: "What we need is a nonpartisan investigation into the facts and information, which could help the Judiciary Committee members and others understand exactly what transpired. We need to get this right."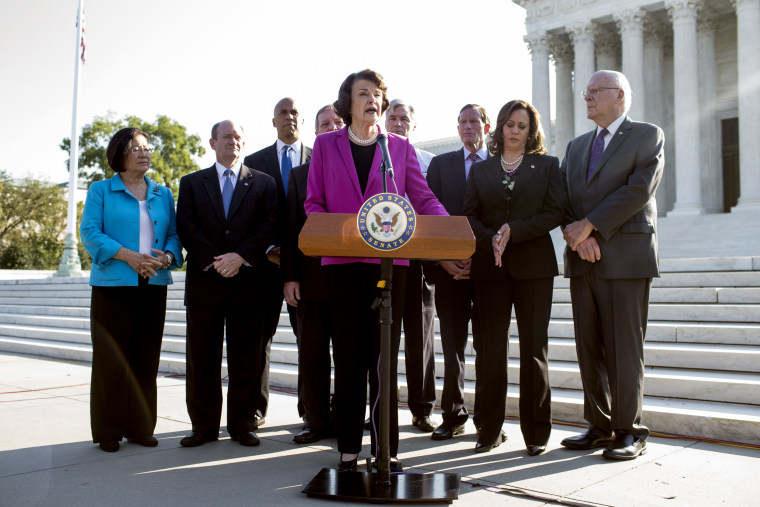 Sen. Kirsten Gillibrand, D-N.Y., suggested on Twitter that Senate Republicans were purposely trying to rush a vote on Kavanaugh while being aware of Ramirez's allegations.
"Senate Republicans were trying to rush a vote while they knew Deborah Ramirez would come forward with her story. They deny Dr. Ford an FBI investigation, won't subpoena corroborating witnesses, and now, this. It's an embarrassment," she said.
She added that Kavanaugh must be replaced.
And Sen. Kamala Harris, D-Calif., a member of the panel, tweeted that Mark Judge, a conservative writer and friend of Kavanaugh's who Ford alleged witnessed Kavanaugh's sexually assaulting her, should be compelled to testify. Judge declined last week to testify or offer any further information.
On Monday, large groups of anti-Kavanaugh protesters arrived on Capitol Hill again and demonstrated outside the offices of Sens. Jeff Flake, R-Ariz., Susan Collins, R-Maine, and others.
Most Republicans have remained silent about the latest allegations, although Grassley accused Democrats of having deliberately sat on the information.
"Yet again, Senate Democrats actively withheld information from the rest of the Committee only to drop information at politically opportune moments," he said in a Sunday statement. "It increasingly appears that they are more interested in a political takedown than pursuing allegations through a bipartisan and professional investigative process. Of course, we will attempt to evaluate these new claims."
Hatch, meanwhile, said senators should hear Ford's testimony on Thursday as planned and "then we should vote."