WASHINGTON — A Senate committee has postponed a vote on President Donald Trump's controversial nominee to lead the Environmental Protection Agency's office of chemical safety.
The vote on Michael Dourson had been scheduled for Wednesday, but was "postponed until further notice," the Senate Committee on Environmental and Public Works announced on Tuesday evening.
Dourson has elicited a groundswell of opposition from Senate Democrats and public health advocates who have attacked him for downplaying the effects of toxic chemicals through decades of industry-funded research. The New York Times's editorial board urged the Senate to reject Dourson on such grounds.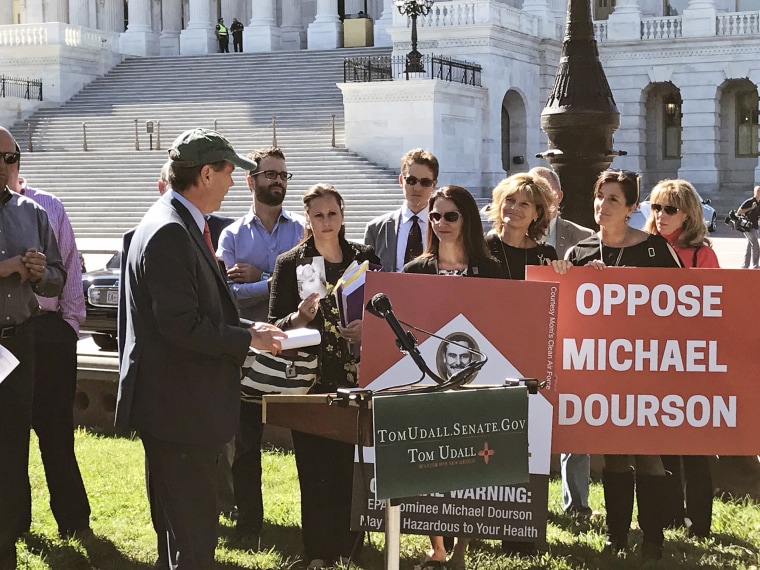 Democrats would need Republican votes to stop Dourson. If the Senate committee approves Dourson's nomination, it would move to the Senate floor for a full vote.
Although he is already awaiting confirmation, Dourson is already working as an adviser to EPA administrator Scott Pruitt, Meghan Pennington, a spokesperson for the committee's Democratic minority, told NBC News. E&E News first reported the news of Dourson's advisory role.
"During the hearing to consider his nomination, my colleagues and I expressed our grave concerns about Michael Dourson. Everything I've learned about him since then has underscored those concerns, and I find his current, unconfirmed role at EPA to be no less troubling," said Sen. Tom Carper of Delaware, the committee's highest ranking Democrat.
EPA spokesperson Liz Bowman confirmed Dourson's advisory role at the agency. She pointed out "many appointees and nominees in prior administrations" have done the same, listing a number of Obama nominees who worked at the EPA in an advisory role while awaiting Senate confirmation. (Some were never ultimately confirmed.)
The Senate committee also delayed scheduled votes on a transportation official, a member of the Nuclear Regulatory Commission and three other EPA nominees, including William Wehrum, an energy industry attorney who Trump has chosen to lead the EPA's office of air and radiation.
Also Tuesday, Trump's nominee for drug czar, Rep. Tom Marino, withdrew his name from consideration to lead the Office of National Drug Control Policy. Marino bowed out days after an explosive "60 Minutes"-Washington Post report that he had championed a bill that hindered federal agents from going after the Big Pharma firms that flooded the country with addictive opioids.
Democrats have ramped up their attacks on Dourson in recent days.
"Polluters have paid these nominees well for their services over the years," Sen. Sheldon Whitehouse of Rhode Island said in a press release on Tuesday, criticizing both Dourson and Wehrum for dodging basic policy questions. "We are witnessing the corporate capture of the EPA right before our eyes."
Currently a toxicologist at the University of Cincinnati, Dourson defended his work as "sound science" at his Senate confirmation hearing and promised to protect the most vulnerable Americans.
Mike Danylak, a spokesman for the Senate committee's GOP majority, declined to comment on why the committee postponed the votes.
Susan Bodine, Trump's pick to head up EPA enforcement, has also been advising Pruitt while awaiting full Senate confirmation. Senate Democrats have threatened to hold up her confirmation vote until the EPA has responded in greater detail to their oversight requests.