WASHINGTON — With health care legislation dead for now, the White House and Congress have yet to announce their next moves. But their decisions in coming days could have major implications for Obamacare's exchanges next year.
On the Republican side, leaders are weighing three options. They can keep fighting for a GOP health care bill in the hopes of a late breakthrough, work with Democrats on a bipartisan package to make insurance markets function smoothly in the short term, or encourage the Obamacare exchanges to collapse in the hopes of building pressure for repeal and replacement.
Perhaps the biggest decision rests with President Donald Trump, who could unravel the insurance market in several ways — by withholding payments owed to insurers for lowering deductibles, declining to enforce the law's individual mandate, or failing to adequately recruit customers during open enrollment this fall.
Trump has sent mixed signals on his intentions, but he's threatened to cut off insurer payments, which are the subject of a lawsuit claiming they were improperly legislated. These threats have gotten louder recently and Trump said Friday that he wanted to "let Obamacare implode."
Trump's push for collapse come as signs point to insurance markets improving this year after a period of significant premium hikes.
"There's some pretty good evidence that the insurers in the exchanges were beginning to turn a profit," Joe Antos, a scholar at the American Enterprise Institute, told NBC News.
Time is running out
Insurers say they're already raising premiums for customers in response to the policy uncertainty and that it's making them more likely to withdraw in 2018, potentially leaving some counties without any individual coverage options. Companies need to make their final decisions on rates and participation in September.
Trump would have to bank on Americans not blaming the party with unified control for upending their health care in 2018, despite egging on its collapse while health experts warned of the consequences.
That clock is ticking for Congress, too, which makes continuing to try and pass health care a more complicated decision as well even as they face a backlash from conservatives.
"I am disappointed and frustrated, but we should not give up," Speaker Paul Ryan said on Friday.
Some Republican senators have already warned for weeks that the prolonged process is running up against insurer deadlines. They also have to pass a spending package and move on to tax reform by the end of September, which will require them to let the reconciliation bill they're using for health care to expire.
With hopes of a broader package fading, though, senators from both parties are talking up bipartisan legislation.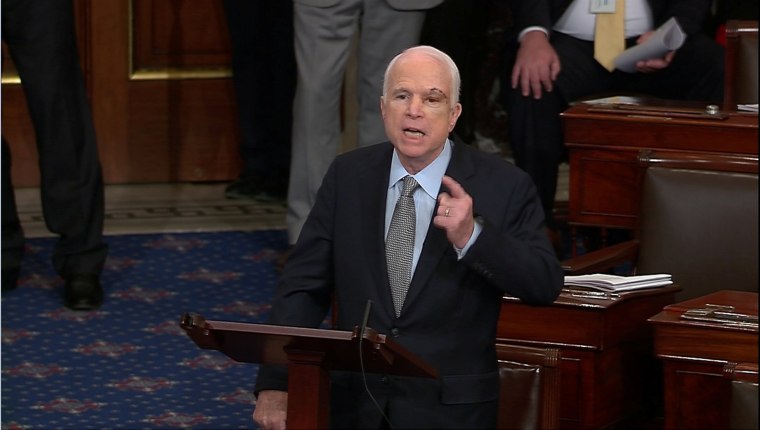 Senate Minority Leader Chuck Schumer, D-N.Y., acknowledged lingering problems in Obamacare exchanges and offered to negotiate on Friday once repeal was off the table.
Sen. John McCain, R-Ariz., who cast the decisive vote against the "skinny repeal" bill Friday morning with colleagues Lisa Murkowski, R-Alaska, and Susan Collins, R-Maine, has suggested any health bill that passes should have Democratic backing. Some moderate senators on both sides of the aisle have already been talking in private about possible areas of agreement.
Ideas mentioned by members of both parties include authorizing the cost-sharing payments Trump is threatening to cut off, a reinsurance fund to help insurers cover expensive patients, and some kind of backup option for people if they live in a county with no individual insurance plans.
But building support for a bipartisan solution won't be easy either. To many conservatives, any deal could be labeled as tantamount to surrender.
"The only way to force senators back to the table is to block efforts to prop up Obamacare," Michael A. Needham, the CEO of Heritage Action, declared in a statement on Friday.
Republican leaders already sound wary of being viewed as spending taxpayer dollars to undertake a rescue effort for a bill their base despises.
"Bailing out insurance companies, with no thought of any kind of reform, is not something I want to be part of," Senate Majority Leader Mitch McConnell, R-Ky., said Friday after the health vote failed.