On its face, Monday's summit at Trump Towers between President-elect Donald Trump and Hawaii Democratic Rep. Tulsi Gabbard makes little sense.
Hawaii was Donald Trump's single worst state (he got only 29 percent of the vote) and it's by far the country's most racially diverse, with whites making up about only one-quarter of the population.
But in a statement after the meeting, Gabbard, who has often challenged President Barack Obama on national security, said she held a "frank and positive" conversation with the President-elect, discussing Syria and other foreign policy issues.
Gabbard, a member of the House Armed Services Committee, also said she and Trump discussed legislation that she is pushing that would end what she described as "our country's illegal war to overthrow the Syrian government."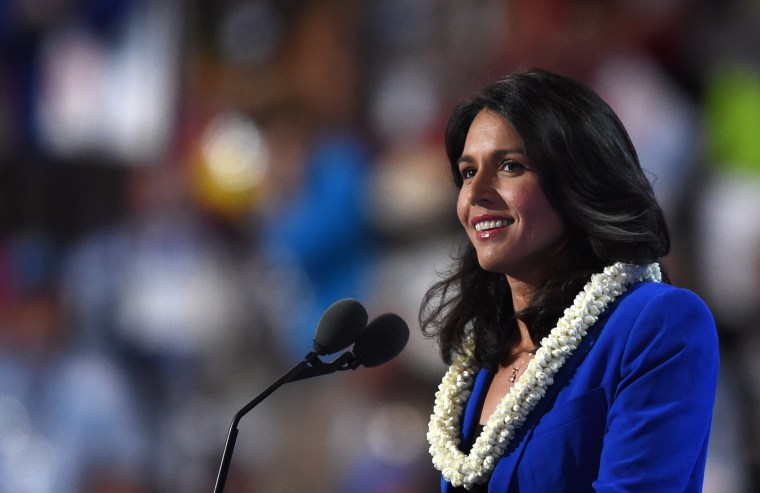 Trump asked for the meeting, Gabbard said, to discuss Syria, the fight to defeat the ISIS and al Qaeda, and other foreign policy issues. Aides to the president-elect said Trump wants to hear viewpoints from across the political spectrum.
A spokeswoman denied rumors last week that the congresswoman is being considered for a job in Trump's administration.
While Gabbard acknowledged that the rules of "political expediency" dictate that she should have refused the meeting, she accepted over concern that a wing of the Republican Party known as the neocons will grow in influence once Trump takes office in January. She said that could push the U.S. more deeply into Syria, where the war now in its sixth year has killed as many as a half-million people.
"While the rules of political expediency would say I should have refused to meet with President-elect Trump, I never have and never will play politics with American and Syrian lives," Gabbard continued. "Where I disagree with President-elect Trump on issues, I will not hesitate to express that disagreement."
"I felt it important to take the opportunity to meet with the President-elect now before the drumbeats of war that neocons have been beating drag us into an escalation of the war to overthrow the Syrian government," wrote Gabbard, who backed Vermont Sen. Bernie Sanders for president.
The Obama administration has refrained from setting up a no-fly, or safe, zone for civilians in Syria partly because of the complexity in enforcing it and the potential for direct military confrontation between the U.S. and Russia.
Democratic presidential candidate Hillary Clinton called for a no-fly zone over parts of Syria during the campaign, as did Mike Pence, Trump's vice president-elect. But Trump didn't take a firm position.
Gabbard, 35, is an ambitious young Iraq War veteran who is considered a rising star in her party, though she broke publicly with it earlier this year. Gabbard abruptly resigned her spot as vice-chairwoman of the Democratic National Committee in February to endorse Sen. Bernie Sanders for president, accusing party leaders of rigging the presidential primary process for its eventual nominee, Hillary Clinton.
Sanders embraced Gabbard and she became an effective surrogate for his campaign, appearing in a Sanders ad that featured her surfing and discussing the cost of war.
But she doesn't always hew to party orthodoxy, and proudly so, holding more conservative views on issues like gun control and the admittance of Syrian refugees.
But her most animating issue has always been foreign policy, where she might find common ground with Trump. She's a hard-line anti-interventionist who rails against neoconservatives while also appearing on Fox News to lambaste the Obama administration for refusing to use the term "Islamic extremism."
"She is probably the most Trumpian Democrat in Congress," said a Democrat who worked for Gabbard, granted anonymity in order to speak candidly. "If Trump is going to do outreach to a Democrat, she is the least shocking person he could do."
Her stances led the Daily Beast's Tim Mak in July to label Gabbard a "Bernie-Endorsing Congresswoman who Trump fans can love."
Related: How Trump's Business Presents Huge Conflicts of Interest
Last week, Gabbard did not join a letter signed by 169 House Democrats condemning Trump adviser Steve Bannon's White House appointment, and she has been less vocal than her colleagues about Trump's other administration picks. Democrats and other critics have objected to Bannon in part due to his hard-right website, Breitbart, which Bannon has described as a "platform for the alt-right," a white nationalist movement.
Some Democrats were stunned by Gabbard's decision to meet with Trump at a time when so many progressives are calling for total obstruction of the president-elect. Jonathan Tasini, a former Sanders surrogate, said on Twitter that Gabbard's meeting "normalizes a racist."
Others viewed it as opportunism.
"Honestly, since her endorsement of Bernie Sanders, lots of folks who liked her more or less decided to hold back. Seemed like she was interested in advancing for advancing sake as opposed to working on strengthening the party. As a result, I think she fell out of touch with a lot of institutional people in the party," said a Democratic donor who co-hosted a fundraiser for Gabbard's initial election bid. "If those avenues are closed off in terms of advancement in House/DNC, no surprise she'd seek an escape valve to increase her own profile."
Related: Who Is Mad Dog Mattis, Trump's Likely Pick for Defense Chief?
Shay Chan Hodges, who unsuccessfully challenged Gabbard in a primary this year and is considering a re-match, said she was not surprised to hear about the congresswoman potentially joining a Trump administration.
"Throughout the election, Tulsi Gabbard never said one negative word about Trump. And you pretty much can't say that about any other Democrat in the country," said Chan Hodges. "How long has Tulsi Gabbard been thinking that this was her alternative option if Trump wins?"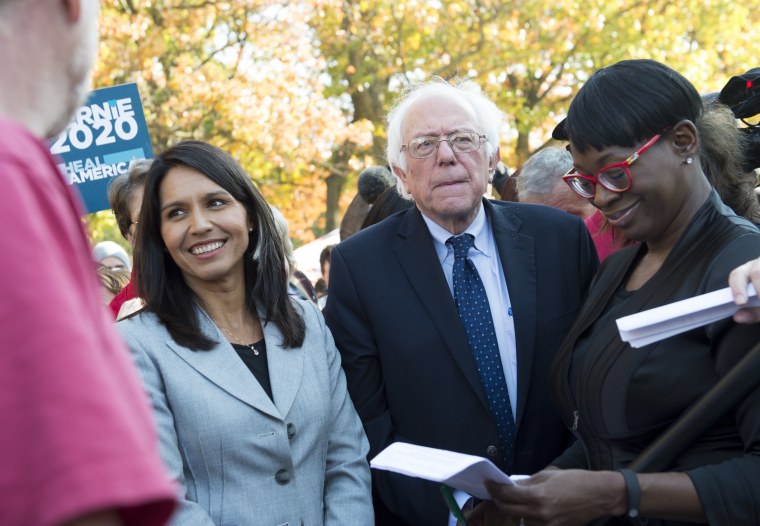 But Tim Vandeveer, a Sanders supporter elected this year as chairman of the Hawaii Democratic Party, defended Gabbard's decision.
"Given the reality that we're facing now with President-elect Trump, and an administration that we've already seen is going to lean heavily on neoconservatives who are going to rattle the sabers of war, I think it's a good idea for Democrats to engage and stand up for our values," said Vandeveer. "In general, normalizing Donald Trump is a huge concern to Democrats. However, it doesn't change the reality that this is the man and this is the administration that we are going to have to stand in opposition against and at times possibly work with to advance our own agenda."