Republicans are going to war with each other over the House health care bill's cuts to Medicaid, setting up an ideological split that could imperil efforts to repeal and replace the Affordable Care Act.
Obamacare expanded Medicaid funding and required that states use the money to cover Americans with higher-incomes, a move that the later Supreme Court made optional. The House's proposed replacement, the American Health Care Act, would phase out the expansion funding, threatening coverage for roughly 11 million people it's added to the rolls.
The House plan would also dramatically reform the underlying Medicaid program to pay states a fixed per-capita amount to cover their population based on their average expenses — a move that's likely to reduce funding over time. Conservative policy experts argue states will find ways to administer the program more efficiently under the change.
The GOP bill's Medicaid provisions are reigniting a longstanding debate between conservatives who have long been critical of the program's cost and performance against more moderate Republicans worried that cuts will blow a hole in their state's budget and leave patients out in the cold.
Case in point: Senators Ted Cruz (R-TX) and Susan Collins (R-ME) have both said the House bill will not pass barring major changes, and they each agree Medicaid is one of their concerns.
But they have opposite positions: Cruz wants the bill to lock out expansion beneficiaries faster and says the House's more gradual approach "makes no sense." Meanwhile, Collins told Yahoo News on Wednesday she wants to make the expansion permanent because Congress "promised states" they would receive the funds. She is co-sponsoring a dramatically different health care bill with Sen. Bill Cassidy (R-LA) that would maintain the expansion.
The House plan tries to reach a compromise by phasing out funding for the Medicaid expansion population over time, cutting them off entirely in 2020. After that, states would receive funding for existing expansion recipients so long as they maintained continuous Medicaid coverage, but experts say the program's typical churn would quickly remove many from the program.
The attempt at a middle ground is drawing fire from both sides.
Conservatives in the Senate and House, including the influential Freedom Caucus, are demanding the cuts take place sooner than the House bill proposes. The chairman of the House Republican Study Committee, Rep. Mark Walker (R-NC), wants to add new work requirements for able-bodied Medicaid recipients as well. Many are broadly skeptical of the program, which they see as an expensive entitlement that discourages recipients from earning higher incomes and moving to private insurance.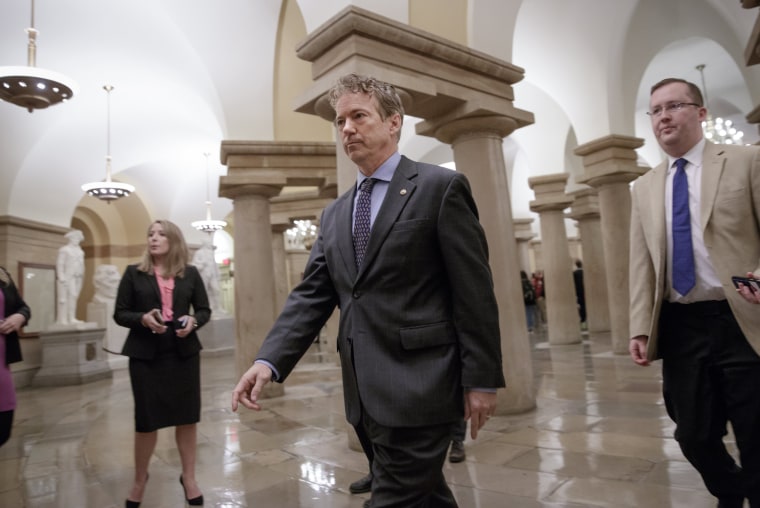 "Obamacare is dishonest in that it says, 'Yeah, we can expand it, but it won't cost anything,'" Sen. Rand Paul (R-KY), an early critic of the GOP bill, told NBC News. "Our country has a $20 trillion debt. It's a huge burden that I think threatens the country from within."
More moderate Republicans, however, are worried about reducing funding or changing the program too rapidly.
Related: American Medical Association opposes GOP plan
In a letter shortly before the bill's release, Republican Senators Rob Portman of Ohio, Cory Gardner of Colorado, Lisa Murkowski of Alaska, and Shelley Moore Capito of West Virginia warned that they "will not support a plan that does not include stability for Medicaid expansion populations or flexibility for states."
There are some complaints on the House side as well. "I remain concerned … about the impact of the Medicaid changes on vulnerable populations, as well as the overall effect of the bill on access to affordable care," Rep. Charlie Dent (R-PA), who represents a swing district, told NBC News in a statement.
While few members have declared their outright opposition to the bill, there's no obvious way to satisfy one side's concern without further alienating the other. That could make for a difficult negotiation as the party struggles with additional divisions over issues like tax credits for private insurance and whether to defund Planned Parenthood.
Some 32 states, including the District of Columbia, have accepted the ACA's increase in federal aid and many of the expansion states have Republican governors and state legislatures. Powerful advocacy groups representing doctors (American Medical Association), insurers (America's Health Insurance Plans), hospitals (American Hospital Association), and seniors (AARP) are also up in arms over the House's proposed changes, putting more pressure on vulnerable lawmakers to tread carefully or risk a backlash.
The controversy boils down to simple math. Under the House bill, states would have to make major cuts and raise taxes or simply drop coverage and benefits for the groups covered under the ACA. The Center on Budget and Policy priorities estimates that the House GOP plan would shift $370 billion in costs to states over the next decade.
This helps explain why Republican governors have been some of the biggest early skeptics of the House bill. Ohio Governor John Kasich warned this week that the Medicaid change in the House bill "unnecessarily puts at risk our ability to treat the drug addicted, mentally ill, and working poor who now have access to a stable source of care."
As Kasich and other Republicans have mentioned, there are specific concerns tied to the opioid epidemic governors are confronting around the country and that President Donald Trump referenced often on the campaign trail. Medicaid pays for rehab and mental health treatment for many victims of drug abuse. In addition to removing millions from the program by undoing the expansion, some policy experts warn that the House's fixed per-capita formula would make it harder for states to respond to unexpected crises like drug outbreaks that raise the average cost of treating individual patients.
Caving in to the demands of moderate Republicans becomes even more complicated for another reason: The 19 states that have so far declined to participate in the Medicaid expansion.
These states paid a considerable price for their decision to stand with conservative activists demanding they hold the line against Obamacare with a future repeal bill in mind. A gap in the law created by the Supreme Court's Medicaid ruling left many poorer residents with incomes too high to qualify for Medicaid but too not high enough to qualify for subsidies to buy private insurance. The ACA also cut funding to hospitals for uninsured patients that the Medicaid expansion was supposed to make up.
The House bill makes some money available to non-expansion states elsewhere to try and address these fairness concerns, but any moves to bring more moderate senators into the fold in the expansion states could upset this balance.
"If a state expanded their Medicaid they should not somehow get a benefit from having done so versus a state that did what I thought was responsible at great political cost," Sen. Marco Rubio (R-FL), whose governor turned down the expansion, told NBC News.