MIAMI — Flipping through her phone in front of Versailles Restaurant on a 91-degree day here, Maria Diaz quickly landed on a photo of herself wearing a "Mamas for DeSantis" shirt just after Ron DeSantis' re-election as governor in 2022. 
A few swipes of her finger, and she found another image: one of herself and a friend at a Donald Trump rally in Hialeah, both smiling in pink "Trump 2020" hats.
Like many of her fellow Cuban Americans living in Florida, Diaz is a conservative who supported both candidates in their past runs. But with three Floridians — Trump, DeSantis and now Miami Mayor Francis Suarez — in the race for the Republican presidential nomination, her loyalties are now being tested.
"I am probably leaning more towards Trump, he knows who the players are already. And I feel like we're in a really bad situation right now in this country," Diaz said.
She's far from alone in her assessment. Based on conversations with political analysts, campaign surrogates and voters in Miami-Dade County and elsewhere in Florida, the race to secure Cuban American voters' loyalty appears to be Trump's to lose, leaving his Republican rivals in the state playing catch-up.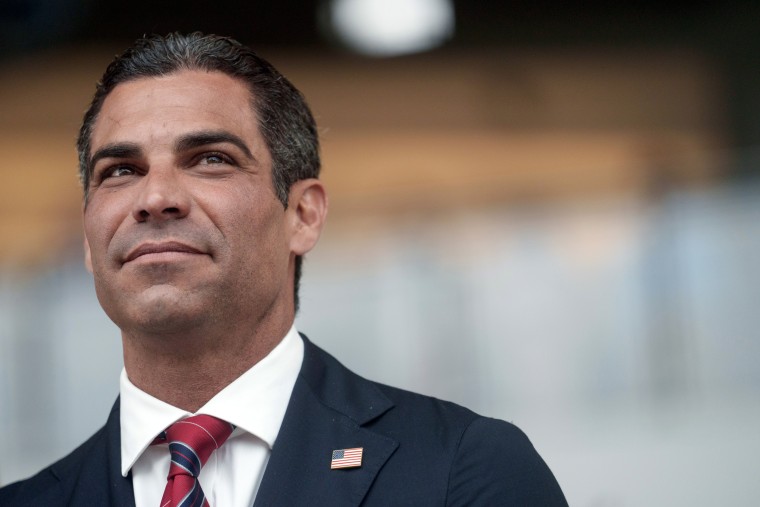 Trump's overwhelming force
Standing outside his office in Miami's Coconut Grove neighborhood, Fernand Amandi, who leads the Miami-based public opinion research firm Bendixen & Amandi, described Cuban American support for the former president as "overwhelming."
"Donald Trump is to the point where he could share a Cuban cafecito with Fidel Castro on Fifth Avenue and not lose any Cuban American supporters," he said.
Although Trump won Florida in the 2016 Republican primary, exit polls show he lost the Cuban American vote to Florida Sen. Marco Rubio — whose parents are Cuban immigrants — by 46 percentage points. After that, Trump went on what Amandi described as a "full court press charm offensive," campaigning heavily in Florida, appearing on Spanish-language radio and delivering hard-line policies toward Cuba during his time as president. 
The next election, he won 56% of Cuban voters in the state, according to NBC News exit polls.
Kevin Marino Cabrera, who led Trump's 2020 statewide re-election campaign and now serves as a Miami-Dade County commissioner, said it's too early in the primary process for any candidate to name an outreach director for Florida's Cuban American voters heading into the 2024 election. But also, he argued, at this point, the Trump team might not need one.
"You've got just an enormous movement of grassroots folks supporting him that have never stopped since 2015," Cabrera said in a phone interview. "You don't have to activate them because they haven't stopped."
"It's no surprise that President Trump has the support of a wide range of Americans who saw first-hand what he can do to supercharge the economy, secure our border, safeguard communities, and put an end to unnecessary wars," Trump spokesman Steven Cheung said. "They want America to return to a prosperous nation and there's only one person who can do that — President Trump."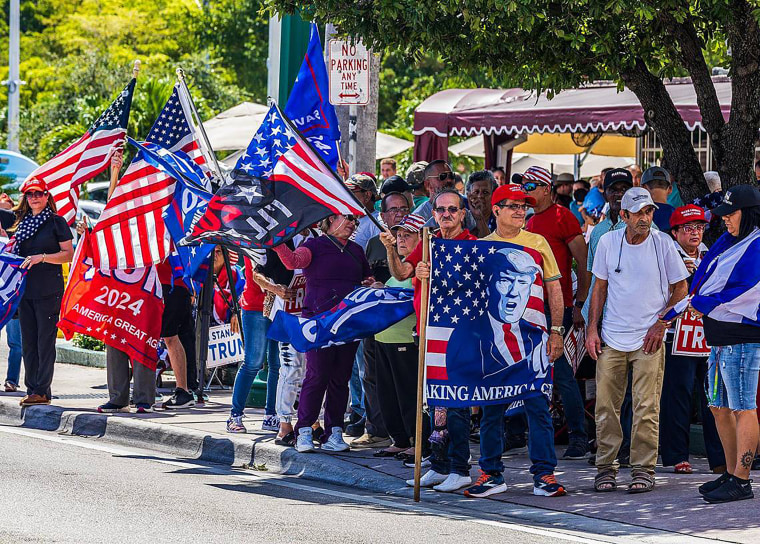 A lonely road for some DeSantis supporters
Standing on a shady sidewalk in Miami's Cuban Memorial Park, Maria Peiro described a political environment that can sometimes be difficult for Cuban American supporters of DeSantis like her. 
"Right now, you kind of can't say that you support DeSantis, because they will go after you. They feel that you're a traitor to Trump if you do this," Peiro said. "There's a lot of people that have said to me, 'I support DeSantis. I just don't want right now to be saying it out loud.' Because we have, you know, loud Trump supporters sometimes that go after them."
A former volunteer for DeSantis' 2018 gubernatorial bid, Peiro is now unaffiliated with the campaign. Instead, she chooses to share videos and news articles on her Facebook page, hoping to win over fellow Cuban Americans with the governor's messaging on what she calls "culture war" issues such as critical race theory and gender identity, which she believes are being used to indoctrinate children in school.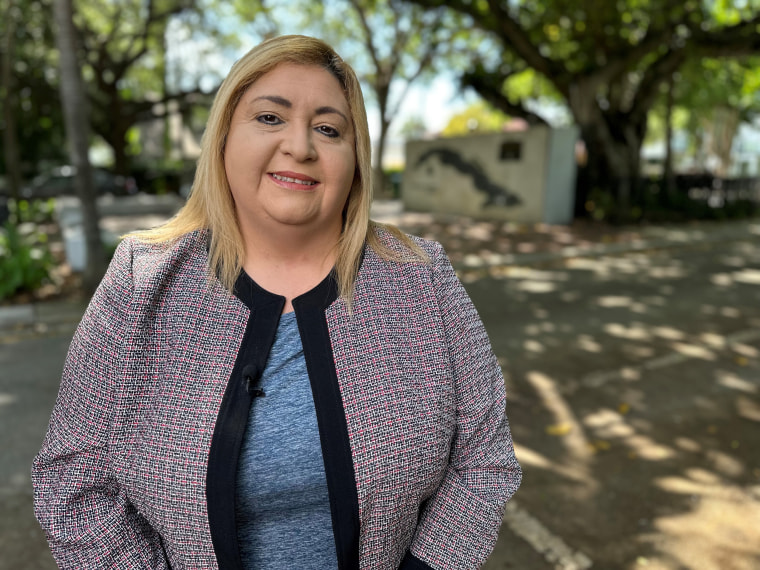 Although she once considered herself a Trump supporter, she's now vocal in her criticism of the former president.
"When he had a majority in Congress and the Senate, he wasn't able to get things done — unite the Republicans behind him, so that he could pass those laws and things that he had promised, like completing the wall, getting rid of Obamacare. And it was a lot of drama, as opposed to DeSantis, who's more focused, gets things done, unites the party people behind him," Peiro said. "And, you know, he's not on Twitter all the time."
One thing surrogates for both the Trump and DeSantis camp agree on is that the Manhattan grand jury's indictment of the former president related to $130,000 in payments to adult film star Stormy Daniels and his federal indictment related to alleged mishandling of classified documents have so far not hurt his campaign but helped it.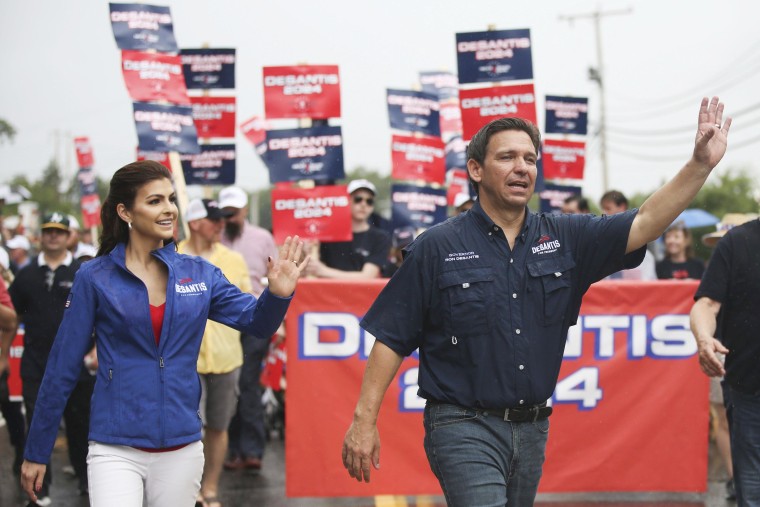 NBC News reached out to the DeSantis campaign and Never Back Down — a PAC that is supporting the governor's run for president — for comment on the candidate's support in the Cuban American community, but the campaign did not respond by deadline. 
Dave Vasquez, the national press secretary for Never Back Down, pointed out that DeSantis was the first Republican governor in nearly 20 years to turn Miami-Dade County red, adding: "He won Florida by the largest margin of any governor in 40 years and he's proven he's the candidate who can send Joe Biden back to Delaware permanently — without excuses."
Vasquez also referred NBC News to former Florida House Speaker Jose Oliva, a Republican who represented parts of Miami-Dade County and Hialeah and who supports DeSantis' bid for the Republican nomination.
Although there's no evidence that the Trump indictments were politically motivated, he believes the former president's message about his indictments is resonating with a Cuban American population that has witnessed a long history of arbitrary arrests and prosecutions in their home country.
"I think that just as we saw Trump's numbers climb dramatically immediately after the New York indictment, they've strengthened after the federal indictment," Oliva said. "So I think that what you're seeing is a natural knee-jerk reaction to what is perceived as persecution."
The only Cuban American candidate
Since his announcement for the Republican nomination in June, Miami's mayor has described himself as a "first-generation American" who can connect with segments of the country outside the Republican base, including urban and Hispanic voters.
The son of Cuban immigrants, Suarez won re-election in 2021 with almost 79% of the vote.
But political experts, DeSantis supporters and Trump supporters who spoke for this article all expressed strong skepticism that Suarez would make a dent in either candidate's support among Cuban Americans. 
"The connection in the relationship between Cuban voters and Trump is so strong that not even another Cuban American candidate in Francis Suarez would threaten that relationship," Amandi said.
Other voters described Suarez as insufficiently conservative, pointing to his reported vote for Democrat Andrew Gillum in the 2018 governor's race. Suarez also butted heads with DeSantis over Covid restrictions, something Peiro said she views as disqualifying for a Republican candidate.
"I just think he's in this race just to get some name ID for something else that he wants to do. But I don't think he's gonna get any votes, hardly any votes from Cuban Americans," Peiro said.
NBC News reached out to a spokesperson for SOS America PAC requesting an interview or a surrogate who could speak about Suarez's candidacy. The spokesperson did not comment for this article directly but referred NBC News to a surrogate, who did not respond by deadline. 
In spite of the long road to the March 19 primary and the hard-fought political battles to come, there's evidence voters in this winner-take-all state with 125 delegates at stake are relishing the fight.
"It's like a really good football game coming up," Diaz said. "Who's gonna win? I don't know. It's two champs against each other."