­ WASHINGTON — John Kelly, mired in conflicts with a widening array of officials from the National Security Council to the office of the first lady, may soon depart the Trump administration, according to seven people familiar with the discussions.
Nick Ayers, Vice President Mike Pence's chief of staff, is among those being considered for the job, three of the people said, though President Donald Trump has mused about other possible candidates.
Melania Trump has ensured the departure of one White House official, deputy national security adviser Mira Ricardel, after she had a series of run-ins with the first lady's office.
Stephanie Grisham, the first lady's communications director, issued a pointed statement on Tuesday saying as much. "It is the position of the Office of the First Lady that she no longer deserves the honor of serving in this White House," Grisham said.
It's an extraordinary, if not unprecedented, move for the first lady's office to publicly call for the firing of a NSC official. Ricardel was seen at an official White House event with the president as Grisham's statement was was issued.
Kelly's time as chief of staff for most of the past year has been clouded by controversy and disagreements with Trump and various West Wing staff. But questions about his future in the White House recently became more serious after his repeated clashes with national security adviser John Bolton and his deputy, Ricardel.
Kelly has also gotten on the wrong side of Melania Trump over staffing issues and travel requests. Some of the disputes with the East Wing have escalated to the president, the seven people familiar with the clashes said.
SIGN UP FOR NBC BREAKING NEWS EMAILS
"There have been instances where the East Wing staff were not treated as equals to the male-dominated decision makers in Chief Kelly's office," one White House official said. "Promotions were denied then finally granted after months of requests," the official said.
Melania Trump raised concerns with her husband earlier this year, amid the height of the controversy over his alleged affair with porn actress Stormy Daniels, that Kelly had repeatedly denied her requests to promote some of her aides, two White House officials told NBC News.
The requests languished for months as Kelly insisted there weren't enough available positions for the first lady's aides to have senior titles, these people said. During this same period however, West Wing officials working for Kelly received promotions, the White House officials said.
Having learned of the dispute, the president was furious and told Kelly to give the first lady, who has a smaller East Wing staff than her recent predecessors, what she wanted, these people said. "I don't need this shit," Trump told Kelly, according to one person familiar with the conversation.
Kelly wouldn't be the first chief-of-staff to upset a first lady but history has shown that such disputes are tough to overcome.
Nancy Reagan was at odds with President Ronald Reagan's chief of staff, Donald Regan, which ultimately helped orchestrate his departure. And Hillary Clinton was at odds with President Bill Clinton's chief of staff over her large role in policy decisions.
Trump was especially annoyed, according to people familiar with his thinking, that he had to get involved in disputes involving his wife. His message to Kelly, according to one of them, repeatedly has been: "Deal with it."
The promotions of the first lady's communications director, Grisham, and White House social secretary, Rickie Niceta, from special assistants to the president to deputy assistants to the president were ultimately cleared and announced in June.
Kelly has also sparred with the East Wing over travel arrangements for the first lady's staff, people familiar with the issue said. He often wouldn't reserve space for Melania Trump's two aides on Air Force One or on helicopters. They would find themselves without hotel rooms and not listed for motorcade movements. The omissions have caused last-minute logistical issues that the first lady viewed as a slight, these people said.
The White House declined to comment for this story.
"The East Wing is very focused on the First Lady's initiatives and works independently," Grisham said in a statement to NBC news. "However, we do collaborate on a variety of projects and work alongside many departments within the west wing. We have a very positive working relationship," she said.
The first lady also took issue with Kelly over the ousting in March of her director of operations, Justin Caporale, and of John McEntee, the president's personal aide who had become close with the Trump family since working for him during the 2016 campaign, people familiar with the matter said.
The first lady liked and trusted both of them, according to current and former White House officials, and viewed forcing them out "as personal affronts."
Some people close to the president believe Kelly's handling of the East Wing at times is a significant threat to him maintaining his job.
"There's one problem John Kelly has that'll do him in, and that's the first lady," one of them said.
A White House official said the first lady has not pushed for his departure, noting that she likes Kelly personally and gets along with him. But tensions with her office, on top of his intensifying power struggle with Bolton, have reignited speculation that Trump will replace him before the end of the year.
Last month, Kelly got into a heated argument with Bolton on immigration, ultimately storming out of the White House on Oct. 18, NBC News reported last month after learning that Bolton had criticized Homeland Security Secretary Kirstjen Nielsen as doing a terrible job on border security,­ an issue of top concern to the president.
Nielsen is a close Kelly confidante, and Kelly viewed Bolton's move as the latest example of the national security adviser circumventing his authority as chief of staff. Trump has been unhappy with Nielsen for months and she has not denied reports that the president has yelled at her in private settings. The Washington Post reported Tuesday that she may also be asked to depart the administration soon.
Kelly and Bolton also have clashed over Ricardel, the deputy national security adviser, four people familiar with the issue said. Bolton recently learned that Kelly has quietly mounted an effort to oust Ricardel, these people said, and was furious.
Ricardel was among Bolton's first hires when he became national security adviser in March. She previously worked for him during the administration of former president George W. Bush.
But at the NSC, Ricardel has gotten into several disputes with the East Wing, also over the First Lady's trip to Africa in October. One White House official said that in that instance, Kelly intervened on behalf of the East Wing to smooth over the issues.
Some current and former White House officials and other people close to the president said it's the accumulation of incidents in recent months, on top of Kelly's tensions with first daughter Ivanka Trump and son-in-law Jared Kushner, that has led to a desire by the president to seek out a new chief of staff.
Kelly is Trump's second chief of staff, having replaced Reince Priebus just seven months into the presidency. Kelly left his position as Secretary for Homeland Security in August, 2017 and joined the White House to bring structure to a freewheeling West Wing. He curtailed access to the president and he cut back on the number of staff allowed in meetings. The efforts quickly won him enemies among the president's confidants.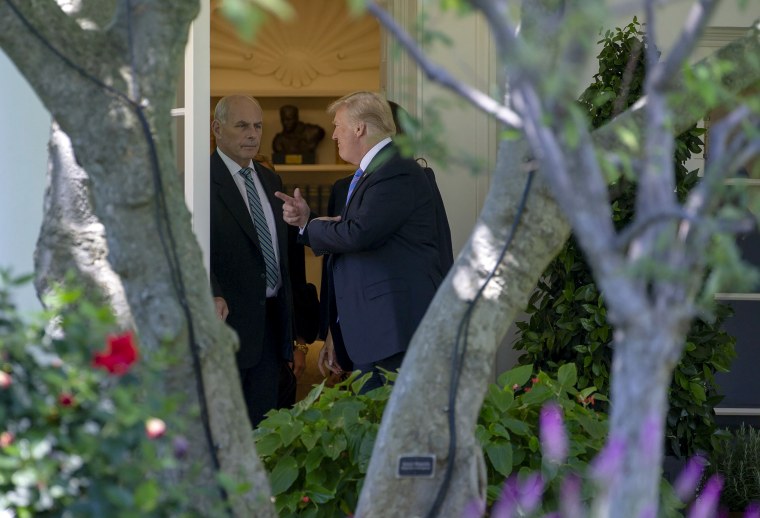 A retired Marine general, Kelly maintained his job despite a steady flow of reports that he's lost the confidence of much of the White House staff and has disparaged the president behind his back, NBC has reported.
As conflicts have arisen, Trump has for months mused on and off about possible replacements for Kelly and vented his frustrations with his handling of the job. The president also arranged for some of his new hires this past spring, including Bolton, to report directly to him rather than his chief of staff.
The White House has tried to quell speculation about Kelly's exit, even issuing a statement in July that he would remain in the job through 2020. But few expressed confidence that would be the case.
Ayers, who has worked to develop a relationship with Trump as the vice president's chief of staff, is not the only candidate under consideration in what the three people familiar with the outreach describe as active discussions in the White House about replacing Kelly, possibly by the end of the year. The vice president's office had no comment on the possibility of the appointment. One White House official, speaking on the condition of anonymity said "personnel decisions don't mean anything until formally announced by the," president. "Regardless, Nick and those close to him have never lobbied for this."
Melania Trump has kept a low profile as first lady and has surrounded herself with a smaller group of aides compared to her predecessors. In a rare, wide-ranging interview with ABC News during her Africa trip, she signaled, however, that she doesn't hold back in private about her views on her husband's aides.
There currently are members of her husband's staff she does not trust, she said, which makes it "harder to govern."
"You always need to watch your back," she said.