BRIDGEWATER, N.J. — People close to Steve Bannon tell NBC News he feels on safe ground amid White House infighting stemming from President Donald Trump's divisive response to the violence in Charlottesville.
Bannon, who has rarely given on-the-record interviews since assuming his position as Trump's chief White House strategist, reached out to speak with three news outlets in the past 48 hours, using those conversations to criticize colleagues, threaten to fire others and appearing to relish the ongoing national racial tensions.
His comments signal that Bannon, the former head of Breitbart News, is digging in for the long haul amid the turmoil and turnover that has roiled Trump's cohort of top advisers in recent weeks.
Bannon, in one interview with the American Prospect published late Wednesday, said his adversaries at the State and Defense Departments were "wetting themselves" and vowed he would soon be "changing out people" including Susan Thornton, the acting head of East Asian and Pacific Affairs at the State Department.
He also suggested infighting among Trump's closest advisers remained rampant.
"We're still fighting. There's Treasury and Gary Cohn and Goldman Sachs lobbying," he said, name-dropping Trump's National Economic Council director.
Bannon, who as Trump's campaign chief who was widely credited with helping Trump cultivate support among the alt-right, also called that wing of the party "losers," "a fringe element," and a "collection of clowns."
"I think the media plays it up too much, and we gotta help crush it, you know, uh, help crush it more," he said, just days after Trump said "two sides" were to blame for the violence in Charlottesville.
Bannon, however, added that forcing Democrats to talk about race would ultimately benefit Trump's White House.
"If the left is focused on race and identity, and we go with economic nationalism, we can crush the Democrats," he said.
A White House official confirmed the accuracy of the quotes by Bannon in the "American Prospect" article but said Bannon intended to have a conversation about the writer's article on North Korea, rather than a full interview.
In an interview with The New York Times, published Wednesday, Bannon said that "the race-identity politics of the left wants to say it's all racist," referring to the debates raging nationwide over Confederate monuments.
"Just give me more. Tear down more statues. Say the revolution is coming. I can't get enough of it," he said.
He also told the Daily Mail, in an article Thursday morning, that his earlier comments were designed to distract from Trump's own controversial comments about Charlottesville, explaining to the Daily Mail's website that his initial interview "drew fire away from POTUS," and "changed the [media] narrative."
Bannon's original comments, however, clearly ruffled feathers at the State Department.
Following Bannon's attack on one of Rex Tillerson's most trusted career State Department employees, the secretary of state pointedly walked over to publicly shake Thornton's hand before sitting down to meet with Japanese officials on Thursday.
"The Secretary asked Susan Thornton to lead in a very important role and he continues to rely on her to lead the State Department's diplomacy in Asia," a State Department official said. "We refer you to the White House for any additional questions."
Though he has survived a number of these episodes in the past, Bannon's status within the White House has remained unclear in recent weeks.
Following the abrupt departures in July of Sean Spicer, Reince Priebus and Anthony Scaramucci, sources inside and outside the White House indicated Bannon's future seemed tenuous.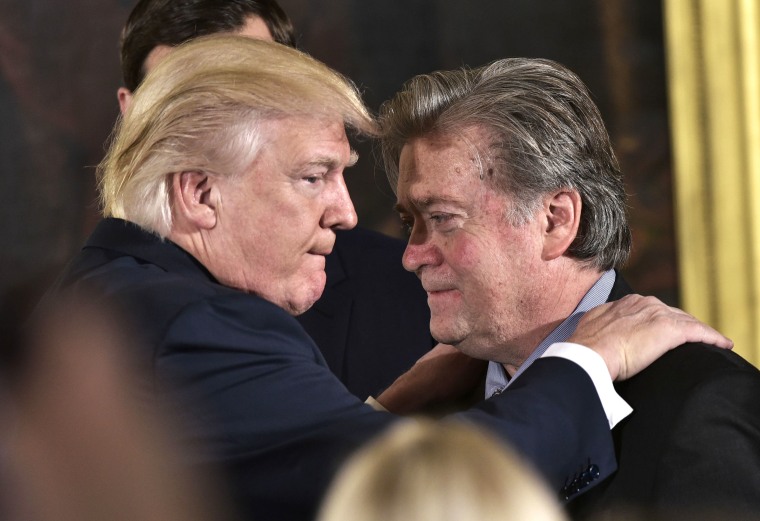 After Trump's explosive response this week to the violence in Charlottesville, multiple members of his Manufacturing Council quit, too, before the president disbanded it as well as another key economic council.
At a Tuesday press conference where he doubled down on his Charlottesville remarks, Trump offered ambiguous words about Bannon when asked about his adviser's future in the West Wing.
"We'll see what happens with Mr. Bannon," he said.
It sounded ominous — but Bannon appeared unconcerned.
Two sources close to him told NBC News this week he seemed confident he'll survive this latest round of bruising headlines questioning his political future with the president.
But his confidence could be misplaced.
On Thursday, Rep. Peter King, R-N.Y., in an interview with WABC-TV, called on Trump to "fire" Bannon.
"He should go," said King, who accused Bannon of "exploiting a racial issue" and "undercutting" Trump and Tillerson. "I think it's important for the president to fire Steve Bannon," he said.
In the past, Bannon has expressed quiet certainty when his job was thought to be on the line.
In February, after a Time magazine cover story that dubbed Bannon "The Great Manipulator" irritated Trump, Bannon quietly hunkered down and avoided media attention.
Then, in April, following his removal from the National Security Council, Bannon, instead of leaving, dug in against a storm of bad press suggesting he was on his way out.
By July, several White House advisers had told Politico that Bannon, once the chief architect of Trump's campaign and agenda, had put himself in a "self-imposed exile" to enhance his prospects for West Wing longevity.
Trump for his part, had made his displeasure with Bannon known in April, hitting back at his strategist in a pair of interviews.
"You have to remember he was not involved in my campaign until very late," Trump told the New York Post, downplaying Bannon's role as chief architect of his campaign victory. "I had already beaten all the senators and all the governors, and I didn't know Steve. I'm my own strategist and it wasn't like I was going to change strategies because I was facing crooked Hillary."
Trump also slammed Bannon in an interview with The Wall Street Journal as "a guy who works for me."
Following those interviews, a source close to the president described Trump's comments as a "warning shot," highlighting that the president "doesn't say these things in haste."
This time, however, the White House refused to even hint at condemning Bannon's remarks.
White House Deputy Press Secretary Lindsay Walter told NBC News on Thursday that "Bannon's comments stand on their own."
Kristin Welker reported from Bridgewater, and Adam Edelman from New York.