A Russian-born American businessman who gave hundreds of thousands of dollars to support Donald Trump's run for president in 2016 offered to brief a high-ranking Russian official during the final months of the campaign, according to a series of emails reviewed by NBC News.
The businessman, Simon Kukes, a Houston-based oil executive, sent an email to the official in Moscow in July 2016, boasting of his connections to the Trump campaign and requesting a face-to-face meeting.
"I have been actively involved in Trump's election campaign, and am part of the group on strategy development," Kukes wrote in the email to Vyacheslav Pavlovsky, vice president of the state-owned Russian Railways and a former Russian ambassador to Norway. "I will be in Switzerland July 20th till August 2nd. Let me know how you are doing, and whether you want to meet."
Watch "On Assignment with Richard Engel" at 10 p.m. ET on Sunday on MSNBC.
The emails were obtained through the Dossier Center, a London-based investigative project funded by Russian opposition figure Mikhail Khodorkovsky. The Center gathers information to try to expose high-level corruption in Moscow. NBC News reviewed the emails in conjunction with The Guardian. They cannot be independently verified, but the account from which Kukes's messages originated is one that he currently uses.
Kukes, who donated $273,000 to the Trump Victory Committee during the 2016 cycle, later sent a photograph of himself posing with Rudy Giuliani, a close associate of the president, at what appears to be a fundraising event. "I was at a dinner with Donald Trump," Kukes wrote. "I think his chances are very good."
A second photograph, taken at a different event, pictured Kukes' then-girlfriend (now his wife) standing between the candidate and his running mate Mike Pence.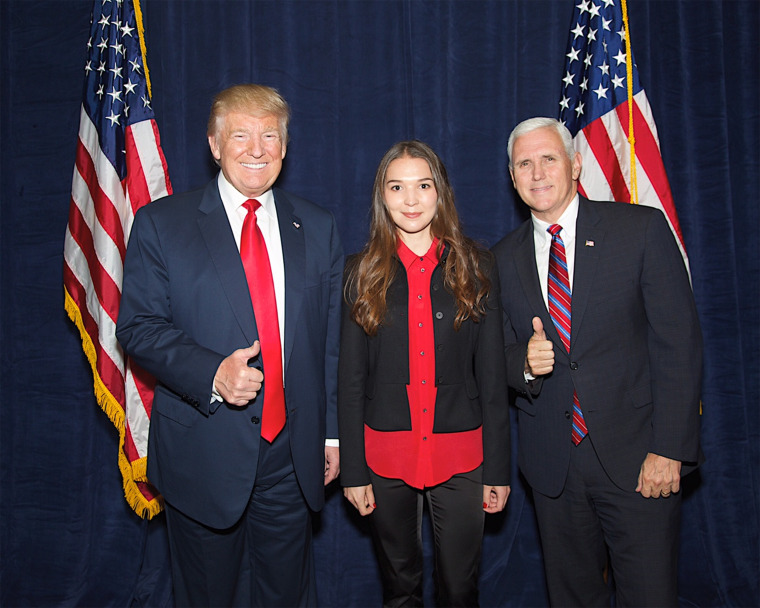 Intelligence experts told NBC News that Kukes's communication with Pavlovsky invited questions about his involvement in the Trump campaign.
"To me this reads like an email exchange between a source and a handler, or a source and headquarters," said Lindsay Moran, a former CIA officer, to whom NBC News showed the emails. Moran worked at the CIA for five years under the administrations of Bill Clinton and George W. Bush, and later wrote a memoir highly critical of the agency.
Kukes told NBC News by email that he thought his donations would help him make contacts in Houston, but that he regrets having made them in light of the press coverage they generated. Pavlovsky did not respond to requests for comment.
Kukes is one of several Americans with deep ties to Russia who donated to Trump in 2016. Leonard Blavatnik, a Ukrainian-born billionaire, donated $1 million to the inauguration through his company Access Industries, a sprawling firm with interests in natural resources, chemicals, and media.
New York businessman Andrew Intrater donated $250,000 to the inauguration. His company, Columbus Nova, manages assets on behalf of the Russian-owned mining and telecoms conglomerate Renova Group. A previous SEC filing described Columbus Nova as the U.S.-based affiliate of the Renova Group and a recently archived version of its own website specified that Columbus Nova was "the U.S. investment vehicle for the Renova Group."
Those gifts are now being investigated by special counsel Robert Mueller as part of his probe into Russian interference in the 2016 election, several people familiar with the investigation told NBC News.
Moran, the ex-CIA officer, described the donations as part of an "operation" to influence the election and the future administration. "The end goal," she suggested, "was not only to get Trump elected but to get Trump elected and continue to be able to exert influence, if not control, through access...They've bought a ticket into the West Wing."
Kukes, Blavatnik and Intrater have ties to each other through a Russian oil firm, TNK, which Kukes ran as president from 1998 until 2003. Blavatnik was a shareholder in the company; Intrater is the relative of another former TNK shareholder, Viktor Vekselberg, who was placed under U.S. sanctions in April, one of several oligarchs designated because of their "key role in advancing Russia's malign activities."
In one email Kukes tells Pavlovsky, "At a dinner with Trump I saw Blavatnik, we had a very friendly conversation."
In response to written questions from NBC News, a spokesperson for Blavatnik wrote by email: "Len Blavatnik has been an American citizen for 35 years and in that time he has donated to both the Democratic and Republican parties, as well as to presidential candidates. His donations reflect his support for a pro-business agenda and have always been made directly, in line with regulations."
A spokesman for Andrew Intrater's firm told NBC News that his client's donations had never been directed by other parties. He added that, although Intrater had met Kukes, they hadn't seen each other for a decade and never did business together.
A spokesperson for the Trump campaign said that neither Kukes nor Blavatnik nor Intrater had a role in the campaign other than as a donor.
An RNC official confirmed that Kukes had attended some fundraising events, but added that all guests at fundraisers attended by the then-candidate underwent security service vetting.
A prominent figure in the Russian oil industry, Kukes was born in Moscow in 1946. He moved to Houston in 1977 and worked for two American oil companies. In 1982, he became an American citizen, before returning to Russia in 1996 to run several of the country's largest oil firms — including Yukos, where he replaced Mikhail Khodorkovsky as CEO, after Khodorkovsky was arrested and jailed on charges that were widely seen as politically motivated.
"That tells me he was in favor with the Kremlin," said Moran of Kukes's selection to the Yukos role. "They're not going to get rid of Khodorkovsky and then replace him with one of his cronies, they're going replace him with someone who is acceptable to the Kremlin."
By 2016, Kukes had returned to the United States, where he started giving large amounts to Trump Victory, a joint fundraising committee that distributed donations between the Trump campaign, the RNC, and state Republican parties. Kukes had never before donated to political groups, a search of publicly available campaign finance data showed.
The donations caught the attention of Robert Maguire, formerly with the Center for Responsive Politics, a non-partisan group tracking money in U.S. elections. "0.4% of the population gives a contribution more than $200," Maguire said.
Donating large sums of money within set limits is legal for Americans "as long as it wasn't orchestrated or done at the behest of a foreign power," said Maguire.
On Nov. 9, the morning after Trump won the election, Pavlovsky emailed Kukes to congratulate him. "I have been meaning to call Andrei Fursenko," Pavlovsky wrote, referring to aide to Russian President Vladimir Putin.
"I don't think we would see Fursenko's name in these emails if he wasn't part of the operation," said Moran. "I do think it's part of a network and part of a concerted effort to influence."
"I think the Mueller investigation absolutely should be looking into this, and I would be surprised if they weren't," she added.
CORRECTION (Sept. 28, 2018): An earlier version of this article incorrectly described Columbus Nova, the investment firm run by Andrew Intrater, implying that it was the U.S. arm of the Russian conglomerate Renova Group. Columbus Nova describes Renova Group as its client, not its owner.