President Donald Trump refused to take questions during a joint appearance with Chinese President Xi Jinping, breaking with a precedent set by the past three U.S. leaders to push back against China's tight control over the media.
After a day of meetings, Trump and Xi gave joint remarks in Beijing's Tiananmen Square Thursday — but the two leaders exited without taking questions.
Trump's refusal to answer questions from the media in China marked a break from examples set by former Presidents Barack Obama, George W. Bush and Bill Clinton. All three took at least one question during appearances with their Chinese counterparts, as part of an effort to exert pressure on China's government to allow exchanges with reporters.
White House Press Secretary Sarah Huckabee Sanders told CNN "it was at the Chinese insistence there were no questions today."
A senior State Department official told NBC News that "it's always a delicate negotiation with another country, especially closed off countries like China, but we always advocate for having press questions." The official added that "the best example of our caring about freedom of the press is bringing a boatload of reporters over there."
Xi has maintained tight control over the press in China and last year introduced a policy enforcing that the news media must pledge loyalty to the state.
Trump, meanwhile, fueled his meteoric presidential campaign by blasting several media outlets as "fake news" and has not relented since taking office. In February, he tweeted that the media is the "enemy of the American people."
While Obama didn't take questions from reporters during his first visit to China in 2009, he did when he returned in 2014. Bush took questions during his visit to China in 2002, and Clinton took questions at a forum during his visit to China in 1998.
Jay Carney, who worked as Obama's White House Press Secretary from 2011 to 2014, slammed Trump.
"The Chinese try this every time. It's a test of will and principle. Letting them dictate press access is an embarrassing capitulation," he tweeted.
"I once had to tell Chinese officials that Pres. Obama would not show up for the press avail unless there would be a Q&A. They backed down," Carney added.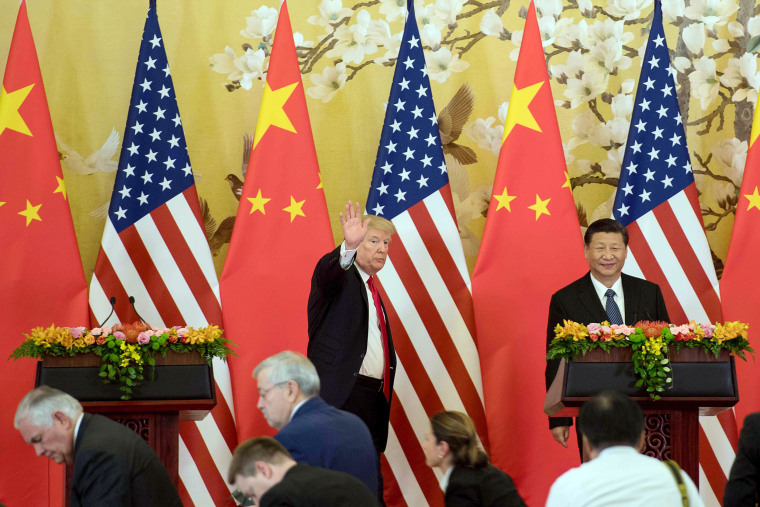 Brad Dayspring, who worked as Bush's deputy director of press advance from 2001 to 2004, tweeted that during his tenure, "China regularly insisted on 'no questions' during our travel there," but that "Our WH team fought for greater press access, including questions."
"Never got everything we pushed for, but always expanded access from Chinese demands & ensured questions were taken alongside Chinese President. It's an important demonstration of American press freedoms," Dayspring added.