Construction has begun in San Diego on eight, large-scale prototypes for President Donald Trump's oft-promised border wall, U.S. Customs and Border Protection said in a news release Tuesday.
Half of the prototypes will be concrete walls. The other half will be made from "other materials." Each one will be 18 to 30 feet tall and take a month to complete — and in total will cost taxpayers anywhere between $2.4 million and $4 million. DHS has previously outlined a plan for a see-through fence on the side of the border facing Mexico and a concrete wall 150 feet behind that, facing the American side, with an enforcement zone in between.
The border segment prototypes will function primarily for study, an agency spokesman said. The physical prototypes can be disassembled after construction, or left in place.
"I'm gonna go out and look at them personally, and I'm gonna pick the right one," Trump said of the segments at a rally Friday in Alabama.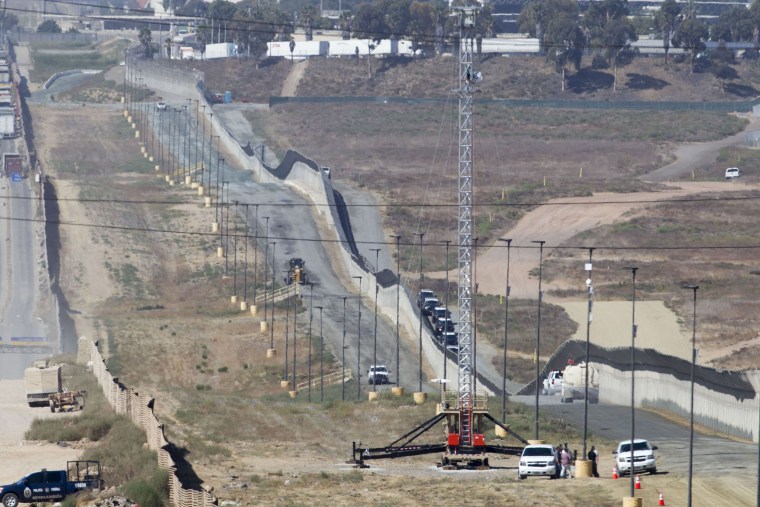 Related: DHS Seeks Designs for "See-Through" Sections of Trump's Wall
Tuesday's groundbreaking is Trump's most tangible step yet toward making good on his signature campaign promise to build the wall. And it's a goal he appears eager to make progress on. At the same rally, the president inaccurately announced that half the prototypes had already been built.
"They take drugs, literally, and they throw it, a hundred pounds of drugs. They throw it over the wall — they have catapults — and it lands and it hits somebody in the head!" Trump said. "Believe it or not, this is the kind of thing that happens. So you need to have a great wall — but it needs to be see through."
Trump ordered construction begin on the wall in January, despite lacking the funding to do so in a significant way. The Senate has so far declined to foot the bill for a $1.6 billion-dollar down payment. Candidate Trump vowed that Mexico would pay for the wall's construction, but the nation has refused.
Meanwhile, a leaked Department of Homeland Security report estimated that building 1,250 miles of fencing and wall would cost $21.6 billion. Customs and Border Patrol had just $20 million on hand in April, according to ProPublica.
Funding is one of many barriers the president faces, including a lawsuit from California alleging that border wall plans violate the rights of states and environmental standards.
CBP's acting deputy commissioner Ronald Vitiello said Tuesday that the prototypes are just one part of a "multi-pronged strategy to ensure the safety and security of the American people includes barriers, infrastructure, technology and people."