WASHINGTON — Several people were arrested in Washington, D.C., on Tuesday in connection to protests ahead of Congress' certification of the Electoral College votes on Wednesday.
Washington D.C. Metropolitan Police said six arrests were made as of 9 p.m. ET, including some involving multiple charges. Those charges included a handful that were weapons-related, including carrying firearms without a license, possession of unregistered ammunition and possession of an unregistered firearm. Protesters were also charged with assaulting a police officer and simple assault.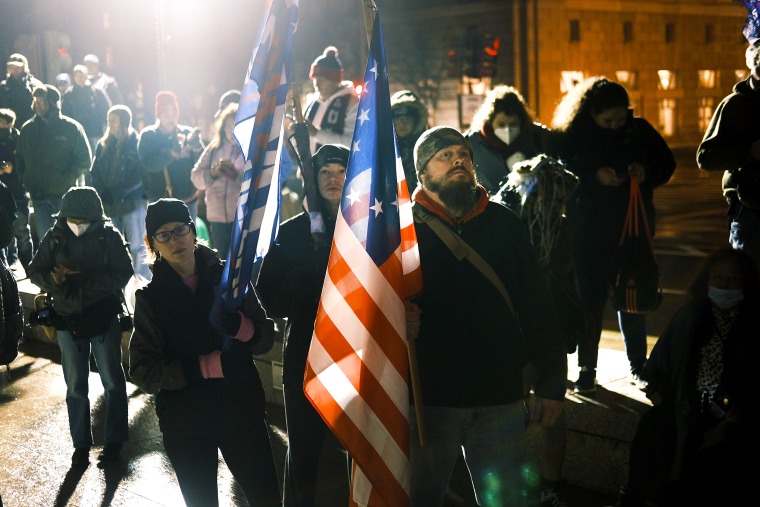 Tuesday's rallies in support of President Donald Trump, who refuses to accept his November electoral loss to President-elect Joe Biden, featured an array of conservative speakers and drew in throngs of Trump supporters who traveled to the nation's capital ahead of Wednesday's proceedings.
Though the formal events ended earlier Tuesday, protesters remained out in the street well into the night, with videos on social media showing some clashing with police.
The main draw will take place Wednesday morning ahead of the congressional gathering, where the president himself will address a protest outside the White House dubbed the "March for Trump/Save America" rally. Thousands are expected to attend that event, which was organized by the pro-Trump group Women for America First.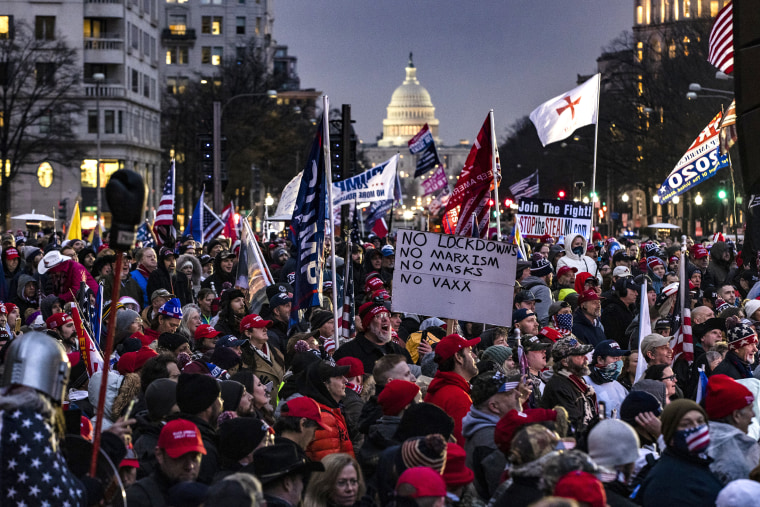 The president has made a slew of unsuccessful efforts to overturn his loss both through lawsuits and attempts to convince state legislatures to ignore the vote in their states and appoint pro-Trump electors. As his final Hail Mary, the president has sought to rev his supporters up over the Jan. 6 certification, claiming that it presents the opportunity for Congress to overturn the election. With Democrats in control of the House and dozens of GOP senators opposing the effort, that plot is doomed to fail as well.
Download the NBC News app for breaking news and politics
The president has also turned up the heat on Vice President Mike Pence, who will preside over the ceremony, claiming he can intervene in the count. But the ceremonial role does not provide Pence with such powers.
Still, Trump's most ardent supporters have heeded his call. In anticipation of possible violence, Washington, D.C., Mayor Muriel Bowser mobilized the National Guard and increased police presence.
The nation's capital has seen similarly large and, at times, chaotic protests earlier this year after Minneapolis police killed George Floyd.