A growing number of Democratic lawmakers are calling on President Donald Trump to confront Russian President Vladimir Putin about Moscow's alleged meddling in the 2016 election during their meeting at the G-20 summit Friday, saying it would be a "dereliction of duty" not to do so.
Five Senate Democrats, including Senate Minority Leader Chuck Schumer, D-N.Y., sent a letter to Trump Thursday urging him to "set the agenda from the start" with Putin "and make absolutely clear that Russian interference in our democracy will in no way be tolerated."
Read the letter Democratic lawmakers sent to Trump
"We believe it is crucial for you — as the President of the United States — to raise this matter with President Putin and to ensure that he hears you loud and clear — interfering in our elections was wrong in 2016 and it will not be permitted to happen again," wrote the group, which also included Sens. Dick Durbin, D-Ill., Ben Cardin, D-Md., Jack Reed, D-R.I. and Mark Warner, D-Va.
"President Putin must understand this can never happen again," they said. "Not raising this matter with President Putin would be a severe dereliction of the duty of the office to which you were elected."
Rep. Adam Schiff, D-Calif., the top Democrat on the House Intelligence Committee, also pressed Trump to "have the courage to raise the issue of Russian interference in our elections directly with President Putin."
"Otherwise the Kremlin will conclude he is too weak to stand up to them. That would be a historic mistake, with damaging implications for our foreign policy for years to come," he added.
Only six people will be in the room for the meeting, an official told NBC News Thursday: Trump, Putin, Secretary of State Rex Tillerson, Russian Foreign Minister Sergey Lavrov and two translators.
Aides to Trump have said they don't know what issues will be on the table when he meets with Putin in Hamburg, Germany.
Related: Donald Trump in Poland Takes on North Korea, Russia
Schiff, whose panel is probing Russian interference in the election, pointed to Trump's comments earlier in the day in Poland when he said that "nobody really knows for sure" exactly who was responsible for meddling in the election. Schiff said that shows the president was "again casting doubt on whether Russia was behind the blatant interference in our election and suggesting — his own intelligence agencies to the contrary — that nobody really knows, continue to directly undermine U.S. interests."
"This is not putting America first, but continuing to propagate his own personal fiction at the country's expense," Schiff said.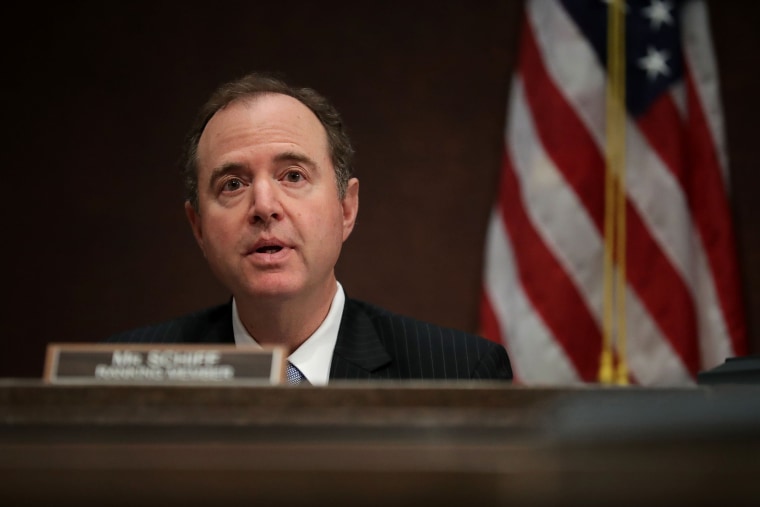 In an interview with MSNBC, Schiff predicted that Putin would "realize that (Trump) lacks the courage to stand up to him."
"There's nothing the Kremlin would like to see more than a president who will settle for a grip and a grin and walk away saying that he had this fabulous meeting with the Kremlin autocrat," Schiff said.
Meanwhile, Michael McFaul, the former U.S. Ambassador to Russia, told MSNBC on Thursday that he feared the opposite would occur during the Trump-Putin meeting and that the Russian president might charm his American counterpart.
"What I expect is that President Trump will meet Putin, he's going to like Putin. Putin's a straight shooter, straight talker, they're going to bond over things like their common dislike of fake news in the deep state, and Putin is going to try to play to Trump's ego to say, 'You and I need to work together against these enemies, especially those in your country, so that we can do big things together,'" McFaul, who served as the top U.S. diplomat to Russia from 2012 to 2014, said on "Morning Joe."
"That's the thing I fear," he said.
McFaul warned that Putin will come to the meeting "with an agenda" and having done "his psychological homework" — as part of an effort to "build a relationship with Trump."
"He still believes that at the end of the day he can pull Trump towards his agenda and wants to do that," McFaul said.
The warnings came hours after Trump — during a joint press conference in Warsaw with Polish President Andrzej Duda — repeated his oft-refuted suggestion that countries other than Russia meddled in the 2016 election.
"I think it could very well have been Russia, but I think it could well have been other countries. I won't be specific," Trump said Thursday. "I think a lot of people interfere. I think it's been happening for a long time."