Former Texas Rep. Beto O'Rourke criticized President Donald Trump on Sunday for sharing unfounded conspiracy theories about the death of Jeffrey Epstein, accusing Trump of misusing the presidency to "attack his political enemies."
"This is another example of our president using this position of public trust to attack his political enemies with unfounded conspiracy theories," O'Rourke, who is running for president, said on CNN's "State of the Union."
Epstein, the millionaire financier who was accused of sex trafficking, was found dead in his Manhattan jail cell on Saturday of an apparent suicide. His death sparked immediate questions as to why he had not been monitored more closely. Epstein had not been on suicide watch at the time of his death, multiple people familiar with the investigation told NBC News.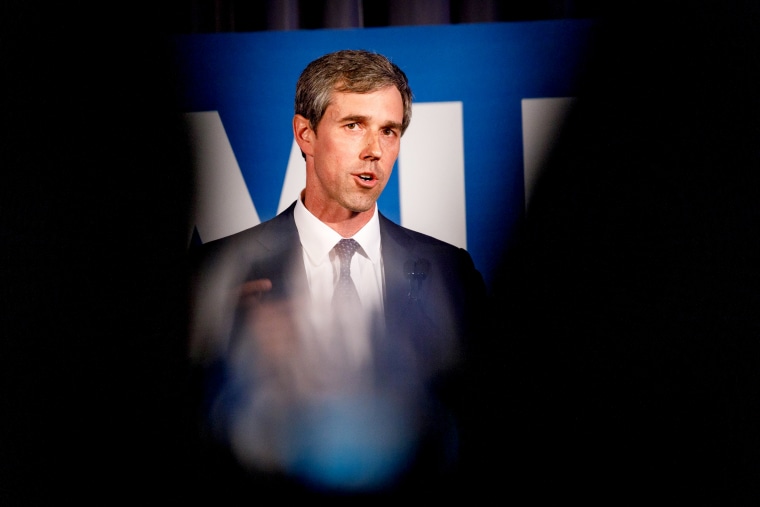 Later on Saturday, Trump took to Twitter to promote conspiracy theories about Epstein's death, including retweeting an unfounded claim that former President Bill Clinton was involved.
O'Rourke added that Trump's tweets were aimed to focus the conversation on the president's "bizarre behavior" rather than "the fact that we just lost 22 people in this community," referring to the mass shooting that occurred in El Paso last week.
Sen. Cory Booker, D-N.J., another presidential candidate, also slammed Trump for his tweets during an appearance on CNN.
"This is just more recklessness," Booker said. "What he is doing is dangerous. He is giving life to not just conspiracy theories but really whipping people up into anger and worse against different people in this country."
Booker also pointed to Trump's history of promoting conspiracy theories about the Clintons, including the debunked theory that the former president was responsible for the death of White House deputy counsel Vince Foster. Foster, a close friend of the Clintons, died of suicide in 1993. The New Jersey senator compared Trump's spreading misinformation to Russian propaganda.
"This is a very dangerous president that we have right now," he said. "Trying to divide us against each other and really using the same tactics and same language not just of white supremacists, but also using the same tactics and languages of the Russians if you look at the intelligence reports about how they're coming at our democracy."
At the time of Booker's interview on Sunday, #Clintonbodycount was the top hashtag tweeted by trollbots, according to Bot Sentinel, a website that tracks bot activity on Twitter. And the Kremlin-funded media outlet RT was leading its English language website with stories about conspiracy theories related to Epstein's death.
White House counselor Kellyanne Conway downplayed the weight of Trump's tweet on Sunday in an interview with Fox News, claiming that, "I think the president just wants everything to be investigated."
Conway doubled down on linking Epstein to the Clintons, saying that there may be a "public interest" in "other people who were actively, I suppose, flying around with this monster on his island, which was known as pedophilia island."
Noting that "it's all speculative," Conway said that, "You do hear different people asking questions and they want to know who else was involved in Epstein's crimes or even just activities."
Epstein visited the White House during Clinton's presidency and Bill Clinton flew on Epstein's plane after leaving office. He has, however, denied visiting Epstein's private Caribbean island. Trump also flew on Epstein's plane and attended parties at the disgraced financier's New York home.