President Donald Trump is set to dominate the Conservative Political Action Conference this week in Maryland, where he is scheduled to appear along with an array of top White House officials.
Trump will speak on Friday at the annual conservative showcase, which is run by the American Conservative Union. Vice President Mike Pence will give an address on Thursday. White House Chief of Staff Reince Priebus and chief strategist Steve Bannon will participate in a panel discussion. Newly confirmed Education Secretary Betsy DeVos will also speak.
The other planned events have a Trump-like feel, as well. Nigel Farage, the right-wing British politician who joined Trump on the presidential campaign trail in 2016, is scheduled to appear. Policy panels have titles like "If Heaven Has a Gate, A Wall, and Extreme Vetting, Why Can't America?" and "Black Lives Matter, So Why Does The Left Not Support Law Enforcement?"
A panel on trade includes Ed Schultz, the former MSNBC host now who now works at state-owned Russia Today. The final speaker Saturday evening is Milwaukee County Sheriff David Clarke, a prominent Trump backer who declared it was "pitchfork and torches time in America" at a campaign rally in October.
CPAC has always fed its audiences — 9,000 to 10,000 are expected at the gathering this week, according to a CPAC spokesman — plenty of red meat, but the Trumpian tone is distinct from previous years. After President Barack Obama's re-election, the 2013 conference was packed with speakers who supported immigration reform and emphasized outreach to minority voters, which led to tension with some hardline attendees.
At the time, the ACU's chairman was Al Cardenas, a longtime ally of Jeb Bush and early backer of Sen. Marco Rubio, R-Florida, for president. Now the ACU is run by Matt Schlapp, a former political director to President George W. Bush who takes pride in being one of the earliest Bush alums to embrace Trump.
"I took a lot of guff from my former Bush colleagues who didn't see what was happening in the country," Schlapp told NBC News in an interview. He praised Trump for marrying "conservative instincts" to a populist appeal.
Related: Breitbart Editor Milo Yiannopoulos Dropped From CPAC, Loses Book Deal
For Trump, who has had an up-and-down relationship with the annual conservative showcase, it's a chance to take a victory lap. In 2015, his CPAC speech was focused on convincing people he was serious about running for president: "A lot of people think I'm doing this for fun," he said then. In 2016, he abruptly canceled a planned appearance, prompting CPAC's organizers to respond that "his choice sends a clear message to conservatives" on Twitter.
Trump enjoys strong approval ratings among Republicans, but the rocky lead-up to the event this year is a reminder that the conservative movement is still divided over the president and the ideas raised by his campaign. On Monday, CPAC dropped planned speaker Milo Yiannopoulos, a popular figure in so-called alt right circles who refers to Trump as "Daddy," after videos surfaced in which he discussed whether sex between young teenagers and adults might be considered consensual. Yiannopoulos also resigned from Breitbart News, which Bannon ran until leaving to oversee Trump's campaign last year.
"This is going to be the 'Make America Great Again' CPAC, which is going to be a very different makeup than what I'm accustomed to"
The outrage over the footage was amplified by prominent figures on the right who argued from the start that inviting Yiannopoulos was a mistake.
"The alt right is not part of the conservative movement," ACU board member Ned Ryun said Tuesday on MSNBC's Hardball. "I don't think we need to normalize them."
Schlapp acknowledged that l'Affaire Yiannopoulos had exposed some lingering fault lines within the movement.
"Last year, at this time, many of those same conservatives were attacking me and the ACU for having Donald Trump speak," Schlapp said. "I understand their objections to Milo, but I also understand that their objections go broader."
Many of the accusations leveled against Yiannopoulos this week were similar to those against Trump, often by the same people. They argued he was personally objectionable, that he was not a true conservative, and that he served to mainstream bigotry and hatred.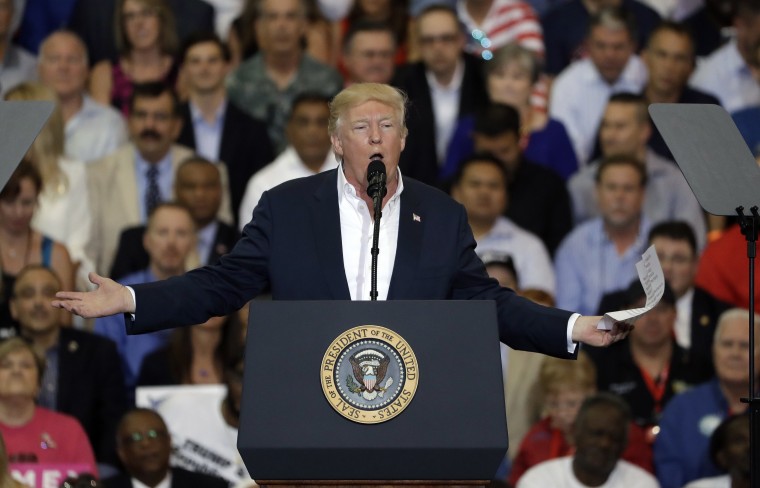 "I think there are some conservative elites who populate fancy restaurants in New York and Washington who are used to educating the grassroots on the way to look at things," Schlapp said. "And I think we've seen a complete change in that order, where I think the activists are trying to explain to those elites they're not buying it anymore."
Ironically, the grassroots activists who showed up to CPAC in prior years might not have come off as a harbinger of Trump. The crowd is usually packed with college students, many of them libertarian, and both demographics were especially resistant to Trump. In the 2016 presidential straw poll, only 15 percent of CPAC attendees listed Trump as their preferred choice. Senator Ted Cruz won with 40 percent. At the same time, CPAC has often featured speakers and events with an outrageous streak, from Ann Coulter to Phil Robertson, that foreshadowed Trump's appeal.
"In 2014 and 2015, there were still people really unhappy with Donald Trump and his wing of the party and last year was pretty divided," Ben Howe, a contributing editor of Red State and fierce critic of Trump, told NBC News. "This is going to be the 'Make America Great Again' CPAC, which is going to be a very different makeup than what I'm accustomed to."
Howe, who plans to attend this year's CPAC, said he wants to gauge the temperature toward the White House and will monitor audience questions at panels for any signs of unease with Trump's agenda.
While he initially assumed he'd be "the drunk guy at the bar starting fights" given his anti-Trump lean, he's decided on taking a more low-key approach. His goal is to "find a way to influence the people under the influence of Trump" by gently nudging them toward conservative causes he supports.