MANCHESTER, N.H. — Former President Donald Trump embraced a Jan. 6 defendant at a diner during a campaign stop Thursday night, calling the woman, who served prison time for her actions during the Capitol attack and wants former Vice President Mike Pence executed for treason, "terrific."
The appearance came the same day Pence testified before a federal grand jury as part of special counsel Jack Smith's investigation into Trump's efforts to overturn the 2020 presidential election and keep himself in power.
Micki Larson-Olson, a QAnon supporter who said she considers Trump the "real president," was convicted last year of unlawful entry on Capitol grounds. On Thursday night, she met Trump for the first time at the Red Arrow Diner in Manchester.
On Jan. 6, Larson-Olson climbed the scaffolding set up for Joe Biden's inauguration and held on when police tried to remove her; she later bragged on social media and in an interview that it took six officers to remove her. Larson-Olson told NBC News that she "refused" to leave the platform and has "absolutely no regrets" about her actions that day.
"My only regret is that I wasn't stronger, that I couldn't hold on longer," Larson-Olson told NBC News in an hourlong interview Friday. She said she told officers they were going to have to shoot her to get her off the platform. "You can shoot me dead, for all I care, I'm not walking down these damn stairs," Larson-Olson said she told officers.
Larson-Olson said she believes that the members of Congress who voted to certify Biden's presidential election should be executed.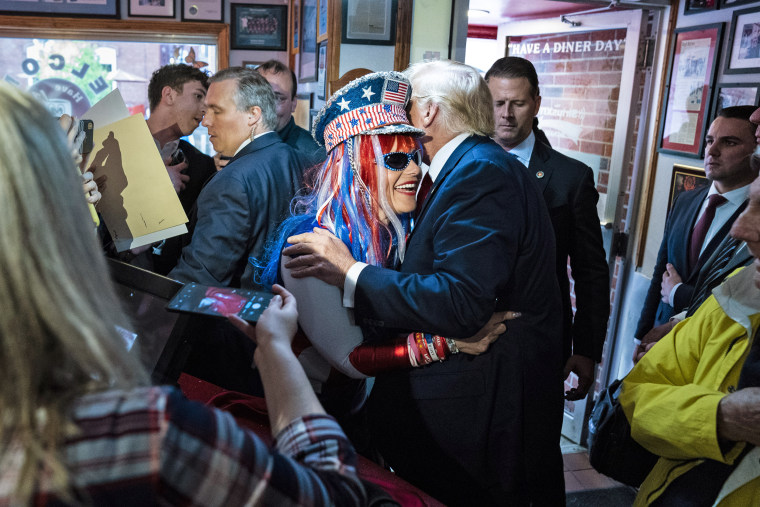 "The punishment for treason is death, per the Constitution," Larson-Olson said. "I believe every single person, every single person that stole a voice from our collective voice of 'We the people, of the people, for the people, by the people,' deserves death, and no less than that."
Larson-Olson added that she "would like a front seat of Mike Pence being executed" and that he should be the "No. 1" person on her list of those who committed treason.
A spokesman for the Trump campaign did not immediately respond to a request for comment. Neither did a Pence spokesman.
The meeting comes as Trump has said he may pardon those charged in the Capitol attack and just a month after he opened a campaign rally with a song performed by the "J6 choir" made up of Jan. 6 defendants who are incarcerated awaiting trial.
Larson-Olson said she drove nearly 2,000 miles from Abilene, Texas, to see Trump in New Hampshire on Thursday night.
Larson-Olson was introduced to Trump as a "Jan. 6er," and he signed the backpack that she said she was carrying with her that day and waived her past security so he could embrace her. "Listen, you just hang in there," Trump said, calling her a "terrific woman" and kissing her on the cheek. Trump said it was "so bad" what has been done to Jan. 6 "patriots."
"If I were to imagine what it would be like to hug Jesus Christ — not that I'm saying President Trump is Jesus Christ — but, just, you know, if I was to imagine what it would be like to hug Jesus Christ, that's what it felt like for me," Larson-Olson said. "It was so personal and intimate."
Larson-Olson said that she got out of prison last month after serving more than 160 days and that she was often placed in more restrictive confinement because of her refusal to comply with Covid protocols. She said she'd do it all over again because she believes that Trump is the true president.
"They could've shoved me in there for the rest of my life," Larson-Olson said. She said the judge sentenced her because she had no regrets for what happened on Jan. 6.
Larson-Olson is one of a handful of Jan. 6 defendants who were actually detained on the scene during the Capitol attack, although court documents suggest that she was never formally arrested given the chaos of the day. While most of the more than 1,000 people who have been charged in connection with the attack have had their cases litigated in D.C. federal court, Larson-Olson's case went before a jury in D.C. Superior Court.
Charging documents in the case say that, in an interview at her Airbnb in Washington on Jan. 19, 2021, Larson-Olson "told agents that it took six police officers to get her off of the scaffolding" and that she was "holding onto the scaffolding while the officers were trying to get her down." Larson-Olson also said "she did not comply with their directions to stand so the officers dragged her on the ground away from the scaffolding and then left her there."
"I have NEVER felt BRAVER, STRONGER IN MY WHOLE LIFE," Larson-Olson wrote on Facebook on the night of Jan. 6, saying she resisted police and planned to return to the Capitol. "I GOT CARRIED DOWN MANY FIGHTS OF STAIRS BY THE COPS AFTER getting tear GASSED. It's all good. I will be back tomorrow."
Larson-Olson was found guilty and Superior Court Judge Michael O'Keefe sentenced her to 180 days of incarceration in September 2022.
Ryan J. Reilly reported from Washington, and Olympia Sonnier reported from Manchester.