The jury in E. Jean Carroll's civil suit alleging Donald Trump raped and defamed her has started deliberations in the case.
The nine-person Manhattan federal court jury began their deliberations shortly before noon ET after U.S. District Judge Lewis Kaplan instructed them on the law in the case.
Because the case is civil, not criminal, the jury will find whether Trump is liable or not liable for the attack, and whether Carroll should be awarded financial damages. The standard for the jury to make the determination, the preponderance of the evidence, is lower than it is in a criminal case, where a jury has to find guilt beyond a reasonable doubt.
Carroll, a longtime magazine advice columnist, alleged Trump attacked her in a department store dressing room near his home in Trump Tower on an unspecified date in 1995 or 1996.
Carroll, 79, says the assault happened after she and the future president bumped into each other at the store and began shopping together. Trump has called her allegations a politically and financially motivated "hoax" — claims that Carroll and her attorneys told the jury were defamatory.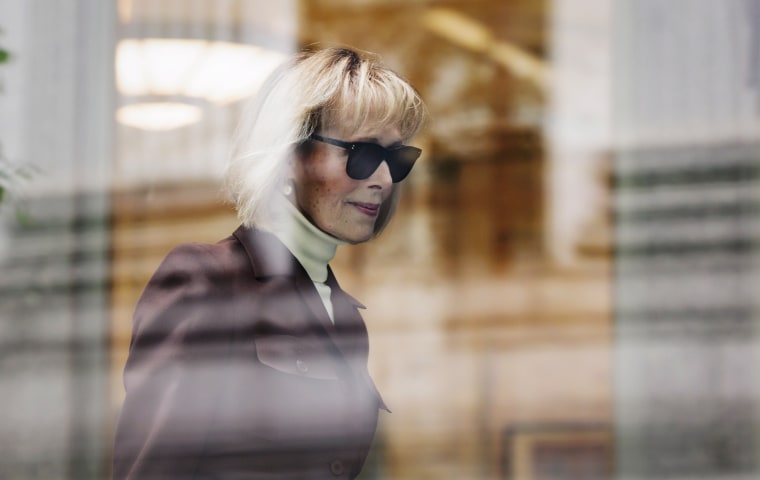 Carroll is suing for an unspecified amount of compensatory and punitive damages for alleged battery and defamation. "For E. Jean Carroll, this is not about the money," her lawyer Roberta Kaplan told jurors in closing arguments Monday, but "about getting her name back."
Trump attorney Joe Tacopina told the six man, three-woman jury in his closing argument that his client's statements weren't defamatory, but rather were the truth.
Tacopina alleged Carroll was motivated by "political hatred" of the then-president when she went public with her claim in a book in 2019, and said that her "outrageous" story is "not worthy of your belief."
"The whole story is an unbelievable work of fiction," he said, adding, "She was not raped at Bergdorf Goodman and was not defamed."
Trump did not appear in court during the trial, which started on April 25, but jurors were shown his videotaped deposition in the case from October, where he denied Carroll's claims under oath.
He also maintained in the deposition that Carroll was "not my type," despite misidentifying a picture of Carroll in the 1980s as being Marla Maples, Trump's second wife.
Trump's lawyers did not put on a defense case.
Trump waived his right to testify in the case through his lawyer Thursday morning, but told reporters in Ireland that afternoon he was returning to New York because of the case.
The judge then gave him until Sunday at 5 p.m. to change his mind about testifying, a deadline that Trump let pass.
Despite that, Trump took to his Truth Social social media account Tuesday morning to complain he was being silenced.
"Waiting for a jury decision on a False Accusation where I, despite being a current political candidate and leading all others in both parties, am not allowed to speak or defend myself, even as hard nosed reporters scream questions about this case at me," he said.
"I will therefore not speak until after the trial, but will appeal the Unconstitutional silencing of me, as a candidate, no matter the outcome!"