Eight search warrants and affidavits were filed in connection with the federal case involving former President Donald Trump's handling of classified documents, which resulted in a slew of criminal charges against him, according to recently unsealed court motions.
The motions were filed in connection with the ongoing efforts by media organizations, including NBC News, to obtain access to much of the information in the search warrant served at Trump's Mar-a-Lago residence in Palm Beach, Florida, last year.
Prosecutors filed a motion last month with the federal court overseeing the case, requesting permission to disclose the warrants and accompanying documents to the legal teams representing Trump and his aide Walt Nauta as part of disclosure requirements now that both men have been charged. 
In the motion, which was unsealed Tuesday, prosecutors said they have not publicly disclosed the contents, locations or devices sought by the search warrants, and they asked the court to keep the details under wraps.
The existence of one of the warrants was already known, because it was executed on Trump's estate last year, and he announced it on his social media website. The indictment also made it clear that prosecutors had obtained other information — including photos and messages from cellphones — but the prosecution did not indicate whom it had obtained the information from, whether voluntarily or through warrants.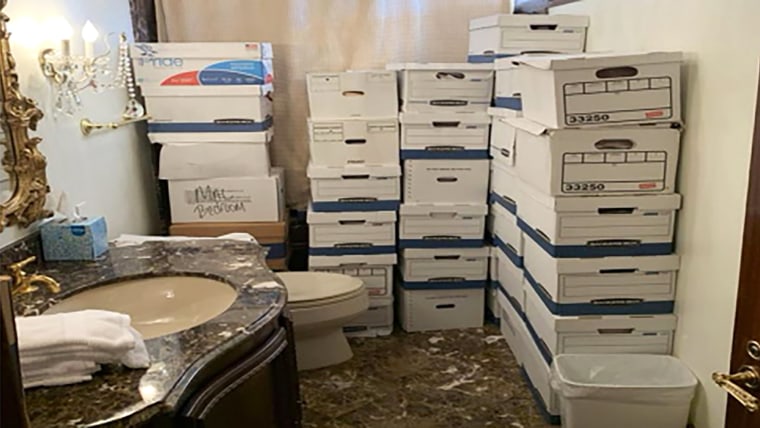 The seven other search warrants do not necessarily mean the FBI agents and the Justice Department officials searched seven other physical locations.
The additional search warrants could have been for storage facilities, other parts of the Mar-a-Lago property, phones, tablets, computers, databases or digital accounts.
Federal prosecutors argued in the motion that those warrants should remain secret to prevent sensitive information from becoming public.
"The government, accordingly, has never publicly revealed the existence of any of its search warrant applications, or even the number of warrants at issue; it sought a limited unsealing of the instant search warrant application only after the former President publicly revealed its existence," they said.
The judge overseeing the case ruled last week that the criminal trial will begin May 20 in Fort Pierce, Florida.
Trump faces 37 counts tied to allegations that he willfully retained national defense information, conspired to obstruct justice and made false statements. Nauta, a former White House valet, faces six felony counts stemming from allegations that he helped Trump hide national security files from investigators after having left the White House. They have pleaded not guilty.