In the days leading up to his surprise resignation amid explosive allegations of violence against women, New York Attorney General Eric Schneiderman reveled in his self-appointed seat atop the resistance to President Donald Trump's agenda.
He tweeted a comic created by a comedy show that portrayed him as a cartoon hero fighting the White House on everything from the travel ban to smog, and announced Monday that he was leading a coalition of attorneys general to pressure the EPA against a proposed rule limiting what scientific research could be used in regulations.
A day later, he was out of a job, leaving some of the most aggressive legal challenges to Trump hanging in the balance.
The line of succession for the elected office is clear — New York Solicitor General Barbara Underwood serves until the state legislature appoints someone to complete Schneiderman's term through the end of the year — but who will succeed Schneiderman in the next full term as a lawsuit-wielding foil to the president?
Armed with a powerful office uniquely malleable to its boss' interests and prosecutorial goals, Schneiderman armed his blue state against a Trump presidency and deputized himself its defender, just as Eliot Spitzer zeroed in on the financial industry, becoming known as the "sheriff of Wall Street." Before him, Dennis Vacco used the power of the office to conduct child pornography stings targeting more than 1,500 suspects.
After Trump's inauguration last year, Schneiderman filed lawsuit after lawsuit, taking on the administration on pollution, net neutrality, birth control, the census citizenship question and more. In total, the attorney general's office said Tuesday that it has taken more than 100 actions against the Trump administration including lawsuits, amicus briefs and letters.
In mid-April, Schneiderman asked the New York legislature to bypass double-jeopardy laws and allow him to prosecute anyone who received a presidential pardon, an effort to pitch himself as a legal failsafe in federal investigations into Russian election meddling and the possible involvement of the Trump campaign.
Schneiderman was always uniquely suited to take on Trump, because, as the top prosecutor in the president's home state, he'd been doing it long before the rest of the nation's attorneys general. He sued Trump University for fraud in 2013, earning numerous barbs from Trump but producing a settlement that cost Trump $25 million. He later targeted both Trump and his son's charities with investigations.
A spokesman for the attorney general's office said Underwood would continue all the office's ongoing lawsuits and work, including related to presidential pardons.
Former Maine Attorney General James Tierney, a professor at Harvard and an expert on state attorneys general offices, said that while Schneiderman may have billed himself as the leader in a white cape, it's his office that holds the power.
"All of the work they were doing yesterday they're doing today," Tierney told NBC News, adding that the New York attorney general's office has a talented staff. "This isn't about any individual, this is about our Constitution and our laws. We've got a lot of professional prosecutors who are working while we're talking."
He continued: "The White House should not be doing cartwheels down there. They had a personality fight with the current attorney general of New York, he's gone, but it doesn't change what (Trump) did, it doesn't change the laws in New York, it doesn't change how his son ran his charity," Tierney said. "It doesn't change any of that."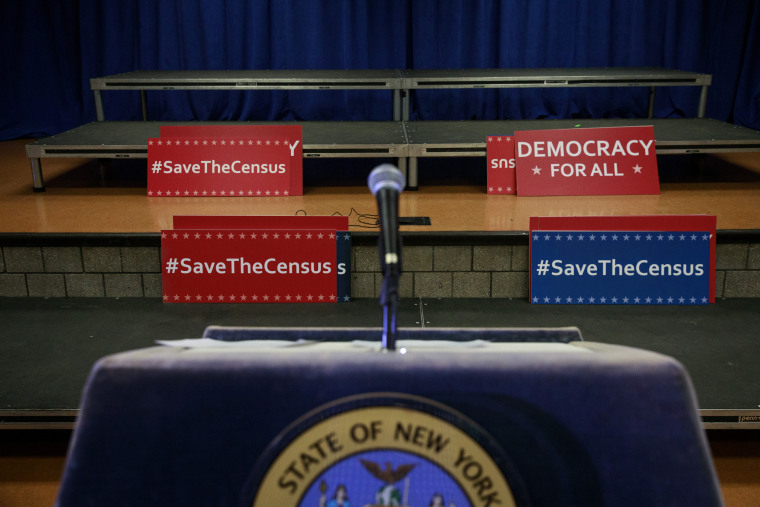 Schneiderman also was hardly the only state attorney general to take on the White House: Xavier Becerra in California; Brian Frosh in Maryland; Ellen Rosenblum in Oregon; Karl A. Racine in the District of Columbia; Doug Chin in Hawaii; and others have aggressively used their offices to oppose Trump.
Lizzie Ulmer, communications director for the Democratic Attorneys General Association, noted that Schneiderman often teamed up with other attorneys general across the country when fighting against Trump.
"It really was multi-state work," she said.
Still, with Trump's world firmly rooted in New York, interim successors and attorney general candidates in the November election are sure to be power-players in their own right.
"We're lucky in New York that we have a deep bench and there's a lot of good candidates and a lot good names out there," former New York City Council speaker Christine Quinn said Tuesday.
The names of many potential candidates — including New York City Public Advocate Letitia James, Rep. Kathleen Rice, D-N.Y., and former U.S. Attorney Preet Bharara — are already being tossed around as potential replacements. Republican Manny Alicandro, a Manhattan lawyer, announced his candidacy for the office on Monday, and Zephyr Teachout, a former candidate for governor, is also mulling a race.
"I think it's really crystal clear that the next attorney general should be a woman," Quinn said. "We stand at a moment where we're finally having a national conversation about sexual assault and sex harassment and I think a woman's voice will be the most clear."
Twitter users even launched an unlikely, if playful, campaign to draft Hillary Clinton for the job, with the hashtag #HRCforNYAG.
"Of course, there's a NY lawyer named Hillary Rodham Clinton who needs a new gig," Esquire writer Charles Pierce wrote on Twitter. "Just getting the rumor started would bring hours of comedy gold."
Well, that and a big problem for Trump.