When the crowd at President Donald Trump's South Carolina campaign rally last week started up the now-familiar chant of "Build that wall, build that wall," he stopped to chastise them.
"It's not 'build that wall' anymore, it's, 'Continue building that wall,'" he said. "Because we're building it."
He repeated this claim a day later at the White House.
"We've started the wall," Trump said. "Started up in San Diego and other places. It's under construction with $1.6 billion dollars, but we're going to ask for an increase in wall spending so we can finish it quicker."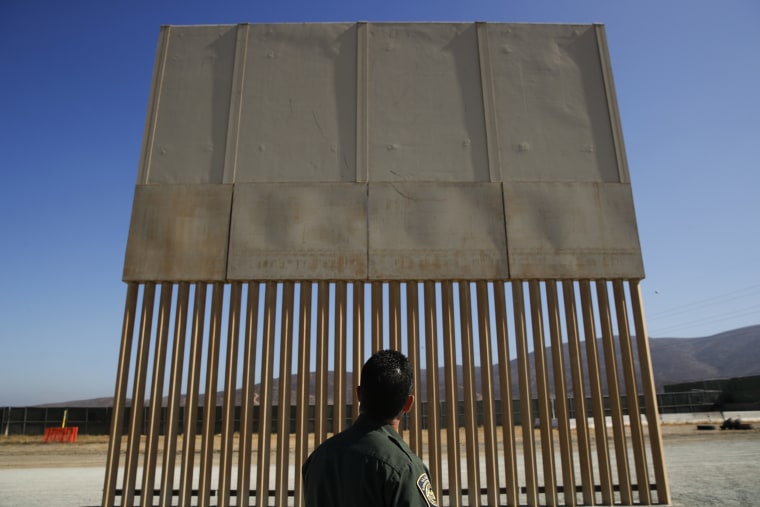 But that's not true. While some new fencing has been built along the U.S.-Mexico border in the past year, it's not the concrete barrier Trump vowed because of the strings Congress put on the cash.
The Facts
The president rooted his campaign and early presidency in the idea that the southern border needed a concrete wall to secure American borders, which he said was overrun by crime and drugs. He said over and over that Mexico would pay for it. (Mexico has so far refused.)
"There's a BIG difference" between a wall and a fence, he tweeted in 2015.
"It's not a fence, it's a wall," he said days before his inauguration.
"A properly built, constructed, designed wall. High, not a little fence they had," he told Fox News' Sean Hannity in 2017.
Trump ordered eight prototypes for his wall built in the desert outside San Diego. He toured them in March, declaring the prototypes superior to existing fencing.
"That wall, they can get over very easily," Trump told reporters, pointing to existing fencing that had been patched from attempts to break through them. "These walls," he said, indicating his prototypes, "they can't."
The same month, legislators passed a spending bill that included $1.6 billion in border barrier funding. That's the money Trump has touted at recent rallies as a "down payment" on his wall. But by law, the money can only be used for the construction or repair of existing fencing designs.
That funding "shall only be available for operationally effective designs deployed as of the date of the Consolidated Appropriations Act, 2017 ... such as the currently deployed steel bollard designs," the bill reads, referencing designs that were completed well before Trump's prototypes were built.
A spokesman for Customs and Border Protection (CBP) said that more than seven miles of border fencing had been replaced in the past year. (The president has said the U.S. needs 700 miles of new barrier on the border, and has sought $25 billion for his wall.)
Additionally, a spokesman for CBP told NBC News that the findings from prototype development and testing had been presented to leadership, but it was unclear when — or if — they would be deployed in future border barrier construction.
Trump has maintained that he still intends to make Mexico pay for the wall — in one rally he teased that that issue might come up in NAFTA negotiations — but has yet to offer any specifics.
The new president-elect of Mexico, Andrés Manuel López Obrador, seems unlikely to offer fresh aid on that front. He has denounced Trump's plan to build a border wall and his latest book was titled, "Listen, Trump!"