WASHINGTON — Chris Christie knew he was going to ruffle some feathers, but he did it anyway.
"I am running because [Donald Trump] let us down," Christie, the former New Jersey governor, said Friday at the annual Faith and Freedom Coalition conference. "He's let us down because he is unwilling to take responsibility for any of the mistakes that were made, any of the faults that he has and any of the things that he has done."
As it became clear Christie, a 2024 presidential aspirant, was about to criticize Trump, boos and jeers filled the air in the large convention space. Christie has said he is running for president to try to end Trump's political career, making him the only Republican in the field who has taken such an aggressive posture against Trump.
"You can boo all you want," Christie said as he sparred with the audience. 
The exchange was an eye-catching bit of political theater at an event before hundreds of Christian conservative activists at to the Washington Hilton, but it also provided a clear measure of the most engaged parts of the Republican base: They remain all in for Trump.
Trump keynoted the Saturday evening gala, which was the final event of the weekend, hitting on a wide variety of go-to issues, most of which were met with thunderous applause from an audience well-tuned to his message.
"As we gather today, our beloved nation is teetering on the edge of tyranny," Trump said. "Our enemies are waging war on faith and freedom, on science and religion, on history and tradition, on law and democracy, on God almighty himself."
Trump took the stage to a huge ovation and chants of "USA, USA, USA."
He said that he was "proud to be the most pro-life president in American history," that his administration created the "most secure border in U.S. history" and that he would appoint "rock solid conservative judges" if he wins in 2024.
Trump spoke on the anniversary of the Supreme Court decision overturning Roe v. Wade, which happened in large part because of the three conservative justices he nominated.
Nearly a dozen other Republican presidential candidates were among the more than 50 speakers throughout the three-day event, but none could compete with even the mere mentions of Trump's name, which each time elicited vocal reaction from the crowd. 
North Carolina Lt. Gov. Mark Robinson, who is running for governor, got a standing ovation when he endorsed Trump. Panels were stocked with former Trump administration officials who touted policies he enacted in the White House. And at times, speakers who referred to Trump without even using his name got the crowd excited.
"What I think we learned when a brash, bold New Yorker came onto the scene is there is a lot more corruption than we thought," former Arizona gubernatorial candidate Kari Lake said. "How many of you miss that bull in a China shop? I miss the mean tweets and all."
"I think you know who I am talking about," added Lake, who also threw a shot in at Christie for his criticism of Trump.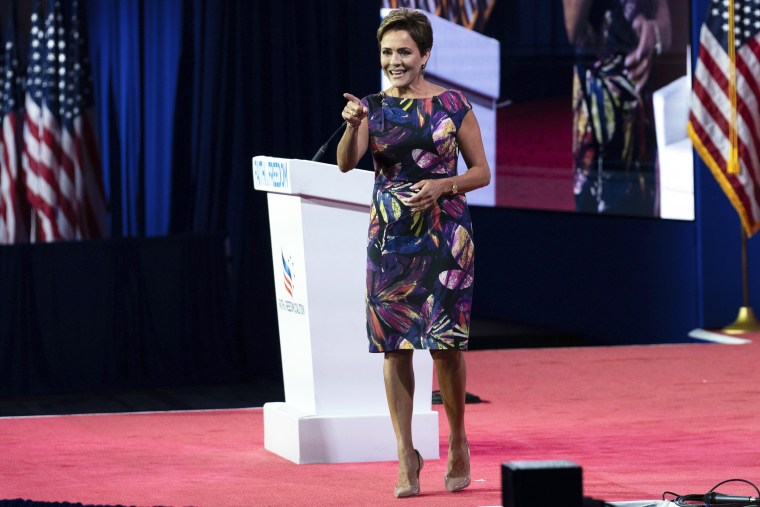 The mood was yet another example underscoring that Trump is the leader of the Republican Party and that any talk of so-called Trump fatigue amid an endless stream of investigations and legal problems, including two indictments, has not eroded his support with the GOP faithful.
Florida Gov. Ron DeSantis, who is widely considered the biggest threat to Trump, has failed to meaningfully narrow Trump's significant lead in most public polling since he entered the race May 24. DeSantis is expected to have a huge campaign apparatus and the most money of any candidate in the race. He had spent months building up his presidential launch, but since he formalized his candidacy he has not come close to easing Trump's grip on the Republican base.  
DeSantis got a large round of applause Friday afternoon as he walked onto the stage for his remarks, which went longer than those of any of the other non-Trump speakers. They were packed with standard fare for a DeSantis speech. He centered much of them on culture war fights and said he supports the Supreme Court Justices Clarence Thomas and Samuel Alito amid reports from ProPublica that they did not report gifts and trips from wealthy Republican donors. DeSantis also criticized President Joe Biden's "open border policies," long a common theme.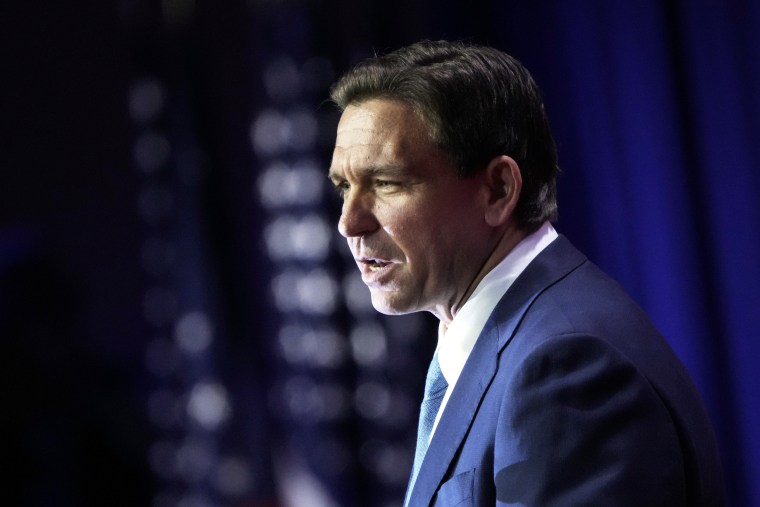 DeSantis did not mention Trump by name, but he did take veiled shots at him over losses Republicans have sustained over the past three election cycles as Trump was helping lead the GOP's efforts.
"None of this matters if we don't win," DeSantis said. "There is no substitute for victory. We cannot continue with the culture of losing where we lose winnable races."
Never Back Down, a pro-DeSantis super PAC, also framed his remarks as anti-Trump, even though DeSantis did not directly mention him by name.
After his speech, the group tweeted that the crowd booed "Trump for siding with woke Disney!" The crowd did boo when DeSantis talked about Disney, but he did not once mention Trump.
After his speech, DeSantis held a separate meeting with a small group of pastors. In the meeting, which was branded a roundtable, DeSantis briefly re-emphasized many of the points he made in his speech.
At a private dinner Thursday night to talk about conservative-based criminal justice reforms, some people in the room were openly annoyed about DeSantis' not having supported the First Step Act, Trump-era legislation that focused on lowering re-incarceration rates. Last month, DeSantis made waves when he told the conservative pundit Ben Shapiro that he would repeal Trump's signature criminal justice reform, saying it "has allowed dangerous people out of prison who have now re-offended, and really, really hurt a number of people."
The private dinner was co-hosted by former Rep. Doug Collins, a Georgia Republican who sponsored the First Step Act when he was in Congress and now works on criminal justice reform issues.
"No one who spoke mentioned DeSantis by name, but there was clearly disappointment in the room," a person who was at the dinner said. "And there was talk about those headlines."
It was a reference to the series of stories that were written after DeSantis told Shapiro he would repeal the proposal.
On Saturday, a public safety panel featuring Ja'ron Smith, a former Trump administration official, focused heavily on the First Step Act, a signal it has not lost support with conservative criminal justice reformers. 
"We were able to pass legislation called the First Step Act," he told the crowd, "which was laser-focused on reducing recidivism in our federal prisons."
Trump no longer vocally touts the legislation. Other candidates, including former Vice President Mike Pence, have said it is time to "rethink" the law. As the legislation has become a topic of conversation in the Republican primary, Trump has not chimed in, including not responding to a request for comment.
Collins said DeSantis "sat next to me" on the House Judiciary Committee and voted for it. DeSantis voted for a version of the bill in May 2018. The final version passed in December that year, after DeSantis had been elected governor.
Collins said candidates who have started questioning the bill, including DeSantis, have not reached out to him. The bill passed the House in 2018 on a 360-59 bipartisan vote, with support from DeSantis.
"If any of them want to talk to me about it, I'm happy to talk to them," Collins said Saturday night of presidential candidates who might have concerns.
DeSantis' campaign did not reply to a request for comment about why he no longer supports the proposal after he voted for it.
Most other presidential candidates who spoke at the conference focused on their records and plans if they are elected, generally not mentioning Trump or any other candidate.
Common themes were parental rights in education, making sure the federal criminal justice system is not "weaponized" — a word Republicans have used consistently after Trump was indicted in connection with his handling of classified documents after he left the White House — and abortion, which has long been one of the biggest policy fights for the Faith and Freedom Coalition.
"We are creating a culture of life in America," Sen. Tim Scott of South Carolina said. "And that is a really good thing."
The Trump administration's ambassador to the United Nations, Nikki Haley, said she was the "most pro-life governor in the country" when she was governor of South Carolina. 
Even candidates who want the party to move on from Trump tried to raise the issue delicately. Larry Elder, a conservative radio host who ran for governor as part of the 2021 effort to recall Democratic California Gov. Gavin Newsom, said he still likes Trump but does not think he is electable.
"Have you lost friends because of Donald Trump?" he asked. "Are you walking on eggshells at work because of Donald Trump? Do you have strained relationships because of Donald Trump?"
Elder was making the case that swing voters will never come around to Trump and that Republican voters "have to realize they need to coalesce around a candidate not [named] Trump but has the same America First policies."
But there was an overwhelming sentiment that those legal woes not only did not concern Trump's most ardent supporters, but also that those who challenge him will be jeered and mocked.
"Chris Christie could not be here. I apologize," David Brodie, a commentator with the Christian Broadcasting Network, joked when he opened a panel about media bias.
After roughly 15 minutes, he turned to the same laugh line to close out the panel.
"Chris Christie says hello," he said.
CORRECTION (June 25, 2023, 7:30 p.m. ET): A previous version of this article misstated Doug Collins' congressional role. He is a former House member, not a current member.