Two foreign-born associates of Rudy Giuliani who gave money to a political action committee supporting President Donald Trump were arrested Wednesday night on criminal charges tied to an alleged effort to influence U.S. politics with illegal campaign contributions.
Igor Fruman and Lev Parnas — who are also both witnesses in the impeachment inquiry being undertaken by House Democrats — made an initial appearance in federal court in Alexandria, Virginia, Thursday.
Federal prosecutors said the men had one-way tickets to leave the U.S. when they were arrested at Dulles airport by the FBI. The two men had no known plans to return, officials said, and no destination was disclosed.
Giuliani, Trump's personal attorney, has previously said that Fruman and Parnas worked with him as part of his dealings in Ukraine that involved efforts to encourage that nation to investigate former Vice President Joe Biden and his son, Hunter. Parnas told The Miami Herald last week that he and Fruman passed information on the Bidens to Giuliani.
Parnas is Ukrainian, while Fruman is Belarusian, according to the indictment unsealed Thursday. The Wall Street Journal was the first to report on the arrests.
The four-count indictment, filed in the Southern District of New York and unsealed Thursday, includes charges of conspiracy, making false statements to the Federal Election Commission and falsification of records. The documents allege an elaborate scheme to help an unnamed Ukrainian government official and a person who is described as having "Russian roots" gain access to U.S. politicians and government officials through campaign contributions in order to advance business and personal financial interests.
"This investigation is about corrupt behavior," William Sweeney, a top official in the FBI's New York office said at a Thursday press conference. "Deliberate law breaking."
At that press conference, investigators said the probe was ongoing. Parnas and Fruman face up to 35 years in prison should they be convicted and receive the maximum sentence on the four counts they were charged with.
According to the indictment, the two men, along with fellow defendants David Correia and Andrey Kukushkin, "conspired to circumvent the federal laws against foreign influence by engaging in a scheme to funnel foreign money to candidates for federal and state office so that the defendants could buy potential influence with candidates, campaigns, and the candidates' governments."
The defendants deceived "the candidates, campaigns, federal regulators, and the public by entering into secret agreements, laundering foreign money through bank accounts in the name of limited liability corporations, and through the use of straw donors ... who purported to make legal campaign contributions in their own names, rather than in the name of the true source of the fund," according to the document.
A law enforcement official says it would not be accurate to say the two were "fleeing" because there's no indication that they knew they were going to be indicted. However, multiple people familiar with the matter say the timing of the indictment was moved up because of Parnas and Fruman's tickets to travel.
Kukushkin was arrested in San Francisco on Wednesday. Federal investigators said Thursday that Correia is still at large.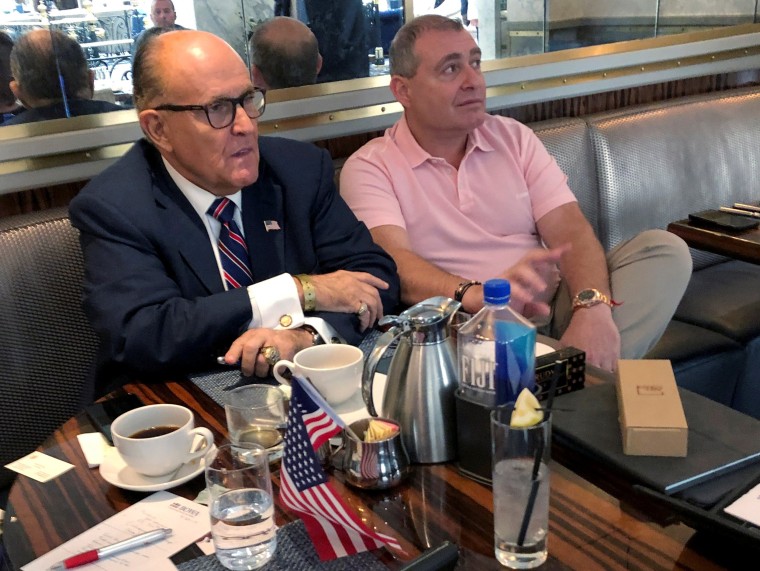 Parnas and Fruman are alleged to have started making illegal campaign contributions in March 2018. The purpose of these donations, the indictment claims, was to enhance their political influence and gain access to politicians so they could advance the "personal financial interests of at least one Ukrainian government official with whom they were working."
Additionally, the indictment alleged that the men conspired to make political donations funded by an unidentified foreign national who was nervous about "his Russian roots and current political paranoia about it" to politicians and candidates. The purpose of those donations was to help gain access to recreational marijuana licenses so that they could form a marijuana business in the United States, according to the document, but that venture did not ultimately come to fruition.
Fruman and Parnas are charged with making $325,000 in illegal straw donations to a Trump super PAC, according to the indictment, as well as giving $15,000 to a second committee.
In May 2018, the two men gave $325,000 to the pro-Trump super PAC America First Action through an LLC, Global Energy Producers, the group confirmed to NBC News. That same month, Parnas posted photos on Facebook of himself and Fruman with Trump, and with the president's oldest son, Donald Trump Jr.
Jay Sekulow, the president's outside counsel, told NBC News: "As the indictment states, neither the President nor the campaign were aware."
Trump said Thursday that he didn't know the two Giuliani associates.
"Now it's possible I have a picture with them because I have a picture with everybody. I have a picture with everybody here. But somebody said that there may be a picture or something at a fundraiser or somewhere. But I have pictures with everybody," Trump told reporters on the South Lawn of the White House. "I don't know if there's anybody I don't have pictures with. I don't know them. I don't know about them, I don't know what they do, but I don't know, maybe they were clients of Rudy, you'd have to ask Rudy, I just don't know."
The Trump campaign declined to comment, while John Dowd, an attorney for the two men, did not immediately respond to a request for comment. Reached by NBC News, Giuliani said he could not yet comment.
A spokesman for America First Action said Thursday that it had "placed that contribution in a segregated bank account, it has not been used for any purpose and the funds will remain in this segregated account until these matters are resolved."
"We take our legal obligations seriously and scrupulously comply with the law and any suggestion otherwise is false," the spokesman said.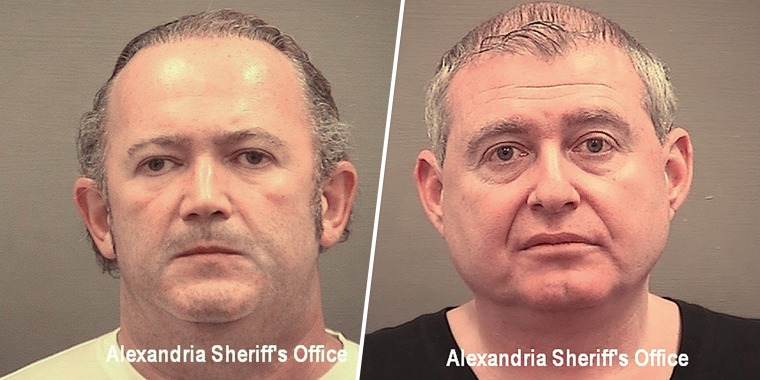 The indictment also details a push by Parnas and Fruman to oust then-U.S. Ambassador to Ukraine Marie Yovanovitch, whom Trump recalled from her post earlier this year. The indictment alleges that Parnas met with a congressman identified in the charging document as "Congressman-1" in mid-2018 to get assistance in the effort.
According to the document, the efforts to oust Yovanovitch were at least partially on behalf of an unnamed Ukrainian official.
Multiple senior U.S. law enforcement officials told NBC News that "Congressman-1" is former Rep. Pete Sessions, R-Texas. The two men committed to raising $20,000 for the then-lawmaker, the indictment alleged.
Sessions lost his re-election bid last year. While he was still in office, Sessions wrote a "private" letter in May 2018 to Secretary of State Mike Pompeo about Yovanovitch, he confirmed to NBC Dallas/Fort Worth's "Lone Star Politics" show last week.
The Associated Press and the Journal previously reported that Sessions' letter, a copy of which was obtained by NBC News Thursday, asked for Yovanovitch to be removed.
The letter, written on congressional letterhead and date May 9, 2018, was addressed directly to Pompeo. The short, three-paragraph missive asks Pompeo to "consider terminating her ambassadorship and find a replacement as soon as possible" because, Sessions wrote, he had received "concrete evidence from two close companions that Ambassador Yovanovitch has spoken privately and repeatedly about her disdain for the current Administration in a way that might call for the expulsion of Ms. Yovanovitch as U.S. Ambassador to Ukraine immediately."
In an interview with the Journal, Sessions said he did not follow up with Pompeo after sending the letter.
Sessions said Thursday he could not confirm he was in fact the congressman in the indictment but that he would "vigorously defend myself against any allegations of wrongdoing."
"As it relates to my role as a member of Congress and a candidate in 2018, the most important sentence in the indictment is this: 'The defendants concealed the scheme from the candidates, campaigns and federal regulators.'" Sessions said in a statement. "Therefore, if I am 'Congressman One,' I could not have had any knowledge of the scheme described in the indictment or have involvement or coordination of it."
He said he took no "official action" after meetings with Fruman and Parnas, and defended the letter to Pompeo as a separate matter.
"Separately, after several congressional colleagues reported to me that the current US Ambassador to Ukraine was disparaging President Trump to others as part of those official duties, I wrote a letter to the Secretary of State to refer this matter directly," Sessions said. "My entire motivation for sending the letter was that I believe that political appointees should not be disparaging the President, especially while serving overseas."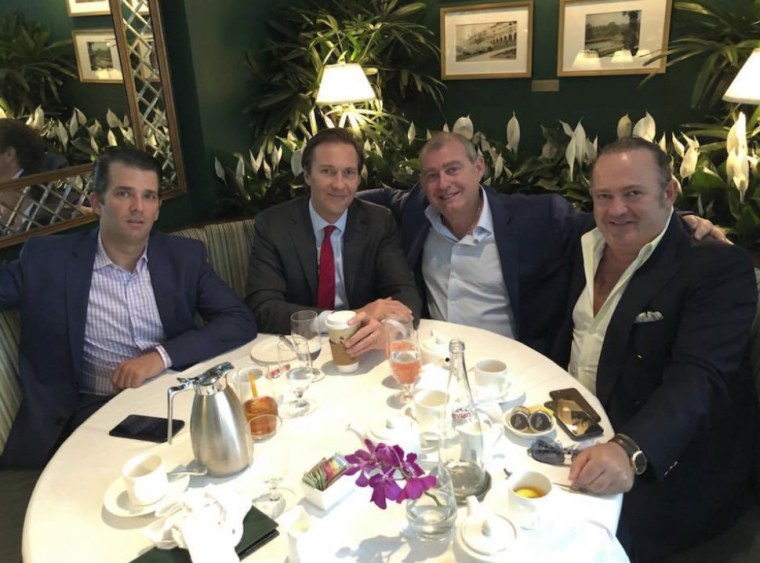 House Democrats' recently launched impeachment inquiry into Trump has sought to determine what role Giuliani may have played in orchestrating communications with Ukrainian officials as part an effort to seek a corruption investigation the Bidens.
Trump, in the July phone call at the center of the whistleblower complaint that galvanized the impeachment inquiry, asked Ukraine's president to probe Biden, a possible 2020 rival, and Biden's son.
House committees have sought documents and depositions from Parnas and Fruman. Parnas was requested to appear before the House Intelligence, Foreign Affairs and Oversight committees Thursday, while Fruman was requested to appear Friday.
Following the indictment, the Democratic chairmen of those committees issued subpoenas for the two men to provide testimony and documents.
Dowd, who served as an attorney for Trump during former special counsel Robert Mueller's investigation, said earlier this week that the men would not comply with requests for documents or testimony.
A senior administration official said Attorney General William Barr has been aware of the investigation into Parnas and Fruman since shortly after he came into office in February. The official said Barr has received regular briefings and was told Wednesday that the two would be arrested that evening.
"He has fully supported the Southern District of New York's investigation," the official said.
At a bond hearing later Thursday, Fruman and Parnas were granted release pending a secured bond of $1 million each. Once the bonds has been secured — a process that Judge Michael Nachmanoff said "could take some time" — the defendants will be released into home detention with GPS monitoring in the Southern District of Florida. Their travel will be restricted to the Southern District of Florida and the Southern District of New York.
Fruman and Parnas have both turned over their passports and other travel papers, according to the judge.
Federal Election Commission records show Parnas and Fruman made many political contributions in recent years.
Beginning late in the 2016 cycle, Parnas made a $50,000 contribution to Trump Victory, sent more than $33,400 to the Republican National Committee, and sent maximum donations to Trump, Sessions, and now-House Minority Leader Kevin McCarthy. Parnas made donations to Sessions and McCarthy during the 2018 cycle.
Parnas was co-founder and CEO of an investment company called "Fraud Guarantee," which he co-founded with Correia. Fraud Guarantee was listed as Parnas' employer on some of the donations.
For Fruman, FEC records show he made substantial donations to Sessions, Sen. Rick Scott, R-Fla., during his 2018 Senate bid, Sessions, Rep. Joe Wilson, R-S.C., and Trump.