President Donald Trump is spending the holidays at his Mar-a-Lago estate in Florida, which is just a short drive from Trump International Golf Club.
And while the White House has been reluctant to say whether or not the president has been hitting the links, Trump has been repeatedly spotted on his course with clubs in hand.
On Christmas evening, Trump tweeted, "tomorrow it's back to work" — but the next day, the president's agenda included a round of golf.
In fact, the president was seen at his golf course three days in a row, an indication of Trump's love of the game.
Trump is just one of many presidents who have been passionate about golf — even though he criticized his predecessor for hitting the links too often.
"He's played more golf than most people on the PGA tour!" said Trump of former President Barack Obama during an October campaign event in 2016. Two months earlier, while on the trail, he had told a crowd of supporters he was going to be too busy as president to play his favorite game.
"I'm going to be working for you," he said. "I'm not going to have time to go play golf."
However, there seems to be time. NBC News has been tracking the president's golfing habits and found that he has spent 90 of his 345 days in office at one of his golf courses — that's a quarter of his time as president.
Professional golfers who've played with Trump say he's actually good.
Both Tom Kite, who has 37 professional victories, and Paul Goydos, who has 10, called him a "good player."
And Fred Funk, who has 29 wins, said: "I think he's probably the best sitting president ever to play golf."
That would make him pretty good, since every president in the past century except Hoover, Truman and Carter has golfed.
But his swing, much like his presidency, is unconventional. Experts have faulted him for his backswing and the angle of his shoulder and elbow, but say that's all corrected by the time the clubface hits the ball. What matters most, they say, is that he's consistent and hits the ball with a "stable" clubface.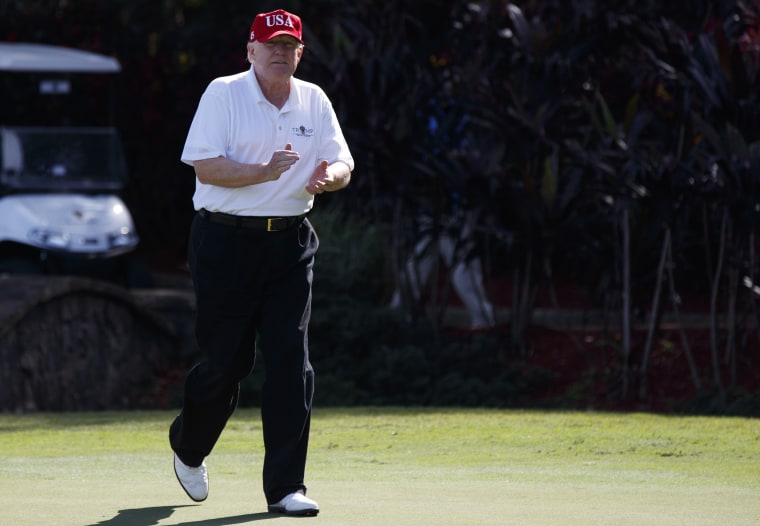 "He's not real long in terms of hitting it a long distance," Golf Digest reporter Jaime Diaz told NBC News, "but he's real straight and real consistent. So he's always in play."
Diaz, who has played with Trump twice, said, "He just goes with what always has worked for him, and he trusts his instincts, which I think is one of his kind of mantras."
Golf Digest ranked him the best golfing president in history. His handicap is in the single digits, though some question if it's legitimate. He's also the winner of 19 club championships — all at his own courses.
There was also the time he got a hole-in-one, and then made Jeff Immelt, the CEO of GE, tell the story on-camera to a gathering of business leaders at the White House.
"He looks at the three of us," said Immelt, "and says, 'You realize of course I'm the richest golfer in the world' — that's a comment — then gets a hole in one."
Trump corrected Immelt.
"I actually said I was 'the best golfer of all the rich people,' to be exact," he said.
Related: Tracking President Trump's visits to Trump properties
Trump's golf business is now officially run by his son Eric, who oversees the Trump Organization's 19 courses worldwide.
Membership at his clubs is for the wealthy, with some fees in the hundreds of thousands of dollars.
In Trump's most recent financial disclosure, he reported an annual income for the golf clubs totaling more than $150 million.
Many of the president's most fervent supporters would be hard-pressed to pay those kind of fees. In interviews, he's said he wants golf to serve as a motivation for success.
"I'd like to see golf be an aspirational game," he told the Golf Channel. He told Fortune magazine, "Let golf be elitist. When I say 'aspire,' that's a positive word. Let people work hard and aspire to someday be able to play golf. To afford to play it."
For a populist president, it's not a populist message.
"He doesn't apologize for that," Diaz said. "I think maybe he thought that's his brand."
Way back in March 2016, when his ascension to the White House seemed unlikely, candidate Trump predicted in an interview with Gary Williams of the Golf Channel that a Trump presidency would be "very good for golf."
"Why?" Williams asked.
"Because," said Trump, "very simply, I love the game."