WASHINGTON — Former Obama White House counsel Gregory Craig has left his law firm, Skadden, Arps, Slate, Meagher & Flom, the firm told NBC News.
"You are welcome to report he is no longer with the firm," said a spokesperson in a statement.
His departure comes after he and his law firm became caught up in special counsel Robert Mueller's investigation into possible collusion between the Trump campaign and Russia.
Alex van der Zwaan, who had been a lawyer in Skadden's London office, pleaded guilty to lying to prosecutors and the FBI about communications involving work the firm had been performing for the Russian-backed former Ukrainian president, whose party was paying Paul Manafort and Rich Gates.
Gates, a former Trump campaign aide, pleaded guilty to one charge of false statements and one charge of conspiracy in February and has agreed to cooperate with the Mueller probe. Manafort, former Trump campaign chair, has pleaded not guilty to charges that include money laundering and conspiracy.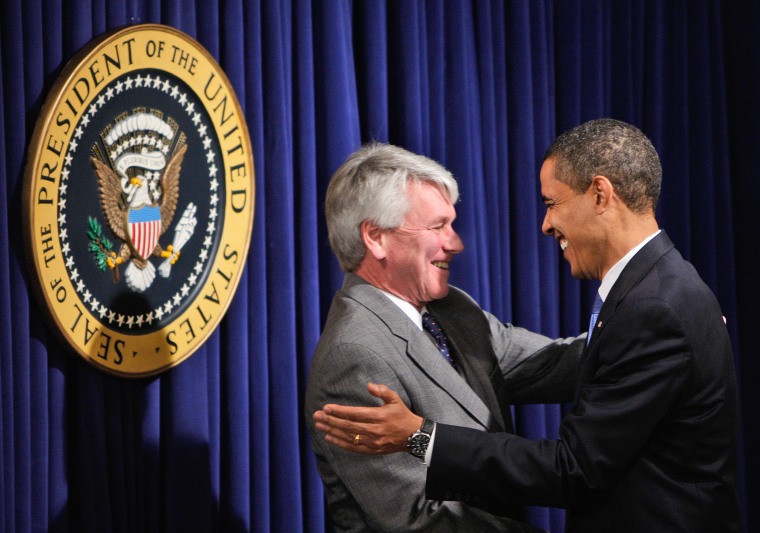 It emerged in court hearings that Greg Craig was the senior partner overseeing the project. Craig was White House counsel from January 2009 to January 2010, when he went to work at Skadden. He also held several posts in the Clinton administration, and helped President Clinton coordinate his defense during his impeachment.
The 2012 report, commissioned by Manafort, was an effort to analyze the prosecution of an opposition politician, former Prime Minister Yulia Tymoshenko. Human rights groups criticized the report as a white wash. Manafort and Gates used an offshore account to "funnel $4 million to pay for the report," according to court papers, which do not say how much of the $4 million went to Skadden.
Craig did not immediately respond to a request for comment.