A judge on Tuesday ordered the bond conditions of Harrison Floyd, one of former President Donald Trump's co-defendants in the Georgia election interference case, to be modified because of social media posts that prosecutors from the Fulton County district attorney's office said were "intentional and flagrant violations" of the conditions of his release.
Superior Court Judge Scott McAfee said the posts may have been a "technical violation" of Floyd's bond, but "not every violation compels revocation." He said that the current bond order doesn't address the "nuances" of social media and that he didn't see Floyd's posts as witness intimidation. "I read these as, seeing these more, that someone is wanting to defend his case in a very public way," McAfee said.
Fulton County District Attorney Fani Willis had argued that Floyd should be locked up immediately for his social media posts about witnesses in the case, including former elections worker Ruby Freeman, and made it clear to the judge she was disappointed in the ruling.
"Obviously, we're very concerned about the safety of Miss Ruby Freeman. She has clearly endured enough. And this conduct is not just chilling to her" but "chilling to other people who would want to serve in her capacity," Willis said.
McAfee signed off on a temporary modified bond order after the hearing with more explicit restrictions on Floyd's posts until the two sides can agree on more specific language.
In a motion last week to revoke Floyd's bond, Willis' office cited Floyd's posts on X, formerly known as Twitter, targeting Georgia elections officials such as Secretary of State Brad Raffensperger; one of his top officials, Gabriel Sterling; and Freeman.
Floyd, who was wearing a bright green blazer, appeared relaxed as he waited for the hearing to start, drinking a NOS energy drink and reading a book called "How to Think Like a Roman Emperor: The Stoic Philosophy of Marcus Aurelius." Willis was in the courtroom, as well, and handled the arguments for her office.
"We're asking that his bond be revoked and he be remanded," Willis told McAfee at the start of the hearing. Her office called three witnesses, including Sterling.
The first witness was Michael Hill, an assistant chief in Willis' office, who testified about the authenticity and content of Floyd's posts on X and read a series of them aloud. He said he heard from the attorney of Jenna Ellis — who was originally one of the 19 defendants in the case but became a witness after having pleaded guilty last month — that Ellis believed the posts about her were meant to intimidate her.
"So in the message, Ms. Jenna Ellis states: 'I saw it a couple of days after it was posted. Yes, I believe it was meant to both intimidate and harass me and also encourage others to harass me, which others have done in the comments, and separate posts,'" Hill said in reading a text he received Tuesday morning.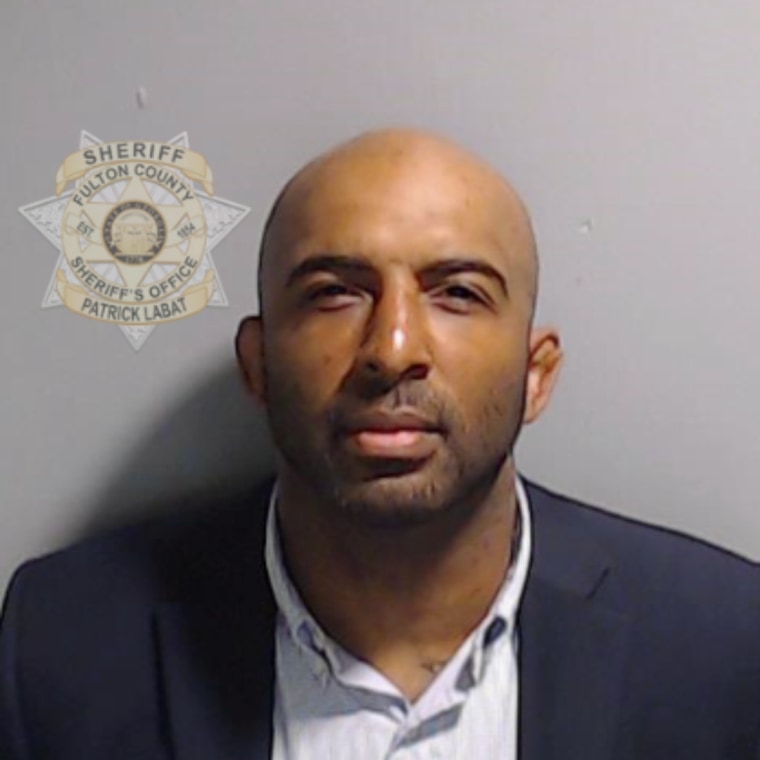 During cross-examination of Hill, Floyd's attorney John Morrison asked whether Floyd sent any witness a direct message on X. Hill said he couldn't say that he did.
Morrison said tagging people in tweets is how you refer to them, not necessarily how you contact them directly. Hill said that in this instance, Floyd used the tagging function to refer to and communicate with witnesses.
Willis noted that Floyd was barred from communicating directly or indirectly with witnesses. After Willis directed Hill to read a condition of Floyd's bond aloud, Hill testified that Ellis, Sterling and Freeman are witnesses.
Willis asked Hill, "Is it the culture of social media when one posts, other people respond?" He replied: "That's correct."
Sterling, a top elections official in Georgia, was called as the second witness. Willis asked Sterling whether he sees it when someone tags him in a post on X, and he said yes.
When Morrison then asked Sterling whether he's not a fan of Trump, Willis objected.
"These posts aren't threatening to you. They may not be nice, but they're not threatening and intimidating to you, are they?" Morrison asked Sterling.
Sterling replied, "It's par for the course when you're a public figure."
Sterling said he generally looks at who tags him in tweets. Morrison asked whether he'd contact law enforcement if he felt threatened, He said yes but that he didn't in this case.
Von DuBose, an attorney for Freeman, was called as the third witness.
DuBose said he has a third-party service that monitors threat levels against Freeman and her mother, Shaye Moss, to look for spikes, adding that it's a service the FBI recommended.
DuBose testified there was a threat-level spike tied to Floyd's posts. "So that got our attention, we were very concerned about that, and we wanted to make sure we address it appropriately," DuBose said, adding that some security measures were taken at that time.
Morrison asked DuBose whether Freeman called the police about the threat-level spike. He said, "No."
In court papers, Willis contended, "Since November 1, 2023, the Defendant has publicly tweeted multiple times from the Twitter account @hw_floyd in an effort to intimidate codefendants and witnesses, to communicate directly and indirectly with codefendants and witnesses, and to otherwise obstruct the administration of justice."
"As set forth above, since his release from custody, the Defendant has engaged in a pattern of intimidation toward known codefendants and witnesses, direct and indirect communication about the facts of this case to known codefendants and witnesses, and obstruction of the administration of justice in direct violation of this Court's order," she continued.
In her filing, Willis cited more than 15 comments by Floyd in a series of posts to X, as well as an appearance on a podcast. One of Floyd's posts that Willis alleged constituted "an act to intimidate known witnesses and direct communication with known witnesses about the facts of the case" read: "Passing this along to @GaSecofState and @GabrielSterling. Should they be more concerned about interfering in elections, perjury before Congress, lying to DA Fani Willis, or all the above?"
Floyd posted the comment this month in response to a user who suggested he "get some decent legal advice before you wind up spending 20 years in prison for someone who could care less about your sorry a--."
Floyd's attorneys denied in a filing Monday that his social media posts violated his bond order and said the motion is a "retaliatory measure" against him.
"In exercising his First Amendment rights, Mr. Floyd neither threatened or intimidated anyone and he certainly did not communicate with a witness or co-defendant directly or indirectly. He has no idea who the State's witnesses even are at this point," they wrote. "If this truly were an issue, the State had every opportunity to notify Mr. Floyd or his counsel that his posts on social media were a problem."
Floyd's attorneys said that he was in plea negotiations just "weeks ago" and that Willis' office didn't mention the social media posts referred to in the motion to revoke his bond.
"All of Mr. Floyd's posts constitute political speech, the touchstone of First Amendment guarantees," they wrote. "None of them contain any threat to use force that would make a reasonable person believe the posts were somehow intimidating or unlawful."
In response to allegations that his tweets about Freeman were an effort to intimidate her, Floyd's attorneys also argued that Freeman's testimony is actually helpful for his case.
"It is Mr. Floyd's position that Ms. Freeman is a valuable defense witness — not a witness favorable to the prosecution. There is not a chance Mr. Floyd would want to intimidate Ms. Freeman," they wrote.
Floyd's attorneys also demanded prosecutors show evidence that Freeman has suffered harm as a result of their client's posts and asked McAfee to reject the motion or include language that would "mirror" former President Donald Trump's bond order.
Prosecutors in the Georgia election interference case have accused Floyd of involvement in a scheme to pressure Freeman to make false statements. Trump and his allies had falsely accused Freeman of fraud in the 2020 election.
Floyd, the former leader of Black Voices for Trump, was the only defendant in the case who was held in jail after having surrendered in August. All of the other defendants, including Trump, were released on bond after they were booked. Floyd was informed at his initial court appearance that he'd remain at the Fulton County Jail because he was considered a potential flight risk.
Floyd negotiated a bond days later. McAfee set his bond at $100,000 — $40,000 on racketeering charges and $30,000 each on a charge of influencing witnesses and a charge of conspiring to commit solicitation of false statements and writings.