ATLANTA — The judge presiding over the election interference case against Donald Trump and his allies in Georgia said Wednesday that he was "very skeptical" of Fulton County District Attorney Fani Willis' plan to put all 19 defendants — including the former president — on trial next month.
At a hearing in Fulton County Superior Court, Judge Scott McAfee said the DA's plan seemed "a bit unrealistic" given some of the complex legal and practical issues in the sprawling case, but he said he would consider additional arguments.
Nathan Wade, who was representing the DA's office at the hearing, told the judge that a trial for all 19 defendants would take about four months and that prosecutors expect 150 witnesses to testify.
Willis' office initially recommended a March trial date but moved up the time frame after former Trump lawyers Kenneth Chesebro and Sidney Powell asked for a speedy trial.
McAfee said Wednesday he was granting the request for at least those two.
"We're certainly here, ready and willing to provide both defendants that right, and we're planning to make that Oct. 23 trial date stick," McAfee said, adding that he will rule in connection with the other defendants after having reviewed Willis' arguments.
The ruling wasn't a total win for Powell and Chesebro — McAfee denied their request to sever their cases from each other's. Their attorneys had contended the move was necessary because, while both are charged with racketeering, they're alleged to have carried out different schemes.
Both have pleaded not guilty, as have Trump and the other defendants.
The wide-ranging 41-count indictment charged all 19 with violating Georgia's Racketeer Influenced and Corrupt Organization, or RICO, Act. Willis alleged the defendants participated in schemes designed to overturn Joe Biden's 2020 victory in Georgia and unlawfully name Trump the winner of the election.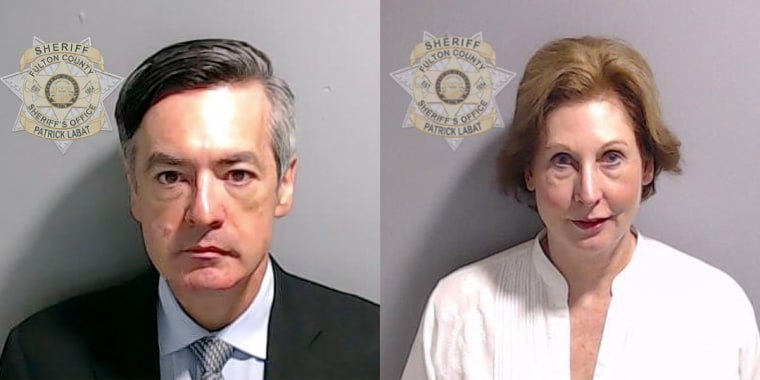 Powell, who was part of the Trump legal team that boosted his claims of widespread election fraud after his loss, is charged with racketeering, conspiracy to commit election fraud, conspiracy to commit computer theft, trespass and invasion of privacy and conspiracy to defraud the state. The computer theft charge is related to an effort to improperly access voting machines in rural Coffee County, prosecutors allege.
Powell filed a motion last month to sever her case from the other co-defendants, saying she "has no substantive connection with any other defendant regarding the charges in the Indictment."
"Contrary to widely publicized false statements in the media, Sidney Powell did not represent President Trump or the Trump campaign. She had no engagement agreement with either," Powell's defense attorney Brian Rafferty said in a filing last month. "It cannot be disputed that Ms. Powell went her own way following the election, and she never reached an agreement on a course of action with any indicted or unindicted coconspirator — and certainly not any illegal course of action. She was not part of any group 'associated in fact', or an 'ongoing organization' that functioned as a 'continuing unit', for any purpose."
Rafferty denied Powell's involvement in the Coffee County election data breach, saying that there was no contract to conduct forensic imaging of the systems and that she didn't organize the trip to Coffee County.
"Ms. Powell can receive a fair trial only if she is tried alone. The prejudice that would inure to her from a lengthy trial with any of those she was not involved and about the vast number of events she had no knowledge of or connection with would deny her Due Process," Rafferty said in a filing last month, saying her trial would last three days at most and result in acquittal. "The simple fact that Ms. Powell would be forced to sit in a courtroom for weeks or months with co-defendants will cause tremendous prejudice to Ms. Powell."
Chesebro, meanwhile, helped craft the fringe legal theory behind the so-called fake electors scheme to overturn the election, pleaded not guilty to racketeering and conspiracy charges last week.
Chesebro argued that he was merely sharing legal advice and committed no unlawful actions. He filed motions last month calling for a speedy trial and asked the judge to sever his case from the other co-defendants.
"Entirely separate, and completely unrelated from the allegations levied against Mr. Chesebro, the allegations related to Ms. Powell center around her alleged belief, and alleged work in furtherance of that belief, that voting machines were erroneously tabulating votes," his attorneys said in a filing last week.
Chesebro's attorneys said he has never directly communicated with Powell or been to Coffee County, where much of her alleged involvement was centered. They argued that trying Chesebro with Powell would be potentially prejudicial.
"In order to achieve a fair determination of the guilt or innocence of Mr. Chesebro, he must be severed from the trial," the filing said. "The fact that Mr. Chesebro is implicated with Ms. Powell will inextricably link them together and has the potential to cause a tremendous prejudice."
Attorneys for Chesebro asked McAfee to dismiss the RICO indictment Tuesday, citing the Supremacy Clause of the Constitution.
In their filing Tuesday, Chesebro's attorneys said most of the conduct he's charged with occurred after the 2020 election's "safe harbor" date for states to resolve disputes and certify their results and thus would be in violation of federal law, not Georgia law.
"Under the Supremacy Clause, the State cannot prosecute or otherwise regulate conduct that was entirely within the ambit of federal authority. Therefore, the State has no power to prosecute any post-December 8th conduct," they wrote.
They noted a Dec. 6, 2020, memo that Chesebro wrote detailing the fake electors scheme in the filing, arguing that even if it was improper for Chesebro to have drafted the memo, "this memo in no way touched or concerned Georgia or its rules, processes, or procedures it had implemented as a result of its congressional delegation via the [Electoral Count Act]."
"Therefore, the charges against Mr. Chesebro are wholly invalid as drafted in the indictment and should be struck accordingly," they wrote.
Separately, Willis filed a motion Wednesday to keep jurors' names and likenesses secret during any upcoming trial. The filing asked McAfee to issue an order that would prevent courtroom cameras from showing the jurors and would also prevent written descriptions of the jurors from being published.
"Based on the doxing of Fulton County grand jurors and the Fulton County District Attorney, it is clearly foreseeable that trial jurors will likely be doxed should their names be made available to the public," Willis wrote. "If that were to happen, the effect on jurors' ability to decide the issues before them impartially and without outside influence would undoubtedly be placed in jeopardy, both placing them in physical danger and materially affecting all of the Defendants' constitutional right to fair and impartial jury."
NBC News reported last month that Trump supporters had posted the purported names and addresses of the grand jury members who indicted Trump and his 18 co-defendants in Fulton County. The indictment itself lists the names of the grand jury members but not their addresses or other personal information.
Charlie Gile reported from Atlanta. Summer Concepcion and Dareh Gregorian reported from New York.