President Donald Trump was greeted with boos and chants of "vote him out" as he attended the outdoor memorial service for Justice Ruth Bader Ginsburg, visiting her casket at the Supreme Court on Thursday morning.
Those who were waiting in line for their own chance to honor the justice who died Friday chanted as the president stood with first lady Melania Trump, both wearing masks, near Ginsburg's casket.
Ginsburg became a feminist icon for many American women, beginning her career as an advocate for women's rights and then ascending to the court, where she was a voice for the rights for many marginalized groups. The devotion of her fans has resulted in lines of mourners outside the court this week to honor her life.
Trump attended the second day of services honoring Ginsburg. His pledge to quickly nominate her replacement has upset liberals.
Trump said later that he and the first lady couldn't hear what was being chanted.
"Well I think that was just a political chant, I couldn't — we could hardly hear it from where we were. Somebody said there was some chanting, but they were right next to the media. But really couldn't hardly hear too much," Trump said Thursday afternoon on his way from the White House to a campaign rally in North Carolina. "We heard a sound, but it wasn't very strong."
Speaking at a press briefing on Thursday, White House press secretary Kayleigh McEnany called the booing "appalling" and "disrespectful."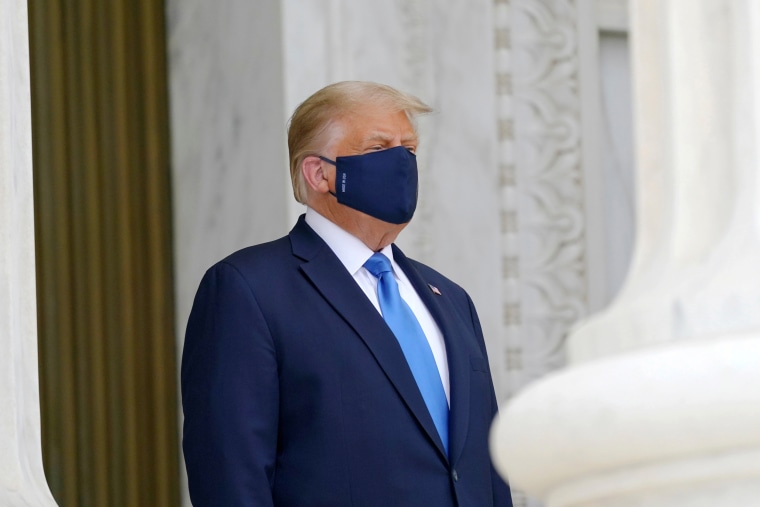 Ginsburg's dying wish, as her granddaughter relayed, was to have her seat filled by the next president. Should the president's nominee be confirmed by the Senate, conservative-appointed justices will outnumber liberal-appointed jurists by a 6-to-3 margin.
Ginsburg, who was the second woman appointed to the high court, served for more than 27 years and became a liberal icon in that time.
The public is allowed to pay their respects to Ginsburg outside the Supreme Court through 10 p.m. ET Thursday. On Friday, her casket will be moved to the U.S. Capitol, where she will be the first woman in American history to lie in state.
A private burial service will be held next week at the Arlington National Cemetery, per the Supreme Court.