Protesters and immigration attorneys rallied at airports from coast to coast Saturday to welcome in previously barred travelers — part of larger demonstrations around the globe aimed at President Donald Trump's policies.
In front of a terminal at Los Angeles International Airport, about 30 people carried signs and megaphones chanting "Let them in! Let them in now!" and "No ban, no wall, sanctuary for all!"
Airport police were on hand in case skirmishes flared up between those protesters and people holding pro-Trump signs gathered across the street, reported NBC Los Angeles.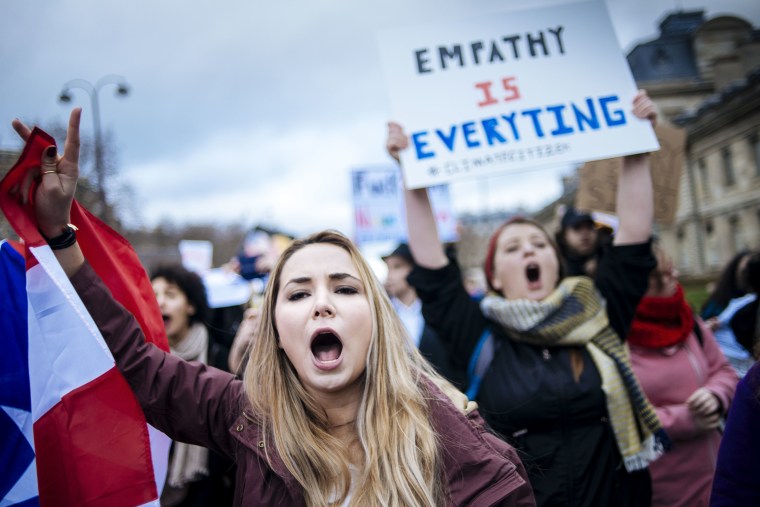 The pro-immigration stances are in opposition to Trump's executive order barring foreigners from seven Muslim-majority nations from entering the country over the past week. That order was reversed Saturday as State Department and Homeland Security officials said they wouldn't stop airlines from accepting those travelers after a federal judge halted Trump's order.
Meanwhile, marches were held in cities from New York to London and Miami to Paris for a third weekend in a row related to Trump's ascension as leader of the free world.
A protest was also held in West Palm Beach, Florida, on Saturday afternoon — just across the water from Mar-A-Lago, the Trump-owned resort where the president was working out of over the weekend.
Related: Your Gate is Now Open: Judge Halts Trump Immigration Order
In Manhattan, hundreds of LGBT protesters and allies gathered outside of New York's historic Stonewall Inn to speak out against the travel ban.
"The coalition is wide awake now and we are very present and angry and vocal, and we're going to take this fight all the way to the courts and the voting booth," one New York protester said on MSNBC.
Zeke Stokes, vice president of the LGBTQ media organization GLAAD, said the gay rights movement was born at Stonewall and continued as protesters stood in solidarity with marginalized communities across the country.
"There are LBGT immigrants, people of color, women, Muslims and it's important for us to stand together because when one of us is attacked, all of us are attacked," Stokes said. "This is a really unpredictable time ... we're going to be ready to resist, persist and prevail."
Three people were arrested following the protest for "failure to disperse," according to the NYPD.
In D.C., about 1,000 protesters marched from the White House to the steps of the Supreme Court to send a similar message to Trump: Immigrants will always be welcome in the United States.
Iranian-American Ranna Norooc, 18, wore an American flag hijab to Saturday's protest. She said her parents emigrated from Iran to the U.S. and that she felt compelled to take a stand for those whose rights have been denied by the travel ban.
Related: Iranian Baby Needing Surgery Granted Docs to Come to U.S.
"Everyone deserves to come here to a new life," Norooc said. "People are dying, they're fighting and they deserve to come here. They deserve a chance."
Late Friday, Washington state federal Judge James Robart temporarily halted Trump's executive order on immigration, allowing visa holders and refugees from seven countries — Sudan, Libya, Somalia, Syria, Iran, Iraq and Yemen — to travel to the United States.
Trump lashed out at Robart's decision in a series of tweets Saturday that the ruling was "ridiculous" and vowing it "will be overturned!" He also warned that "many very bad and dangerous people may be pouring into our country" because of the judge's "terrible decision."
But immigration attorneys say they were encouraged by Friday's ruling. They stood outside arrival gates at airports in Los Angeles and New York City to greet refugees and travelers and offer legal services if they were unsure what to do next.
Customs officials at John F. Kennedy International Airport told NBC News that they were moving forward as though the executive order had never been in place.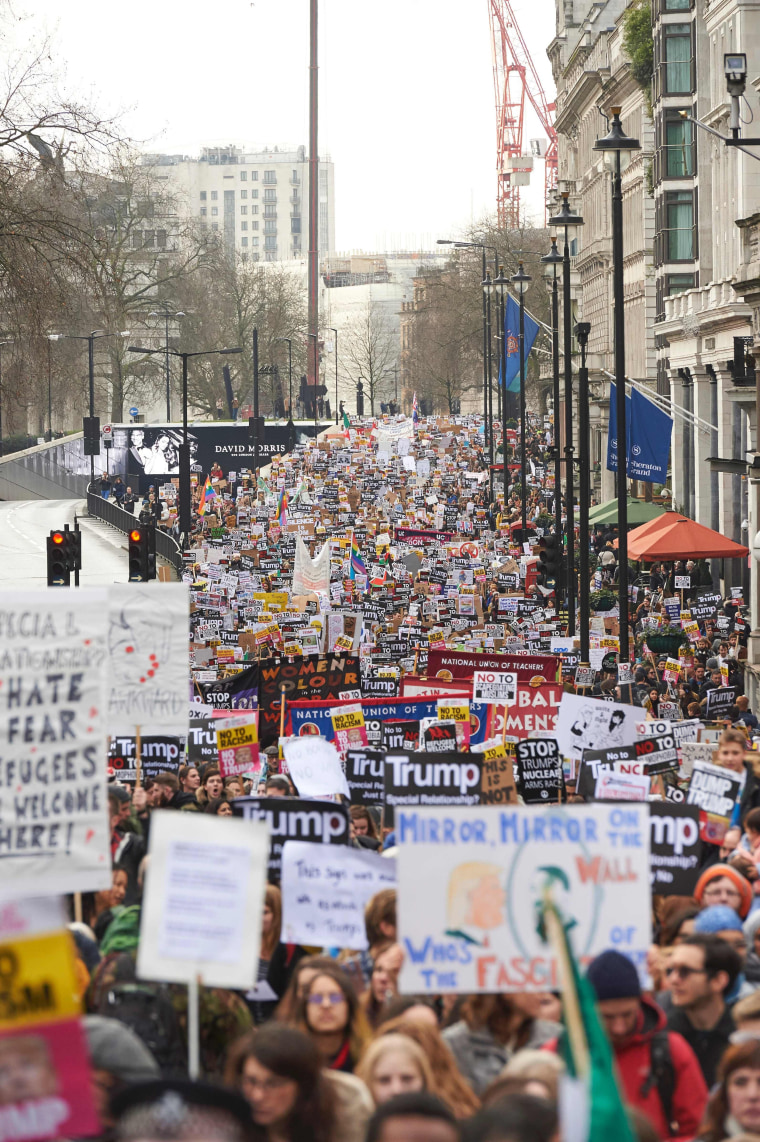 In London, thousands marched with signs and chanted from the U.S. Embassy to Parliament demanding that British Prime Minister Theresa May rescind Trump's invitation for an official state visit sometime later this year.
The demonstration comes as Trump wraps up his second full week in the Oval Office following past weekends of high-profile rallies, including the Women's March on Washington that drew hundreds of thousands to the U.S. capital.
"Trump is ... ready to destroy himself and everything around him," said Hodan Muse, 25, at the London event. "He hasn't showed us that he's the leader of the free world. Until he is that kind of president, we shouldn't have a 'special relationship' with him."
Criticism of May, leader of the Conservative Party, has swelled since her Washington visit with Trump last month, during which she hoped to secure a bilateral trade agreement with the United States.
Lawmakers are expected later this month to debate British plans to invite Trump. An online petition calling for May to yank that invitation has attracted more than 1.8 million signatures, but the prime minister has insisted on rolling out the red carpet for Trump.
Meanwhile, in Indonesia, anti-Trump protesters called on government leaders to take a stand against the President and the travel ban.
Although the country is not one of the seven affected by the ban, the small group of protesters in the predominately Muslim country stood outside the U.S. Embassy in Jakarta to demand their government "Dump Trump."