WASHINGTON — In Alabama, where Republican dominance is unchallenged, Donald Trump carried every county in the state's presidential primary last year and defeated Hillary Clinton by an almost 2-1 margin.
Now, ahead of the August 15 primary to fill the Senate seat vacated by Attorney General Jeff Sessions, the leading GOP candidates are accusing each other of showing insufficient loyalty to the president, whom they speak of with divine reverence.
Incumbent Sen. Luther Strange, who was appointed to fill the seat temporarily in February, called Trump's election a "Biblical miracle." Roy Moore, the twice-elected, twice-deposed Chief Justice of the Alabama Supreme Court, said, "God…sent Donald Trump in there." And Rep. Mo Brooks, a Tea Party favorite, has vowed to read the King James Bible on the Senate floor until the president's border wall gets built.
"You would think every candidate were his best friend, based on how they are talking about the president," said Montgomery-based Republican pollster Brent Buchanan. "And every time the media talks about Donald Trump and Russia, Republican voters become stronger Trump supporters."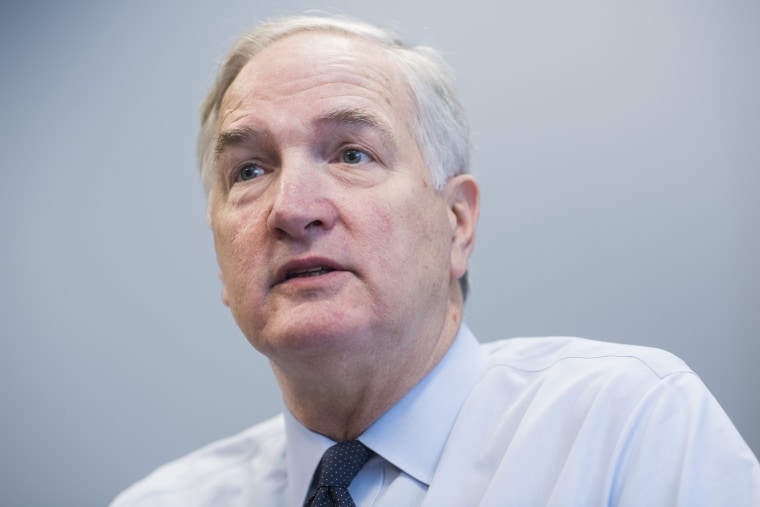 Senate Majority Leader Mitch McConnell favors Strange, who for months was the only candidate with enough money to air TV ads. And a McConnell-affiliated super PAC — which plans to spend up to $10 million on the race — is pummeling Brooks, one of the GOP congressmen shot at on a ball field in Virginia last month.
The latest ad from the Senate Leadership Fund says "career congressman Mo Brooks...sided with" Democrats Nancy Pelosi and Elizabeth Warren when he criticized Trump last year.
Brooks, while supporting Ted Cruz in the presidential primary, called Trump a "serial adulterer" and said, "I don't think you can trust Donald Trump with anything he says." He endorsed Trump in the general election.
Brooks has dubbed Strange "Big Lyin' Luther."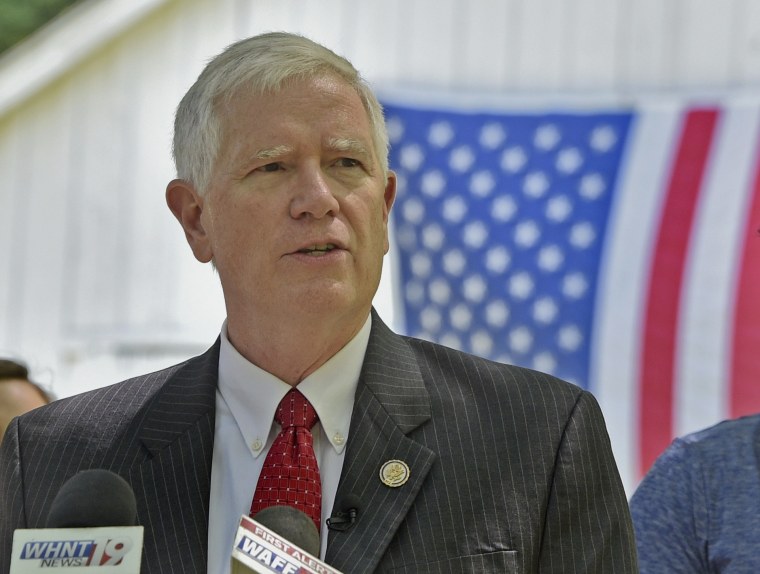 Two of Stranges' campaign ads feature him firing a handgun equipped with a silencer at "Obama's amnesty plan" in order to call attention to his support for a bill to cut taxes on silencers.
David Ferguson, an Alabama GOP strategist, said that "gimmicks about silencers at the gun range or reading the King James Bible on the Senate floor" are a misreading of Trump's success in the state.
"Donald Trump won some counties (in Alabama) with over 80 percent of the vote in the general election because he appealed directly to the people," Ferguson said. "These candidates and their consultants should be taking notes rather than trying to ride the president's coattails."
Still, as much as Trump resonates in the state, GOP operatives expect the president, who has not endorsed in the Republican primary, to steer clear of the contest to avoid alienating one faction or another.
Strange, meanwhile, is still dogged by questions about his appointment to Sessions' seat by former Gov. Robert Bentley, who was shortly thereafter driven out of office by a sex scandal.
Bentley had initially and controversially scheduled the special election for next year — despite a law calling for one "forthwith" — which would have given time for Strange's incumbency status to cement.
When Gov. Kay Ivey replaced Bentley in April, she quickly rescheduled the first round of the election for August to better comply with state law.
"The people of Alabama deserve to be the ones to select who their next senatorial person is going to be to represent them," Ivey told NBC News, "and they're going to get that by virtue of me changing the date simply because I read the law and followed the law."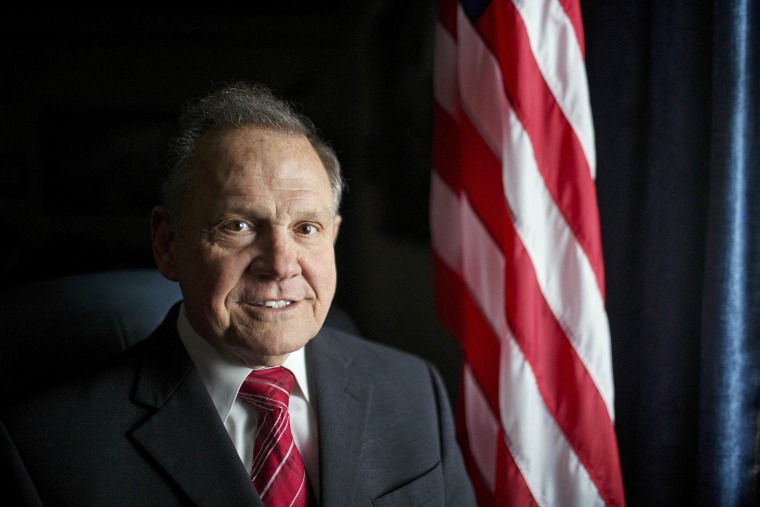 Democrats are a non-factor in Alabama, so the race for the Senate seat will be decided by whoever wins the GOP nomination. That's likely go to take two rounds of voting, since no candidate is expected to clear the 50 percent threshold for an outright win in August. While there are 11 Republicans on the ballot, Strange, Brooks and Moore are seen as competing for the two slots in the runoff, scheduled for September 26.
Moore, who is ahead in most polls, made headlines nationally in 2003 when he was removed for office after he refused to removed the stone Ten Commandments he had installed on the grounds of the state judicial building. He was elected chief justice again in 2012, but suspended again last year for refusing to enforce the U.S. Supreme Court's ruling legalizing same-sex marriage.
Brooks and Strange are regarded as competing for the second spot in the runoff, and that explains why the acrimony between them has ratcheted up so significantly in final weeks of the race.
Brooks has tried to use Strange's fundraising strength against him, warning that Washington establishment "swamp critters" are trying to "strong-arm" Alabama Republicans into picking their candidate.
The tenor of the campaign has led even some Republicans to chafe that the contest has turned into caricature of Southern conservatives interested only in "God, guns, and Trump" as Quin Hillyer, a longtime conservative commentator based in Mobile, put it.
"They're so brazenly pandering," Hillyer said.
CORRECTION (July 17, 2017, 3:08 p.m.): An earlier version of this article incorrectly stated that Sen. Luther Strange, R-Ala., had criticized Donald Trump and was attacked by GOP rival Mo Brooks for having done so. Strange did not criticize Trump, and was not attacked by Brooks for doing so. That section of the article has been removed.