Stephen K. Bannon amassed plenty of critics during his rocky West Wing tenure — and prior to that, his time as chief executive of President Donald Trump's campaign.
Breitbart News, the website Bannon oversaw before being tapped by Trump, had long been decried by anti-hate groups for its coverage, and Bannon himself once deemed it "the platform for the alt-right." In the wake of a white nationalist attack in Charlottesville, however, calls for his ouster from the White House intensified. In recent months, these demands came from nearly every part of the political spectrum — from longtime Trump allies to Democrats and elected Republicans.
Here are 20 of the most high-profile demands for Bannon's departure.
New York Republican Rep. Peter King said in a WABC interview on Thursday: "I think it's important for the president to fire Steve Bannon. He should go."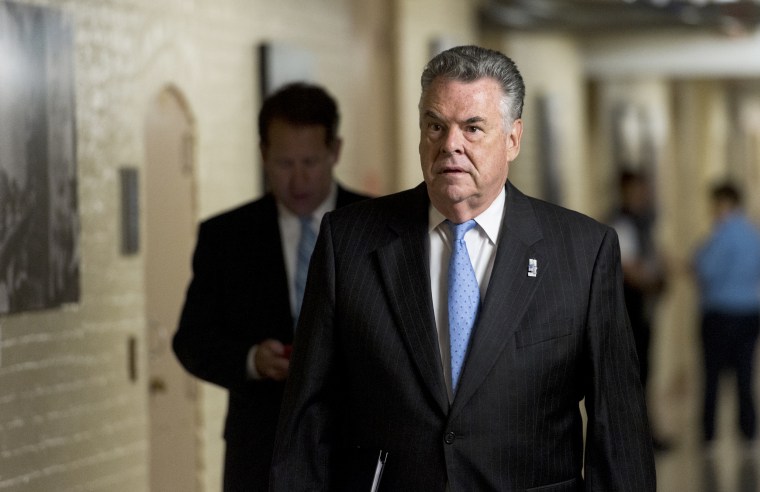 Javier Palomarez, head of the United States Hispanic Chamber of Commerce who said he remains a member of a diversity council for the president, came out against Bannon on Tuesday: "If the President wishes to maintain any credibility with the Hispanic community and other minority communities, he needs to purge his administration of all those who disparage diversity and inclusivity," he said in a statement. "Firing Steve Bannon is the first step — and a needed step to begin the process of healing the bad feelings this administration has engendered."
Roger Stone, Republican strategist and longtime Trump ally, called for his resignation in May, then spoke out against Bannon in a column published Thursday in the Daily Caller: "There is no reason for conservatives to be upset about the coming purge of Steve Bannon. He did a lot to help himself but not much to help us."
David French, Republican writer and Trump critic who reportedly mulled a presidency bid last year, wrote Monday in a column called "Fire Steve Bannon": "If the president wants to take decisive action to distance himself from America's most hateful elements, there is one thing he can do today: He can fire Steve Bannon, the man who gave them a platform."
Florida Republican Rep. Ileana Ros-Lehtinen said on a local radio program in April that Bannon's ouster would be "welcome news for the nation."
Anthony Scaramucci, businessman who was briefly the White House communications director, made his view known on Monday night: "Well, if it was up to me, he would be gone. But it's not up to me," he said on CBS' "The Late Show."
Fox News founder Rupert Murdoch repeatedly urged the president to fire the strategist, according to a report in The New York Times.
The NAACP called for his firing last Saturday in a statement: "While we acknowledge and appreciate President Trump's disavowment of the hatred which has resulted in a loss of life today, we call on the President to take the tangible step to remove Steve Bannon — a well-known white supremacist leader — from his team of advisers. Bannon serves as a symbol of white nationalism and his high place in the White House only energizes that sentiment."
Bill Kristol, a prominent Republican journalist and Trump critic, expected him to be fired on Thursday.
California Democrat and House Minority Leader Rep. Nancy Pelosi called for his resignation in a statement on Monday: "If the President is sincere about rejecting white supremacists, he should remove all doubt by firing Steve Bannon and the other alt-right white supremacist sympathizers in the White House," she wrote.
Republican columnist Jennifer Rubin suggested Republicans side with Pelosi in a column posted Tuesday: "Whether it works or not, Republicans should join Pelosi. Republicans need to acknowledge an uncomfortable truth: Their party supported and still supports Trump, who feeds the monster of white resentment and who focuses their anger, fear and frustration on minorities," she wrote.
California Democrat Rep. Ted Lieu tweeted a call for his firing on Sunday.
Seven Democratic reps — including leaders of the Congressional black, Hispanic, Asian, and progressive caucuses — called for Bannon's ouster, as well as Stephen Miller and Sebastian Gorka, on Tuesday: "The ideology and political agenda of these men have no place in the highest office in the land," they said in a joint statement.
Finally, a slew of House members supported a resolution this week urging the president to remove "any and all advisors who have urged him to cater to white supremacist movements."
At press time, 79 had signed on to co-sponsor the bill.