Chief of Staff John Kelly stared at the floor, arms crossed. It wasn't supposed to be like this.
In front of him, President Donald Trump was in the middle of reigniting an explosive controversy the White House had tried to extinguish just a day earlier.
To Kelly's right, reporters pressed up against a velvet rope to shout questions about the president's response to the violence over the weekend in Charlottesville, Virginia. With the élan of an orchestra conductor, Trump pointed at one reporter, then gestured to another. "Infrastructure question," he barked at one point. "Go ahead."
After a split-second came the query: "Does the statue of Robert E. Lee stay up?"
The ensuing exchange inside the lobby of Trump Tower between reporters and the president over the white nationalist rally and counter-protest in Charlottesville became one of the most extraordinary moments in a presidency that's seen plenty of them.
To Trump's aides, it was stunning. Multiple sources inside and close to the White House described the president's senior staff as confused and frustrated, caught off guard by Trump's decision to defend his initial response to the violence in Virginia.
He "went rogue," one senior White House official told NBC News.
The president's team had choreographed a plan: He would descend the golden elevators of Trump Tower and step to the lectern in the lobby, flanked by his Treasury secretary, his Transportation secretary and his top economic adviser. He would highlight the infrastructure executive order he had just signed, and then he'd leave — head back upstairs and deploy his aides to handle any inquiries.
That's the plan officials prepared reporters for as members of the media gathered in the lobby as they had so often during the president-elect Trump's transition. The president had been unusually talkative the week prior during appearances at his golf club in Bedminster, New Jersey, and he was again ready to battle with reporters.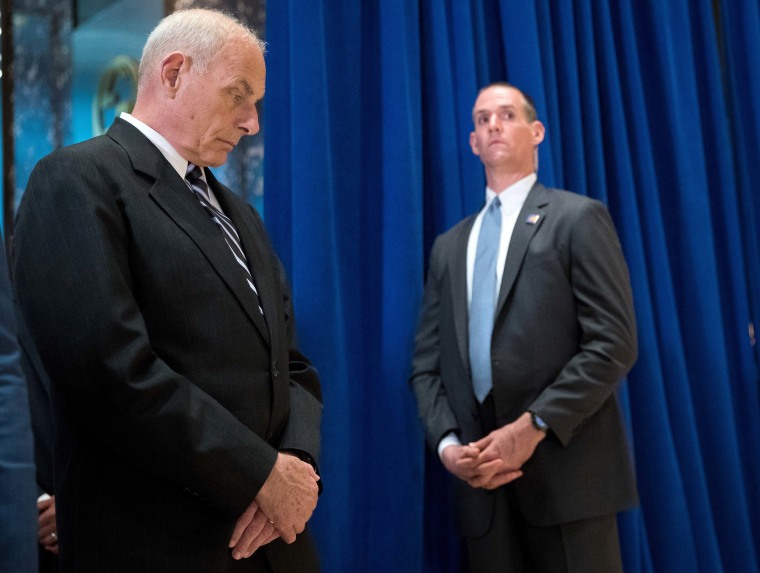 The Cabinet officials — Steven Mnuchin, Elaine Chao and Mick Mulvaney — and economic adviser Gary Cohn stood silently next to the president for the entirety of his contentious remarks.
White House chief strategist Steve Bannon wasn't there. Asked by a reporter about his future, the president responded, referring to Bannon in an unusually formal way, "We'll see what happens with Mr. Bannon."
It sounded ominous, but two sources close to Bannon said he seemed confident that he will survive this latest round of bruising headlines questioning his political future with the president.
Trump eventually walked off, but not before answering a couple more questions closer to the press pen. Did he plan to visit Charlottesville? "Did you know I own a house? It's in Charlottesville." How will he help heal racial divisions? "I really think jobs are going to have a big impact."
When the de facto news conference finally concluded, another began. Transportation Secretary Elaine Chao, flanked by Cohn, approached the podium armed with visual aids and a mission — return attention from Charlottesville to the president's infrastructure policy plans.
Instead, reporters scrambled to file stories on the president's remarks. Chao pressed on with her presentation.
But neither adviser escaped questions about politics and Trump's controversial comments.
Asked about the insults hurled by her boss at her husband, Senate Majority Leader Mitch McConnell, Chao sounded definitive: "I stand by my man," she said, then paused. "Both of them."
Cohn appeared frustrated. He'd spent part of the day talking with the president about tax reform — a critical priority for the administration this fall. Instead, he found himself attempting in vain to pivot questions back to the president's agenda. Asked if the president's words hurt that agenda, he dodged, then dodged again.
"Last question!" an aide standing nearby called out.
Soon after, the president's advisers stepped out of the lobby, onto an elevator, and into the ensuing firestorm of reaction from Trump's comments minutes earlier.