WASHINGTON — The reverberations from Doug Jones' projected victory extended into the West Wing, with President Donald Trump's political shop facing a potential crisis, according to multiple White House officials and Republicans close to the administration.
One administration official Wednesday-morning-quarterbacked Trump's endorsement of Roy Moore last week in the Alabama Senate contest, acknowledging there are those in the White House who questioned the president's decision to get behind the GOP candidate in the first place.
Still, the result for Republicans "would have been a lot worse" if Trump hadn't thrown his support behind Moore, this person suggested.
Another White House official acknowledged the obvious — that the projected win by Jones, a Democrat, is "not good" — but said the lesson is that candidates matter. Republicans can't just ride the anti-establishment sentiment to victory no matter what, this person argued, noting the need for "quality candidates."
Some allies of Trump are now grumbling more loudly about political director Bill Stepien's future, with one person close to the president describing the political operation as a "disaster" and blaming a lack of leadership.
That, coupled with the Democratic wins in gubernatorial races in Virginia and New Jersey last month, has raised concerns — with another source close to the administration suggesting the political director and team should be "hanging their head once again."
Two other White House officials downplayed the impact of Jones' victory — noting it's a special election, arguing that Jones "was the beneficiary of millions of dollars of outside groups," and suggesting Republicans are not reading too much into the outcome as it relates to 2018. (That's in direct contrast to the view from the Democratic side, with one former Clinton campaign official saying the Alabama results are the start of a "wave.")
One official told NBC News that Trump isn't blaming anyone for what happened Tuesday night — including Steve Bannon, who campaigned aggressively for Moore — but says the situation with Moore, who faced multiple accusations of sexual misconduct, which he denied, simply became "untenable." The official added that the president feels disappointed the seat won't go to a Republican, but also feels a sense of relief that the campaign is over.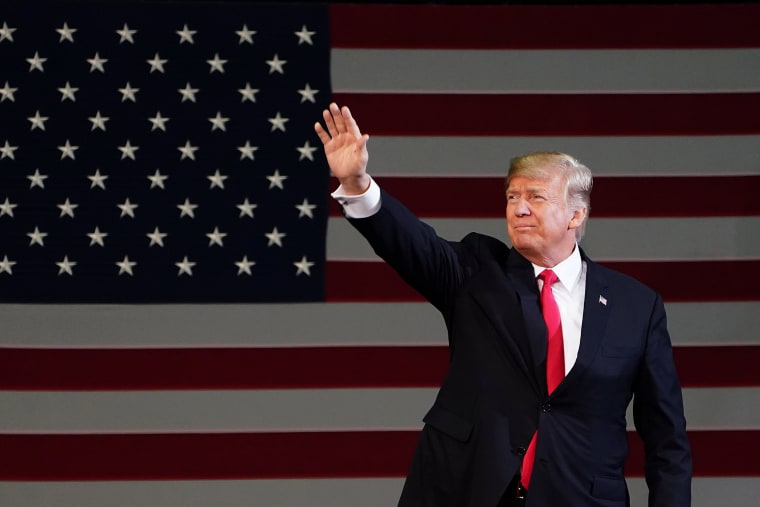 In a tweet late Tuesday, Trump congratulated Jones but said voters in Alabama will get another crack at that Senate seat when Jones is up for re-election in 2020. He then tweeted early Wednesday that he originally endorsed Moore's primary opponent, Luther Strange, because "Moore will not be able to win the General Election."
Meanwhile, given that Wednesday is "tax day" for the White House and Congressional Republicans, it's perhaps no surprise that officials are framing Tuesday night's results in the context of that major piece of policy. The Jones win, in the view of another White House official, impresses upon Republican senators the need to show a set of policy achievements they can run on, including tax reform.
One of the officials also said this "stresses the urgency that we need to get something done" on taxes, something that will play out later this week and early next. There's some hope Jones might actually join with Republicans on certain issues — a position reflected by National Republican Senate Committee Chairman Cory Gardner, R-Colo., who said Tuesday night he hopes Jones votes with Senate Republicans.