The day after Justice Anthony Kennedy announced he was retiring and opening up a second Supreme Court seat for President Donald Trump to fill, one of Jahana Hayes' ex-students got in her car and drove four hours to volunteer for her former teacher's congressional campaign.
"She said, 'I realized I have never had to fight for a woman's right to choose,'" Hayes told NBC News, days after the 2016 National Teacher of the Year secured a decisive victory in Connecticut's 5th district Democratic primary. "She volunteered all day, then drove back to Philadelphia. I couldn't believe it when she walked through the door."
Hayes' campaign was full of such moments.
The first-time candidate, who kept working full-time throughout her bid, mobilized a small army of volunteers that included 100 former students to power her to victory over the state party-backed candidate in just 102 days of campaigning.
She is one of the dozens of Democratic women running and winning their primary bids this year, with many embracing their gender and sometimes painful personal histories while out-performing establishment, often male, opponents. If she wins in November, Hayes will be the state's first black Democrat in Congress.
Hayes, 45, said she believes it was her personal journey from single teenage mother who needed help from her community to an educator and volunteer who contributes to it that resonated with voters.
She grew up in a Waterbury, Connecticut, housing project. Her mother struggled with drug addiction, and after Hayes became pregnant at 17, she raised her daughter alone. She got herself through university, and started teaching history where her ability to connect with students earned her accolades and eventually statewide and national recognition.
"Jahana inspires her students to give back. I think she understands that actually sometimes the less you have, the more valuable it is to see yourself giving, because that shows you the power and the influence that you can bring to bear on the world around you," President Barack Obama said, announcing her 2016 Teacher of the Year award.
Hayes spent 15 years teaching history and government, and now works training teachers in the Waterbury public schools. She never considered politics until the Trump era, which left her sitting in front of her television frustrated by the state of the nation — "like everyone else," she said — and wondering what she could do.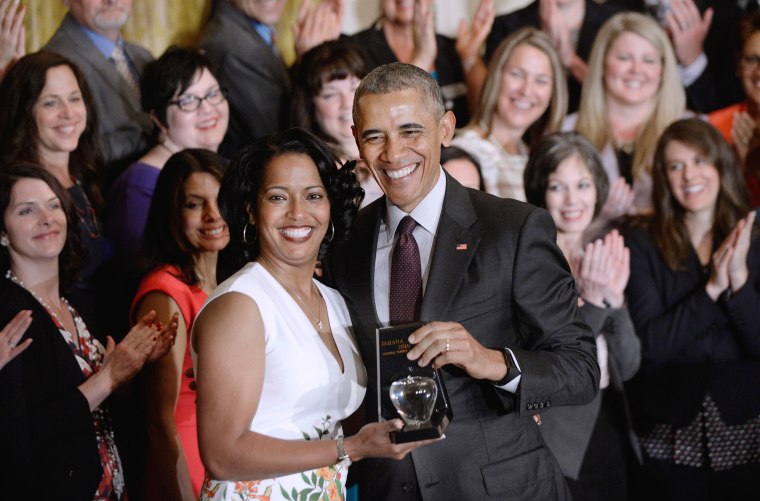 After Democratic Rep. Elizabeth Esty dropped her re-election bid earlier this year amid a scandal involving accusations that she protected a male staffer accused of abuse, Hayes decided that the thing she could do was run for Esty's seat, even if it meant going up against another Democrat with the establishment support and credentials. The district had been blue for more than a decade, but Esty's departure had made the seat more vulnerable to a Republican, and many people told her she she had no chance of raising the money and support to win in just a few months.
But raise money she did: Hayes collected nearly half a million dollars by the end of July, according to financial disclosure reports, and went into the last few weeks of the campaign with $359,000 cash on hand.
In the primary on Tuesday, Hayes faced off against Mary Glassman, a longtime elected official and attorney. The two had similar platforms, though Hayes advocated more strongly for universal Medicare while Glassman urged fiscal caution on the matter.
But their personal stories offered voters a distinction: Hayes stressed overcoming enormous obstacles at a young age and working with students, while Glassman offered political experience and a history balancing budgets. Hayes listed at least $115,000 in student debt plus a mortgage on her financial disclosure forms; Glassman reported $1.2 million in assets.
Sen. Chris Murphy, D-Conn., who had encouraged Hayes to run, called her "a breath of fresh air" after her win with 62 percent percent of the vote.
"We're seeing more and more that authenticity and — with all due respect to consultants including myself — just being who you are is more relatable to voters than the made-for-TV political look," said Democratic strategist Rodell Mollineau.
In November, Hayes will face the former mayor of Meriden, Republican Manny Santos, who has so far lagged in fundraising.
Hayes said her campaign didn't follow any kind of traditional playbook and sought to get creative in event planning and social media as much as possible. They relied more heavily on volunteers than strategists, she said.
One such volunteer? Nine-year-old Lamar Johnson.
Johnson, who knew Hayes through church, showed up at campaign headquarters during his summer vacation and said he wanted to "to talk to people about Mrs. Hayes."
Johnson came back day after day to volunteer and on Monday, he surpassed the entire campaign in voter contacts.
"The day before the election, he made contact with 464 people," she said. "He called people, and talked about Mrs. Hayes."