A Georgia judge agreed Thursday to allow two of former President Donald Trump's co-defendants in the Georgia election interference case — lawyers Sidney Powell and Kenneth Chesebro — to go to trial sooner than the rest of the accused.
Trump and 18 other defendants were charged last month with, among other things, violating Georgia racketeering laws in an effort to overturn the 2020 election. All 19, including Trump, pleaded not guilty.
Fulton County Superior Court Judge Scott McAfee agreed to sever Chesebro and Powell, so they two will have a joint trial starting Oct. 23, while the 17 remaining defendants will be tried later.
"Defendants Chesebro and Powell will join each other at trial, however, the other 17 defendants are severed from these two. Additional severances may follow. All pretrial deadlines will proceed as scheduled without a stay of proceedings," McAfee wrote in an order.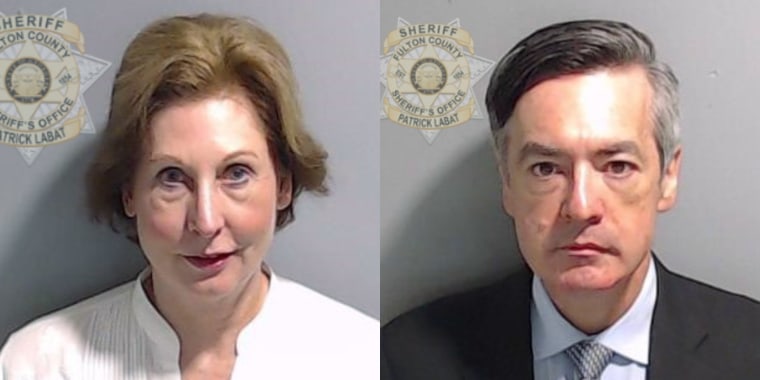 McAfee ruled against District Attorney Fani Willis' team, who wanted to try all 19 defendants simultaneously next month. He cited logistical concerns and the extended length of such a crowded trial.
"The Fulton County Courthouse simply contains no courtroom adequately large enough to hold all 19 defendants, their multiple attorneys and support staff, the sheriff's deputies, court personnel, and the State's prosecutorial team," McAfee wrote Thursday.
The filing said the court will revisit the issue of separating the cases for the other defendants who have not filed waivers to invoke a speedy trial by Sept. 29. Powell and Chesebro were the only ones to request a speedy trial.
"Regardless, the Court has received assurances that other members of the Fulton County bench stand ready to begin a second trial within the November/December term," a footnote in the filing said.
McAfee said dividing the 17 other defendants, including Trump, "may well be required." "That is a decision for another day once the many anticipated pretrial motions have been resolved and a realistic trial date approaches," he wrote.
McAfee this month denied motions from Powell and Chesebro to sever their cases from each other's. Their attorneys argued that splitting up their cases was necessary because, while both were charged with racketeering, they are alleged to have carried out different schemes.
The 41-count indictment charged all 19 co-defendants with violating Georgia's Racketeer Influenced and Corrupt Organization, or RICO, Act. Willis accused the defendants of participating in schemes to try to overturn Joe Biden's 2020 victory in Georgia and unlawfully name Trump the winner of the election.