When Jared Kushner sits down on Monday with staff of the Senate Intelligence Committee, he is expected to be questioned about his relationships with Russian officials, including his participation in a meeting last year with a Kremlin-linked lawyer.
Kushner's attorney has said his client will fully cooperate. "As Mr. Kushner has been saying since March, he has been and is prepared to voluntarily cooperate and provide whatever information he has on the investigations to Congress," the lawyer, Abbe Lowell, said in a statement.
Kushner will not be under oath during his appearance Monday, and the session will not be in public.
Democrats have pointed out that those circumstances could easily allow the president's son-in-law and senior adviser to avoid directly answering questions about his alleged links to Russia.
Others have said the closed setting might allow Kushner the opportunity to discuss sensitive information.
Either way, the questions he likely faces will be serious ones.
The top matter is expected to be his attendance at a June 2016 meeting at Trump Tower that also included Donald Trump Jr., then-campaign manager Paul Manafort and Russian lawyer Natalia Veselnitskaya, among others.
Ahead of the meeting, Trump Jr. had been promised damaging information about Hillary Clinton, according to emails he released earlier this month — although the president's son has said the meeting did not produce any information and that Veselnitskaya wanted to discuss an adoption program of Russian children.
Democrats have pounced on the meeting as evidence that Trump Jr. was willing to collude with a foreigner purporting to have information tied to the Russian government to help his father's presidential campaign and influence the results of the election.
The Senate Intelligence Committee is investigating Russia's alleged interference in the 2016 presidential contest. U.S. intelligence agencies have concluded that Moscow's covert operation was intended to damage Clinton's campaign and evolved into an attempt to help Trump win.
Kushner, on Monday, also may face questions over whether he tried to set up a secret back channel way of communicating with the Russians.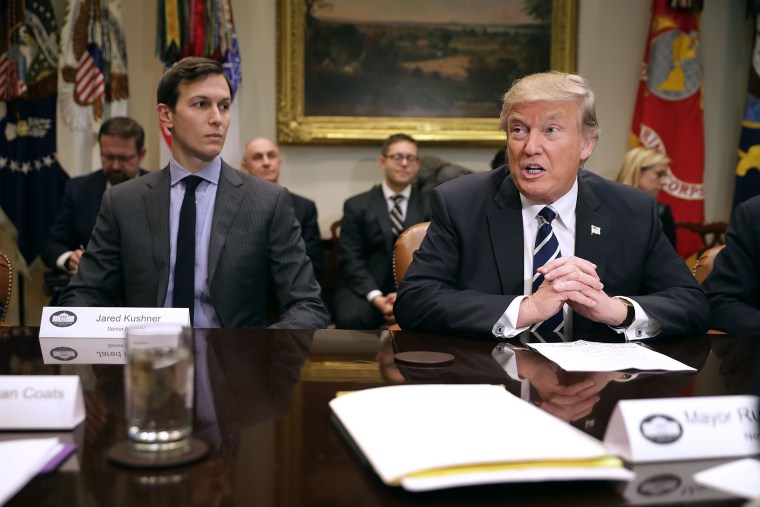 The Washington Post reported in May that Kushner had, in December 2016, allegedly proposed to the Russians setting up a secret communications channel using secure diplomatic facilities. NBC News has not confirmed that report.
Congressional sources told NBC News days later that members of the Senate and House Russia probes were looking into whether Kushner had attempted to create the channel so he could find somebody in Moscow to buy a the massively expensive 41-story tower at 666 Fifth Avenue from his family's real estate company.
Kushner Companies bought the building in January 2007 for $1.8 billion and have been losing cash on it ever since.
Kushner, meanwhile, also met in December with Sergey Gorkov — a close associate of Russian President Vladimir Putin and head of the Vnesheconombank, which was hit with U.S. sanctions after Russia annexed Crimea. Senate panel staffers may want to know more details about that meeting as well.
Meanwhile, Trump Jr. and Manafort have agreed to be interviewed by staff of the Senate Judiciary Committee but will not appear at a public hearing next week, the committee has said.
The Judiciary Committee had requested that both appear at a hearing scheduled for Wednesday, and threatened to issue subpoenas if they had refused.