Andy Puzder, the fast-food restaurant chief executive nominated to be labor secretary, hired an undocumented household employee, further challenging his nomination to run the Labor Department, NBC News confirmed Monday night.
His use of undocumented household help could be another strike against Puzder, who has been fiercely opposed by Democrats because of his role leading a fast food chain, CKE restaurants, which runs Hardees, Carl's Jr. and other chains.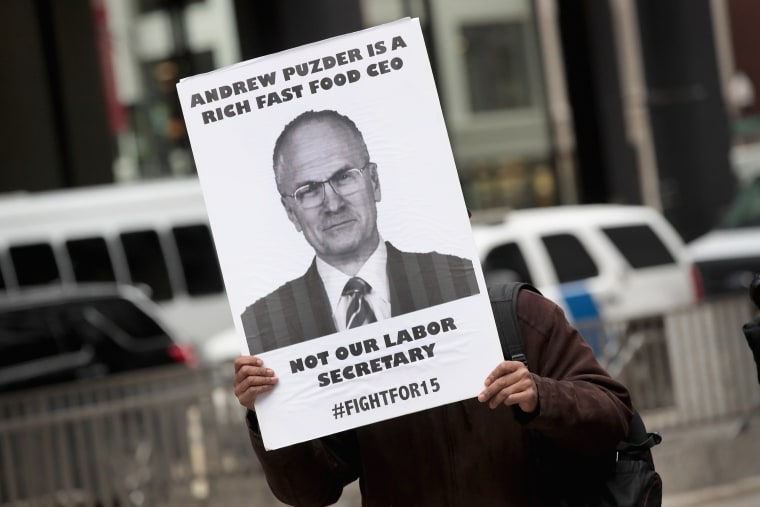 Puzder notified the Trump administration of his employee, and the White House official passed on a statement from Puzder.
"My wife and I employed a housekeeper for a few years, during which I was unaware that she was not legally permitted to work in the U.S. When I learned of her status, we immediately ended her employment and offered her assistance in getting legal status. We have fully paid back taxes to the IRS and the State of California and submitted all required paperwork regarding her employment," Puzder said in the statement.
Puzder's hiring of household help in the country without legal status won't derail his nomination, said Lamar Alexander, R-Tennessee, chairman of the Senate Health, Education, Labor and Pensions Committee.
"Based upon what I've learned, since Mr. Puzder reported his mistake and voluntarily corrected it, I do not believe that this should disqualify him from being a cabinet secretary," Alexander said in a statement.
Hiring undocumented workers has derailed previous Cabinet nominees. Kimba Wood, President Bill Clinton's nominee to be attorney general, withdrew her nomination because she hired an undocumented immigrant.
Democrats have criticized Puzder for his statements opposing the minimum wage and citing labor complaints filed against his company.
Puzder's nomination hearing has been delayed multiple times — including one that had been scheduled for Tuesday. Alexander's committee is waiting until required ethics and financial documentation is submitted from the Office of Government Ethics.