What to know about a possible Trump indictment
Former President Donald Trump faces possible criminal charges in New York relating to hush money payments to Stormy Daniels ahead of the 2016 election. The adult film star claims she had an affair with him beginning in 2006.
Trump maintains he has committed no crime and never had an affair with Daniels. He has accused Manhattan District Attorney Alvin Bragg of being motivated by politics and has attacked him in escalating rhetoric.
The case is focused on allegations that Trump falsified business records. Michael Cohen, his former lawyer and fixer, testified before the grand jury this month.
Trump says on Fox that alleged affair with Daniels is 'all made up'
Trump insisted in a Fox News interview tonight that the allegations against him involving adult film actor Stormy Daniels were "all made up."
Asked about the numerous investigations he faces, Trump addressed the Manhattan grand jury case by telling Fox News' Sean Hannity: "I never had a relationship with her. I never had an affair with her. It's all made up." Trump, who has repeatedly denied any wrongdoing regarding the hush money case, also maintained that the payment to Daniels was not a campaign contribution.
Trump on Fox News for first time since Dominion revelations
While he awaits word on whether he'll be indicted by a grand jury in Manhattan, Trump sat for a taped interview with Sean Hannity set to air tonight on Fox News.
The interview with the network is the first sitdown since text message exchanges and deposition excerpts from Dominion Voting Systems' $1.6 billion defamation suit against Fox, in which recently released court documents revealed that Hannity and fellow hosts Tucker Carlson and Laura Ingraham had privately said they didn't believe Trump's false claims about a stolen election while giving them oxygen on air.
Testifying about the false claims promoted by one of Trump's lawyers, Hannity said, "I did not believe it for one second." Ingraham was quoted saying the same lawyer, Sidney Powell, was a "complete nut," while Carlson texted an unidentified person that he was excited to turn the page on Trump.
"We are very, very close to being able to ignore Trump most nights. I truly can't wait," Carlson wrote. "I hate him passionately." Fox Corp. Chairman Rupert Murdoch, meanwhile, was quoted as saying he found half of Trump's claims to be "bulls--- and damaging."
Trump has not criticized the talk show hosts, appearing on Hannity's radio show and praising Carlson, who has walked back his Trump comments, for his Jan. 6 reporting. Trump has, however, been very critical of Murdoch. "Rupert Murdoch should apologize to his viewers and readers for his ridiculous defense of the 2020 Presidential Election. How many forms of cheating and rigging does he have to see?" Trump posted on his social media website this month.
Grand jury is done for the day, did not vote on any indictment
The grand jury has concluded its activities for the day and did note vote on any indictment, three sources familiar with the matter said.
It was not immediately clear when the grand jury will return for consideration of the hush money case.
The panel has been meeting Mondays, Wednesdays and Thursdays.
Top Republicans balk at Trump's highlighting Jan. 6 rioters, calling it politically unwise
Top Senate Republicans broke with former President Donald Trump on Monday over his decision to feature video of Jan. 6 rioters at his weekend rally in Texas.
Some disagreed with his judgment in playing a video that exalts those who took part in the attack on the Capitol and were arrested, rejecting the narrative in pro-Trump circles that the rioters were "peaceful" protesters. Other Republicans said it is an unwise political strategy for Trump to focus on the attempted insurrection as he seeks a comeback bid in 2024.
"People who violated the law should be prosecuted. And they have been," said Sen. John Cornyn of Texas, who previously held the No. 2 spot in Senate Republican leadership.
"I just frankly don't understand this, you know, retrospective look," he said. "When it comes to running for president or any other office, people don't want you to re-litigate all your grievances in the past. They want to know what your vision for the future is. And so I don't think it's a formula for success."
Why is David Pecker relevant?
David Pecker, who testified Monday before a Manhattan grand jury, played a key role in Trump's efforts to silence women with whom he had affairs before the 2016 election, prosecutors in the previous federal case said.
Pecker's testimony is likely to be key to the Manhattan prosecution's argument that the hush money payments were meant to suppress negative information from becoming public before the election.
Pecker, a longtime ally of Trump's, was the CEO of the parent company that owns the National Enquirer, American Media Inc. In November 2018, The Wall Street Journal reported that Trump had personally asked Pecker to silence women who might come forward with details of Trump's sexual relationships with them. Payments were made to ex-Playboy model Karen McDougal and adult film star Stormy Daniels.
In December 2018, federal prosecutors said that AMI had admitted to paying $150,000 in hush money to McDougal. The money was to buy the exclusive rights to her story so Trump allies could ensure the story wouldn't become public and influence the 2016 election.
Previously, federal prosecutors granted AMI immunity. Former Trump attorney Michael Cohen was sentenced to prison after he pleaded guilty to several crimes, including improper campaign contributions for his $130,000 payment to Daniels. Federal prosecutors said Cohen acted in coordination with and at the direction of Trump.
Former National Enquirer CEO testified before Trump grand jury
David Pecker was the witness at today's grand jury hearing in the Trump hush money probe, NBC News confirmed. He is the former CEO of American Media and publisher of the National Enquirer. This would be his second appearance before the grand jury. 
Pecker was granted immunity in the federal case regarding Cohen.
American Media, which publishes the National Enquirer, was referred to in court papers in the Cohen case, along with a $150,000 payment made to ex-Playboy model Karen McDougal, who alleges she had an affair with Trump more than a decade ago.
Trump suggests the investigations into him are 'election interference'
The former president posted on his social platform, Truth Social, on Monday, saying, "ELECTION INTERFERENCE THROUGH PROSECUTORS IS THE NEW 'BALLOT STUFFING' FOR THE DEMOCRAT PARTY!!!"
In another post, he railed against Manhattan District Attorney Alvin Bragg, saying that "everyone is waiting to hear from a local George Soros backed D.A" about whether "he is going to 'criminally indict' me for NO CRIME."
Trump said that "every prosecutor" and the Federal Election Commission "took a pass" on charging him for these payments.
"One year ago he, Alvin Bragg, said 'NO WAY.' Now he's looking at it again? He should prosecute Mark Pomerantz & Cohen!" Trump said, referring to a former Manhattan special assistant district attorney and former Trump lawyer Michael Cohen.
New York lawmakers hit Trump for 'racist' threats against DA Bragg
Rep. Adriano Espaillat, D-N.Y., and New York state lawmakers criticized Trump for "bullying" Bragg and reiterated their support for the district attorney at a news conference today.
"No racism. They need to stop it because we know what it is," said Iesha Sekou, founder and CEO of Street Corner Resources, a Harlem-based nonprofit that aims to reduce gun violence. "Trump knows this is racism, making Black people wrong for doing the right thing."
"We stand for peace, but Trump needs to know: no punks here," Sekou continued.
In a Truth Social post, Trump referred to Bragg, New York's first Black district attorney, as an "animal." He has continued to target Bragg in social media posts. Last week, Bragg was sent a death threat.
Espaillat also criticized Republican lawmakers for not standing up to Trump.
"For the so-called party of law and order, many of them are not behaving in that fashion," Espaillat said. "We will not have another Jan. 6 in New York City."
Who is the new witness? Here's who we know it isn't
The witness who is testifying before the Manhattan grand jury Monday is not Cohen, Daniels or a witness requested by Trump's lawyers, NBC News confirms.
That's based on conversations with the relevant attorneys.
It's unclear, however, who the witness appearing before the grand jury is. The number of relevant witnesses who have not been called before this grand jury over the last two months is small.
Fox News host calls Trump 'insane' for opening Waco rally with Jan. 6 video
Fox News anchor Brian Kilmeade ripped into Trump for opening his weekend rally in Waco, Texas, with a clip from the Jan. 6 attack on the U.S. Capitol by his supporters, calling the former president's decision "insane" in a Monday morning episode of "Fox & Friends."
At the rally, Trump walked onstage with a "Justice for All" video playing. The video features a choir of men incarcerated for their role in the Jan. 6 riot singing the national anthem, interspersed with clips of Trump reciting the Pledge of Allegiance. It also included images of the riot.
"He should be running from that, period," Kilmeade said. "I don't care his point of view; that is not a good thing for him. I thought that was absolutely awful. Even though he is winning in the polls, that will not help."
Trump is also under investigation for his role in the Jan. 6 riot and the effort to overturn the 2020 election.
Kilmeade criticized Trump for spending "80% of the time complaining about court cases" instead of touting his own record and talking about current foreign policy issues.
"That's going to be the conversation at the kitchen table," the anchor said.
Meanwhile, in Fulton County, Georgia ...
Fulton County District Attorney Fani Willis has been ordered to respond by May 1 to Trump's motion last week to squash the special grand jury's report on whether there were any "coordinated attempts to unlawfully alter the outcome of the 2020 elections" in the battleground state by Trump and his allies.
Judge Robert McBurney, the supervising judge overseeing the special purpose grand jury, issued the order this morning to Willis. He also directed Willis' team to include an opinion on whether Trump's motion requires a hearing.
The district attorney's office told NBC News last week it would respond to Trump's motion, and the order by McBurney puts a deadline on that response.
Another witness is expected to appear before grand jury today
Another witness is expected to appear today before the Manhattan grand jury investigating the Trump hush money case, a source with direct knowledge of the situation told NBC News.
DA arrived at 8 a.m. today
Bragg arrived at his office at about 8 a.m.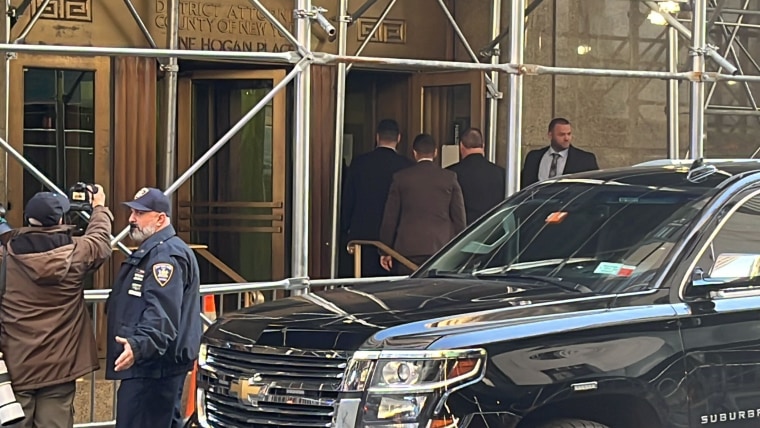 Bragg pushes back after House Republicans escalate oversight into Trump hush money case
Bragg has dismissed another letter by three House Republican chairmen seeking more information related to the hush money probe that could lead to an indictment of Trump.
In a letter to Bragg on Saturday, House Judiciary Committee Chairman Jim Jordan, Oversight Committee Chairman James Comer and Administration Committee Chairman Bryan Steil argued that Congress should be privy to documents and testimony in the ongoing investigation into a $130,000 payment made during Trump's 2016 campaign to Daniels.
"Contrary to the central argument set forth in your letter, this matter does not simply involve local or state interests," the lawmakers wrote. "Rather, the potential criminal indictment of a former President of the United States by an elected local prosecutor of the opposing political party (and who will face the prospect of re-election) implicates substantial federal interests, particularly in a jurisdiction where trial-level judges also are popularly elected."
Trump lawyer calls post attacking Bragg 'ill-advised,' says 'I'm not his social media consultant'
Trump's lawyer distanced himself Sunday from his client's escalating attacks on Bragg as he weighs criminal charges against the former president.
"I'm not his social media consultant," Joe Tacopina said in an interview on NBC News' "Meet the Press" when host Chuck Todd pressed him about whether he would advise a client to attack a prosecutor personally. "I think that was an ill-advised post that one of his social media people put up and he quickly took down when he realized the rhetoric and the photo that was attached to it."
Todd responded: "You're referring to the baseball bat thing, which, of course, was featured in the New York Post cover. New York Post thought it was a pretty, pretty rough hit."
Trump's base splinters on Ron DeSantis
Tammy Condra has very strong views about Florida Gov. Ron DeSantis and his possible run for the 2024 Republican presidential nomination.
"DeSantis will never win. DeSantis is a loser," the 56-year-old, self-described "stay-at-home goddess" from Fredericksburg, said during a rally for Trump in Waco, Texas, on Saturday. "He is deep state."
Like most voters here, many of whom drove long distances to stand for several hours under the hot sun on a regional airport tarmac, Condra is committed to seeing Trump win back the White House.
But her feelings about DeSantis are hardly universal among Trump supporters, which may help explain why the former president often reserves his most personal criticism of the Florida governor for more private settings.