Coverage on this live blog has ended. Follow the latest updates from NBC News here.
The first of two days of testimony from Donald Trump's adult sons got underway today in the $250 million civil fraud trial against the former president's family and their company.
Donald Trump Jr. took the stand today and faced questions about his role at the Trump Organization, particularly as it pertains to financial statements that the New York Attorney General's Office said were purposely inflated to benefit the company.
Trump Jr. will be back on the stand tomorrow to answer more questions from lawyers with the AG's office. He will be followed by testimony from his brother Eric Trump. Both have worked as executive vice presidents at the company.
Looking ahead to next week, former President Trump and his daughter Ivanka Trump are expected to take the stand.
What to know about the Trump family's testimony
Donald Trump Jr. was asked about his involvement in financial statements that the New York attorney general alleges were grossly inflated.
Attorney General Letitia James' office claims that the former president's children were "aware of, and knowingly participated in," a long-running scheme to falsely inflate the company's assets to land loans and insurance policies on more favorable terms than they were entitled to.
Eric Trump could testify tomorrow, while the former president and his daughter Ivanka are expected to take stand next week.
All of the family members have denied wrongdoing.
Donald Trump Jr. testifies in the New York civil fraud trial.
Courtroom sketch: Trump Jr. on the stand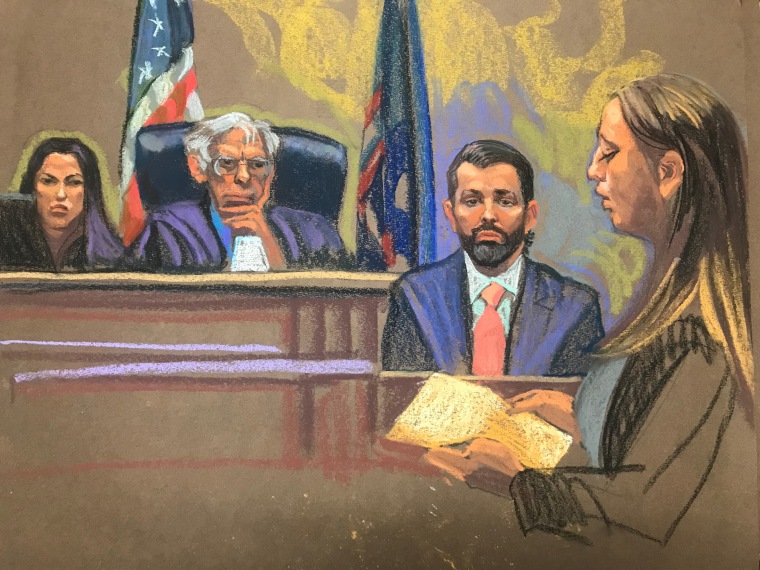 Prosecutor Colleen Faherty and Donald Trump Jr. in court today.
Trump Jr. leaves courthouse
After having begun his testimony in the civil fraud case this afternoon, Trump Jr. departed the courthouse around 4:40 p.m. ET through the front steps and left in a gray SUV.
James has also left the courthouse.
An altercation broke out in front of the court after their departures. Three NYPD cops responded. NBC News was told the incident was not related to the Trumps.
Court over for the day; Trump Jr. back on the stand tomorrow
Court adjourned for the day at around 4:30 ET. Trump Jr. is set to return tomorrow to continue his direct examination.
The judge told him not to discuss the case with anyone while he's still on the stand.
During today's proceedings, Trump Jr. spoke quickly on the witness stand, and at one point the judge asked him to slow down.
"I apologize, your honor. I moved to Florida but kept the New York pace," he responded.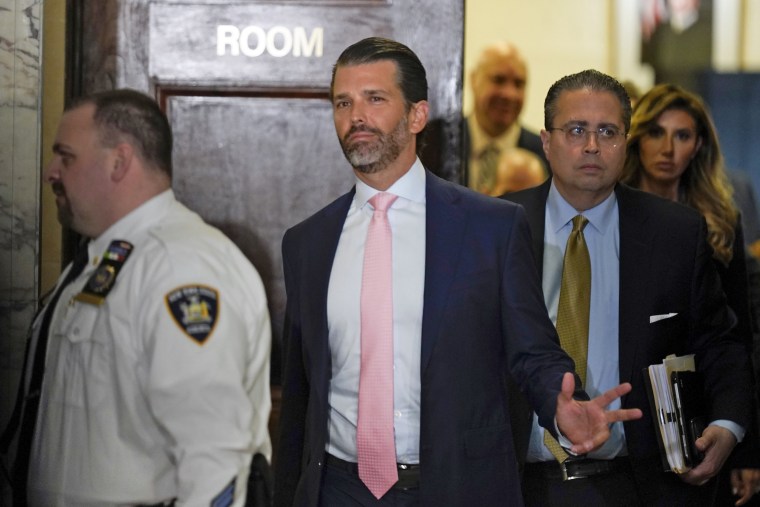 Trump Jr. recounts his responsibilities at Trump Organization
During his direct examination, the president's son outlined his responsibilities as executive vice president at his father's company, both before and after his father was elected to the White House.
Before his father's election, Trump Jr. said, he focused on a wide array of tasks, including international business, leasing and branding. He said he and his siblings Eric and Ivanka had their own "silos" and generally reported only to Trump and the company's CFO, Allen Weisselberg.
After Trump was elected, Trump Jr., Eric Trump and Weisselberg took over the company but retained their executive vice president titles. Asked whether Weisselberg still held the same post, Trump Jr. said: "No, because of legal issues he got himself into" — a reference to Weisselberg's indictment and guilty plea to tax fraud charges.
Trumps 'relied heavily' on former accountant, Trump Jr. says
Asked about the Trump Organization's former accountant, Trump Jr. said he was someone the family trusted and relied on.
Donald Bender "worked for us for decades. He handled practically everything. He was an outside accountant that we relied heavily on for our accounting needs," Trump Jr. said.
Bender testified earlier in the trial and blamed inflated numbers in the financial statements he compiled on the information he got from the Trumps. Trump's attorney suggested during Bender's cross-examination that he was at fault because he was the accountant, and accounting was outside the family's area of expertise.  
Asked later about the financial statements he signed off on, Trump Jr. said he wasn't involved in preparing them but felt he had an "obligation" to listen to what Bender's firm put together. "These people had incredible intimate knowledge, and I relied on them," he said.
Bender also testified in the Manhattan district attorney's criminal case against the Trump Organization last year. The company was found guilty of tax fraud and fined $1.6 million.
Trump trial takes a break
The judge said the court would take a brief break. The trial is expected to resume a little before 3:45 p.m.
'I have no understanding,' Trump Jr. quips on the stand
Trump Jr. seemed relaxed on the witness stand as the AG's office questioned about him about his professional background and his understanding of various financial terms related to real estate.
He said he was aware of what GAAP is — "generally accepted accounting principles. It was accounting 101 in the late 1990s" — but other than that, "I know nothing about GAAP." He said he leaves details of matters like that to his accountants.
Trump Jr. also said he was not familiar with ASC — accounting standards codification — and whether it applied to the statements of financial condition he signed off on at the company. The judge then asked him whether he had any understanding of it. "I have no understanding," he said with a laugh.
Trump Jr. takes the witness stand
The AG's financial expert has finished testifying, and the attorney general's office has called Donald Trump Jr. to the witness stand.
Photographers were allowed in to the courtroom to take his picture before he got on the stand. "I should have worn makeup," he quipped.
Trump Jr. arrives at the courthouse
The former president's eldest son, Donald Trump Jr., arrived at the courthouse during the lunch break flanked by a number of uniformed officers.
He declined to comment as he walked up the stairs of the courthouse at 60 Centre St. He's expected to take the stand after his company's lawyers finish questioning the state AG's financial expert.
Defense attorney alleges McCarty calculations are erroneous
Suarez has launched his first point of attack on McCarty's conclusions in what's expected to be an hourslong cross-examination of an expert witness for the state. He argued that the collateral pledged in various lending agreements does not include Trump's personal residences and that Trump's personal guarantee was reduced accordingly, so McCarty's measure of the right interest rate is actually too high.
Defense attorney tries to discredit expert witness calculation of lenders' lost profits
After the midmorning break, defense attorney Jesus Suarez began cross-examining McCarty, who has admitted to charging roughly $400,000 over the course of his engagement as an expert.
He has had McCarty admit that he neither reviewed the deposition testimony nor consulted with various lenders or Trump Organization employees or execs in the course of his expert engagement.
Suarez is trying to establish that McCarty's calculations of the lenders' lost profits are, as Willy Wonka would say, "pure imagination." They might be rooted in real numbers, but he did not even talk to or review the testimony of those who were involved in negotiating the lending agreements or reviewing and approving the conditions of the loans.
Suarez then admitted the loan agreements and amendments into evidence after he obtained McCarty's admissions that he reviewed them in connection with his testimony.
Michiel McCarty, an expert witness for the state attorney general's office, is explaining that the fraudulent statements of financial condition did not allow banks to accurately assess the risk of the loans. If they had adequately reported Trump's financial state, the banks would have charged more interest to account for the increased risk, he said; by contrast, they lost millions in profits through the defendants' fraud.
The thrust of McCarty's testimony seems to follow a footnote in Judge Engoron's summary judgment decision last month. Whether a judge's conclusions are an appropriate foundation for an expert witness' views is another story, however.
Looking at loans on four Trump properties, McCarty estimated the banks lost out on $168 million in potential interest over the past decade. He presented a chart of the estimated losses in court.
The expert now needs to show that the economic principles underlying the judge's conclusion were well within his own knowledge and experience before that opinion was reached. (And he is in the middle of doing so capably.)
McCarty and Trumps have the same alma mater
Michiel McCarty, the chairman and CEO of M.M. Dillon & Co., is an experienced investment banker with a long history in debt transactions, financings and acquisitions.
He also, perhaps not coincidentally, holds an MBA from an institution closely associated with Trump lore: the Wharton School at the University of Pennsylvania. That shared history will make it harder for the defense to characterize McCarty as insufficiently expert given that his professional background begins where Trump's and Don Jr.'s training did, as well.
Court starts; unclear when Trump Jr. will take the stand
The trial has resumed, first with former Trump Organization senior vice president David Orowitz back on the stand talking about the deal that led to the company's managing a hotel near the White House.
His testimony wrapped up quickly and was followed by that of Michiel McCarty, an expert witness for the state attorney general's office, who is discussing the impact of the company's having falsely inflated its valuations as alleged. McCarty will be followed by Donald Trump Jr., who's not likely to take the stand until the afternoon at the earliest. If the cross-examination of McCarty takes a long time, Trump Jr. may not testify until tomorrow.
The former president, meanwhile, repeatedly blasted the judge overseeing the case, Arthur Engoron, on his social media website, Truth Social. In a post that had a time stamp around 3 a.m. ET, Trump wrote: "Leave my children alone, Engoron. You are a disgrace to the legal profession!"
Engoron has barred Trump from talking about his court staff but has not banned him from talking about judge himself.
Donald Trump's children Donald Trump Jr., Eric and Ivanka are expected to testify under oath in the former president's civil fraud trial. NBC News' Laura Jarrett reports for "TODAY."
Trump family to take center stage at $250 million civil fraud trial
Trump's sons are taking center stage at the $250 million civil fraud trial against the family and their company in New York this week, with Donald Trump Jr. taking the stand today.
The oldest son of the former president is expected to be grilled by lawyers from James' office about his knowledge of financial statements the attorney general alleges were greatly exaggerated.
He'll be followed by his brother Eric Trump, who is expected to testify late today or tomorrow.
Trump storms out of his civil fraud trial after facing off with foe Michael Cohen
Donald Trump stormed out of a New York City courtroom last week after a heated day in court in which the former president was called to the witness stand in his state fraud case and fined $10,000 for violating a gag order.
Trump's abrupt departure appeared to surprise even his own lawyers and his Secret Service agents, who went scurrying after him. He returned to the courtroom in Manhattan after the court day ended and after his former lawyer Michael Cohen finished his contentious testimony.
Judge Engoron handed down the financial penalty after having called Trump to testify under oath in the afternoon about who he was talking about when he told reporters earlier in the day that the person sitting next to the judge was "very partisan."
Engoron's law clerk sits next to him and has been the subject of complaints from Trump's team.
Trump insisted he was referring to Cohen, but the judge said he found Trump's brief testimony "not credible."