What to know about Trump's testimony today
Former President Donald Trump testified today in the $250 million civil fraud case brought by New York Attorney General Letitia James.
Judge Arthur Engoron is presiding over the trial, which has no jury. Trump has complained about the judge and his law clerk for weeks.
Trump's testimony today quickly went off the rails as he attacked the attorney general's office as "haters," sidestepped questions and repeatedly went off on tangents. Engoron told his lawyer to "control him" and that "this isn't a political rally."
Trump's testimony today followed that of his sons Donald Trump Jr. and Eric Trump last week. The former president's eldest daughter, Ivanka Trump, is scheduled to testify Wednesday.
Trump says his testimony 'went very well,' calls case a 'scam'
Trump told reporters this afternoon that he was pleased with his testimony, adding that he thought that the case is a "scam" that "should never have been brought."
"I think it went very well," Trump said, referring to his testimony. "I think you were there and you listened, you see what a scam this is."
"This is a case that should have never been brought. It's a case that should be dismissed immediately," he added. "The fraud was on behalf of the court. The court was the fraudster in this case."
The former president went on to highlight a recent New York Times / Siena survey that showed him ahead of President Joe Biden in several battleground states. The poll numbers were also referred to in court today by Trump's attorney.
"When you look at the numbers, the poll numbers that came out today ... people are sick and tired of what's happening," Trump said when he left the courtroom.
James says Trump 'engaged in distractions' in court today
Leaving the courtroom today, James characterized Trump's testimony as a series of "distractions" and "insults."
"Today we heard from Donald Trump," James said. "He rambled, he hurled insults. But we expected that."
James said that the "documentary evidence" shows that Trump "falsely inflated his assets to basically enrich himself and his family."
"The numbers don't lie. And Mr. Trump obviously can engage in all of these distractions and that what is what exactly what he did, what he committed on the stand today, engaging in distractions and engaging in name-calling," James said.
James said that she looks forward to hearing Ivanka Trump's testimony on Wednesday and then her team "plans on closing our case" after that.
Trump is excused from the stand
Trump is now excused from the stand and finished giving testimony.
The prosecution finished its questioning, with Trump's team then deferring from a cross-examination.
Ivanka Trump is set to take the stand Wednesday.
Trump rants about the case being a disgrace
Trump went on a rant, attacking Engoron and the trial and baselessly claiming that people are leaving New York because there are "murderers on the streets."
"It's election interference," he said of the attorney general's case against him. "We have a very hostile judge. I don't have a jury. I wanted a jury."
The mood in court has changed
While the post-break mood in court is more relaxed, and Trump seems to be answering questions somewhat concisely, there have been some testy moments.
At one point, Trump cut the attorney general's lawyer off, telling him "no" and continuing to speak as the lawyer tried to ask a question.
At another point, when Trump continued to assert that his net worth was greater than what was on financial statements and thus the state didn't have a case, he again mentioned a disclaimer clause the company put on its financial statements, saying it "goes on forever."
"That clause isn't the only thing that goes on forever," AG's office lawyer Kevin Wallace replied, apparently referring to Trump's previously discursive answers to his questions.
Trump is calmer after the break
Trump appears more measured and steady in answering the attorney general lawyer's questions — in sharp contrast to his testimony before lunch, when he was fired up.
AG James mocks Trump's testimony
Letitia James, who's in attendance in court today, took to the social media platform X to deride one of Trump's claims about her on the witness stand.
Trump testified that the value of his property at 40 Wall Street "is hundreds of millions of dollars more than what she says. She doesn't even know what 40 Wall Street is."
James laughed at the remark in court, and then posted a message with a shushing emoji that said, "Don't tell, I can see it from my office window."
The court has returned from the lunch break
The court is back in session after a lunch break. The judge returned to the courtroom at about 2:15 p.m. ET.
Trump is now back on the stand to resume his testimony.
Sketch: Trump on the stand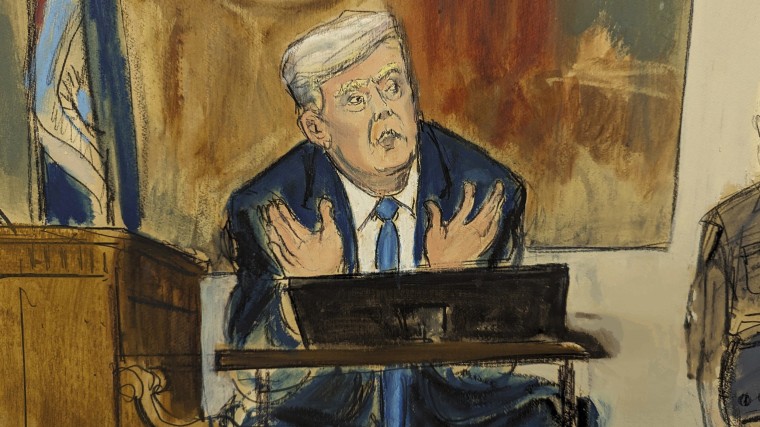 A courtroom sketch artist's rendering of Trump testifying at his civil fraud trial today.
Trump's lawyer calls Engoron 'unhinged'
Alina Habba, one of Trump's attorneys, told reporters during the lunch break that Engoron is "unhinged" and had "predetermined" that Trump was guilty.
"I don't want to hear what he has to say," Habba said, quoting the judge's admonishment to Trump's lawyers this morning after Engoron asked Trump to give more succinct answers during his testimony.
"That was what rang true loud and could not have been more honest, coming from the judge who was already predetermined that my client committed fraud before we even walked into this courtroom," Habba said.
When he made the remark, Engoron had been trying to rein in Trump's answers, telling his team that the former president was not there to talk about things outside the attorney general's lawyer's line of questioning.
Habba went on to say that the country is "falling apart" and there is "corruption in courtrooms where attorneys are gagged."
"You have a right to hire a lawyer who can stand up and say something when they see something wrong. But I was told to sit down today, I was yelled at," Habba said.
Habba also criticized James, saying that she was using the trial to "make a name for herself."
"[James] said this morning that the numbers don't lie and they won't lie in this case. Well, Miss James, I have a message for you: The numbers didn't lie when you ran for governor, and that's why you dropped out," Habba said.
During the break, Trump also quoted Engoron's remark without context in a post on his social media site Truth Social.
At least one other former president has testified in court
At least one other former president has testified in court after having left office — Teddy Roosevelt did so twice.
In 1913, the 26th president was a plaintiff in a civil suit against a Michigan newspaper that had accused him of being a drunk. The second was a civil case in which Roosevelt was sued by a New York Republican Party boss he'd accused of being corrupt. Roosevelt won both cases. 
NBC News legal analyst Chuck Rosenberg breaks down Trump's possible motives for sparring with Engoron while testifying in his civil fraud trial.
The court has left for a lunch break
The court adjourned at about 12:50 p.m. ET for lunch. The proceedings are expected to resume again at 2:15 p.m. ET.
Trump exited the courtroom with a team of aides and his lawyers, quickly passing reporters in the hallway again with no comment, but flashing a thumbs-up.
James also passed by reporters in the hallway but did not comment.
Trump interrupts questioning to read from a document he pulled from his pocket
Minutes ago, Trump pulled a paper out of his pocket, saying he wanted to read it. But the attorney general's lawyer pivoted to another question, and Trump rested the document to his right on the witness stand.
Trump then interrupted the lawyer, saying he just wanted to read the document, and turned to the judge for an answer.
Engoron told him no.
"I am shocked," Trump said.
It's unclear what the document is.
Trump trains his ire on Engoron
Losing his composure, Trump then focused his ire on the judge, saying Engoron ruled against him before knowing anything about his company.
Trump said the judge called him a "fraud," raising his voice and pointing his right hand at the judge while looking straight ahead at the courtroom. He then said any fraud was on the part of the judge for his comments on the value of Trump's properties, not on Trump, calling it "a terrible thing."
Engoron just looked forward, sour-faced.
"Done?" Wallace asked when Trump ended his outburst.
"Done," the former president said. 
Trump has essentially brought his rants inside the courtroom. Before, he would be well mannered during his appearances here; it was outside where he lost his cool. Now he's losing it on the witness stand.
Trump defiantly asserts his wealth, calls James a 'hack'
As Trump was asked questions about additional properties, the former president said he is worth billions of dollars more than Attorney General Letitia James has said.
People don't recognize the strength of the company he built because James' office is trying to "demean" and "hurt" him, Trump claimed.
"I think she is a political hack," he said about the attorney general.
He repeated a common refrain of his online, calling the trial a political witch hunt and saying James should be ashamed of herself.
While testifying in his New York civil fraud trial, Trump sparred with Engoron about his business dealings and claimed the trial was politically motivated. NBC News' Vaughn Hillyard reports on what Trump said under oath so far.
Trump appears restless during testimony
As he testifies, Trump is leaning way back in his chair and has his arms crossed on his chest. He also appears a bit restless, slightly swaying his body back and forth.
Earlier in the testimony, when Wallace would ask him to refer to pages of documents before him, Trump would only look at a screen provided in the courthouse, unlike a typical witness who would refer to the pages in his or her hands.
Trump says he thought several valuations were 'too high'
As questioning continued about Trump's properties, the former president said he thought several valuations were "too high," including of his Trump Tower triplex in 2014.
Asked why the valuation was too high, Trump said a broker assessed the total area as 30,000 square feet, "and I have access to the roof, and when you add the roof, you're not that far off." He said, "I see how it was done," telling the court that "they took 10,000 per floor" and "times three" and didn't take out the elevator shaft and other things.
He added, "There's a disclaimer clause, so if there is a mistake ... you don't get sued by the attorney general's office." 
In his earlier deposition, Trump referred to a disclaimer clause in the company's financial statements "that says, don't believe the statement, go out and do your own work. This statement is 'worthless.' It means nothing."
But in his late-September ruling ahead of the trial, Engoron shot down Trump's claim. "The clause does not use the words 'worthless' or 'useless' or 'ignore' or any similar words," Engoron wrote. "It does not say 'the values herein are what I think the properties will be worth in ten or more years.'" 
Engoron cuts off Trump and prosecutor repeats questions
Shortly after Trump resumed testimony, Engoron cut off the former president after Trump started to go on after answering a question about the value of an Avenue of the Americas property.
At another point, Trump veered into his focusing on China, Russia, and keeping the U.S. safe while president, the attorney general's lawyer said, "The question was actually about this property value."
"The question was" and "let me ask again" are becoming familiar refrains as Trump doesn't answer the questions.
Trump has returned to the courtroom
Trump walked back into the courtroom at about 11:14 a.m. ET.
He turned to reporters in the hallway and gave a silent thumbs-up before following his lawyers through the courtroom doors.
The judge also entered the courtroom and everyone stood.
When he resumed testimony, Trump began answering questions more succinctly.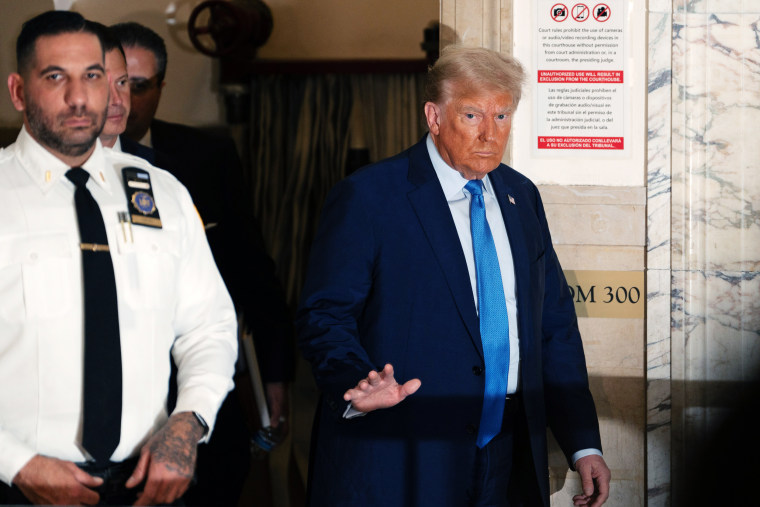 Trump leaves for a break without addressing reporters
Trump exited the courtroom for a 15-minute break, walking quickly past reporters in the hallway.
When asked, "How's it going in there?" Trump gestured as if zipping his lips and continued to walk away with his lawyers.
Break called; Trump leaves stand
The court is taking a break. Trump has left the witness stand.
Judge tells Trump lawyers: 'I beseech you to control him'
The judge is again asking Trump's lawyers to have him answer questions directly while on the stand.
"That was a simple yes-no answer," the judge said. "I beseech you to control him."
The judge went back and forth with Kise, with the judge saying, "I don't want to hear everything he has to say."
Habba then told the judge that Wallace needs to ask better questions, saying, "More succinct questions will give more succinct answers."
"We are not here to hear what he has to say," Engoron responded. "We are here to have him answer questions."
"It's not that simple," Habba replied.
"I am not here to hear what he has to say, now sit down!" Engoron then said, raising his voice.
The testy exchange prompted Trump to comment, "This is a very unfair trial. I hope the public is watching."
The judge's warnings are critical, as the case here is only meant to determine monetary damages. If Engoron determines that all of Trump's testimony is not credible, as he did the last time Trump took the stand, he may impose significant financial damages on Trump and his company.
Attorney in hush money case audibly laughs
As Trump continued to testify, one of his attorneys in the separate hush money case being brought by the Manhattan district attorney could be heard laughing in the second row of the courtroom as she observed and took notes.
Trump says he thought Mar-a-Lago's value was underestimated
When asked about Mar-a-Lago, Trump said he thought its value was underestimated, but added that he didn't do anything about it.
Trump referred to the attorney general's estimation that the Florida property was worth far less than he claimed (the AG's office had noted the Palm Beach County assessor appraised its market value to be $18 million to $28 million from 2011 to 2021, while Trump's balance sheet put its value at $426 million to $612 million).
Trump claimed on the stand that the property was 50 to 100 times the state's estimation. He said he doesn't know how the lower estimation was arrived at, calling it "absolutely crazy."
Trump says he thought his apartment was 'overvalued'
Trump testified that he thought his Manhattan apartment "was overvalued when I looked at it."
"But you never know because people come along and could say it's worth $250 million. It only takes one person to buy it," he said. "I thought it was high and it is the brand value."
"The brand value is a very big part of the asset value of the company," he added. "I could have added brand value and increased the value, and my financial statement would be very substantial."
Engoron asks Trump lawyers to control him
Judge Engoron asked Trump's attorneys if they could control him in the courtroom. He said, "This is not a political rally … maybe you need to have a talk with him right now."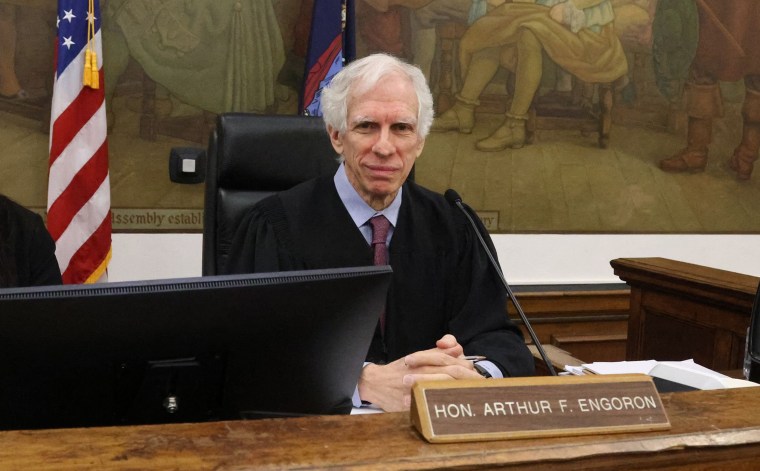 Kise calls Trump the 'future' U.S. president, citing New York Times/Siena poll
During questioning, Trump attorney Chris Kise referred to his client as the future president of the United States, citing a poll released yesterday by The New York Times.
The survey, conducted in conjunction with Siena College, found that Trump is leading Biden in five out of six battleground states.
Trump distances himself from his financial statements
Asked about the exaggerated financial statements at the heart of the case, Trump said that he knew little about them, and that banks didn't care about them.
"All I did was authorize and tell people to give whatever is necessary to supply the accountants for the statements," he said. "I authorized whatever they needed to do to get their statement done."
As for the bankers that the AG maintains were duped into giving him more favorable loans than he was entitled to, Trump said, "They paid little attention to documents. They were more interested in the deal."
Trump says judge will rule against him
"What did you do to meet your responsibility of preparation of the financial statement," James' office asked.
Trump said: "Me personally? First of all this was so long ago this is past statute of limitations."
Trump then insisted that Engoron will "rule against me because he will always rule against me."
Engoron pushed back, saying that Trump's claim isn't true, and asked him to please answer the question again: "You can attack me all you want, but just answer the question."
Judge tells Trump to be more 'responsive'
At one point as Trump started to testify, Engoron asked him to "please move it along and answer the questions."
"Some of the questions haven't been responsive," the judge added.
Trump looked ahead as the judge said this, never turning toward him.
Trump claims bankers didn't pay attention to the financial statements
Trump said his team will bring in bankers who "paid little attention" to financial documents.
"This crazy trial goes along. We will bring in bankers. They will explain what the process is," he said. "They paid little attention to documents. They were more interested in the deal."
Trump rails against AG and prosecutors, calling them 'all haters'
Kevin Wallace, a lawyer for the AG's office, asked Trump about the appointment and acceptance of trustees, and in response, he said, "You and every other Democrat … coming after me from 15 different sides … all haters."
He was referring to the New York attorney general and U.S. attorneys.
Trump decries trial as 'political warfare' before entering courtroom
In brief remarks to reporters shortly before entering the courtroom, Trump called the trial "ridiculous" while he again attacked James, claimed the trial is part of an election interference effort and denied that he had inflated property values.
"It's very unfair. But in the meantime, the people of the country understand it. They see it, and they don't like it," he said. "They don't like it because it's political warfare, as you would call it."
"Or political lawfare, another name — I've got a lot of names for it — but usually it takes place in Third World countries and banana republics," he added.
Judge to Trump: Be louder
Trump has been sworn in
Trump has been sworn in inside the courtroom, kicking off his testimony.
Trump has taken the stand
The former president is now in the witness stand, where he will be questioned by prosecutors.
Trump and Engoron enter courtroom
Trump has entered the courtroom and is seated at the defense table with his hands clasped together.
He's been chatting with his lawyers, Chris Kise and Alina Habba.
Judge Arthur Engoron has entered the courtroom.
It will be a tale of two Donalds on Monday: The one inside court, who has generally maintained his composure aside from a few facial expressions and a waving of the arms, and the one outside, who goes off on Engoron and his law clerk and a legal system that he claims is arrayed against him and his family.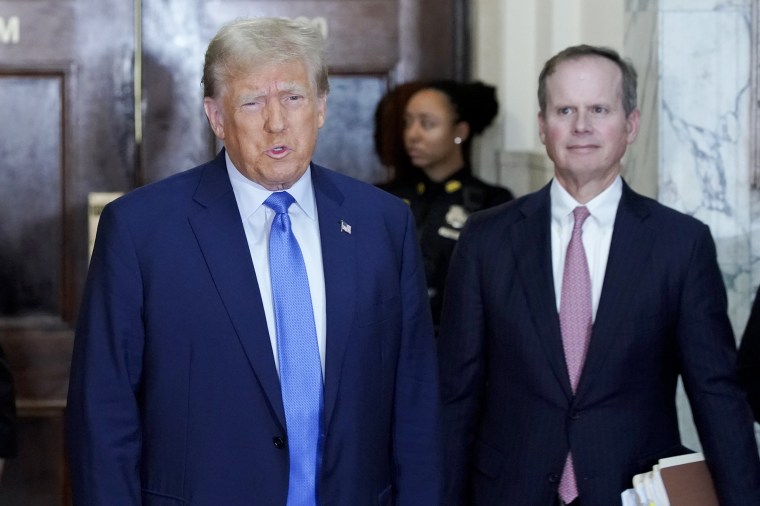 James arrives at courthouse, says numbers 'don't lie'
James arrived at the courthouse and told reporters outside that the facts and the numbers don't lie.
"Trump has repeatedly and consistently misrepresented the value of his assets," she said. "I'm certain that he will engage in name-calling and taunts and race-baiting and call this a witch hunt. But at the end of the day, the only thing that matters are the facts and the numbers, and numbers, my friends, don't lie."
Once inside, James greeted the prosecutors in a show of support, shaking hands with the visitors sitting in the front row.
What to expect from Trump's testimony
Former President Donald Trump is set to take the witness stand in a New York courtroom Monday, testifying in a high-stakes civil case that could lead to the dismantling of his sprawling business empire.
He was deposed in April after James filed her bombshell suit alleging that he and his company inflated their assets to the tune of billions of dollars to get more favorable rates from banks and insurers, and his answers there are likely to be a guidepost about how he'll be questioned Monday.
Trump spent about seven hours in the deposition answering questions from the attorney general's office and disavowing responsibility for the annual statements of financial condition, which say "Donald J. Trump is responsible for the preparation and fair presentation of the financial statement in accordance with accounting principles generally accepted in the United States of America."
In his deposition, Trump testified that he considered the financial statements as being "worthless" and not "important" because they contained a clause that said, "the estimates presented herein are not necessarily indicative of the amounts that could be realized upon the disposition of the assets or payment of the related liabilities."
In his deposition, Trump referred to that as a "clause in there that says, don't believe the statement, go and do your own work. The statement is worthless. It means nothing."
In his Oct. 2 ruling, Engoron shot down Trump's claim. "The clause does not use the words 'worthless' or 'useless' or 'ignore' or any similar words," Engoron wrote. "It does not say 'the values herein are what I think the properties will be worth in ten or more years.'"
The courtroom is at full capacity ahead of Trump's testimony
The courtroom has reached full capacity in anticipation of Trump's testimony today.
The line to get into the courtroom is still long and the number of photographers in the hallway is the highest it has been since the beginning of the trial. Some friends of the judge and his clerk are seated in the front row excited to witness history.
Engoron has expanded a gag order to include members of the former president's legal team. The order was issued after the judge claimed they made "inappropriate remarks" about his law clerk.
Anti-Trump protesters are outside the courthouse
A group of anti-Trump protesters gathered outside the courthouse this morning, holding a banner that reads, "Invoke the 14th."
The protesters advocating for invoking the 14th Amendment against Trump to block him from the ballot in his 2024 presidential run briefly stopped traffic along Centre Street. Police moved them across the street into Foley Square and traffic has since resumed.
Trump leaves for the courthouse
Trump's motorcade has departed from Trump Tower and is en route to the courthouse.
Trump lashes out at Engoron and James ahead of testimony
Ahead of his highly anticipated testimony today, Trump took aim at Engoron and James in a post on Truth Social this morning, despite Engoron's gag order barring the former president and his lawyers from discussing the judge's staff.
In his post, Trump denied wrongdoing as he repeated his claims that the trial is a political hit job against him orchestrated by Engoron and James.
"Got a really Biased, Nasty, Club controlled, but often overturned, Judge, a Racist, Evil, and Corrupt Attorney General, BUT A CASE THAT, ACCORDING TO ALMOST ALL LEGAL SCHOLARS, HAS ZERO MERIT," he wrote. "A dark day for our Country. WITCH HUNT!"
Trump testified in the trial briefly — and then stormed out of court
Trump stormed out of a New York City courtroom Oct. 25 after a heated day in court in which the former president was called to the witness stand in his $250 million state fraud case and fined $10,000 for violating a gag order.
Trump's abrupt departure appeared to surprise even his own lawyers and his Secret Service agents, who went scurrying after him. He returned to the courtroom in Manhattan after the court day ended and after Cohen finished his contentious testimony.
Engoron handed down the financial penalty after having called Trump to testify under oath in the afternoon about whom he was talking about when he told reporters earlier in the day that the person sitting next to the judge was "very partisan."
Trump said he was referring to Cohen, whom he has called a rat, a liar and a felon. Engoron said he found Trump's brief testimony "not credible." He fined Trump for violating the gag order he issued this month after Trump had smeared his law clerk on social media.
A red-faced and angry-looking Trump stormed out of the courtroom about 45 minutes later after Engoron denied a motion from his lawyers on a separate legal issue. 
Highlights from Eric Trump and Don Jr.'s testimony last week
During his testimony last week, Eric largely asserted that he lacked knowledge of the details of Trump Organization property appraisals and financial statements. The former president's second-oldest son described himself as a "construction guy," saying, "I pour concrete. I operate properties. I don't focus on appraisals."
At one point, however, he did acknowledge an awareness of his father's financial statements dating as far back as 2013.
Trump's eldest son, Don Jr., the first of the two to take the stand, said during his testimony that he didn't recall the details of several documents shown to him in court. He added that he relied on the Trump Organization's accountants and accounting firm, Mazars USA.
Trump attorney Chris Kise, meanwhile, continued Friday to complain about the judge, pointing to stories in right-wing news outlets alleging Engoron and his clerk have made political donations to Democrats. Kise pointed to a story that alleged the clerk made donations in excess of legal limits for court staff in violation of court rules, and that the judge was notified and did nothing about it, which Kise said could be grounds for a mistrial if true.
Engoron called the allegations untrue, adding, "It's a shame we have descended to this level."